ADVERTISEMENT


ADVERTISEMENT


| | | | | |
| --- | --- | --- | --- | --- |
| |   | |   | |

TOP
ADVERTISEMENT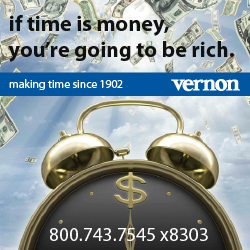 NFIB: Small Business Optimism Improving
Increased capital spending and greater job creation in December raised business owner sentiment, according to the latest NFIB Small Business Optimism Index. The National Federation of Independent Business' new reading of 93.9 indicates a slight growth in optimism from November to December, while demonstrating back-to-back monthly gains in small-business confidence.

"The surge in spending, especially on equipment and fixtures and furniture, is certainly welcome and is hopefully not just an end-of-year event for tax or other purposes," the NFIB wrote in its report. "This level of spending is more typical of a growing economy."

Data shows the manufacturing, construction and professional services sectors are making promising improvements, though consumer spending on services has dipped. Overall, for 2014, small-business owners are feeling more positive when it comes to sales expectations as 88% predict higher sales, which is an increase of five points over November data. The reading was at its highest level since early 2012. Adding to the good news, business owners hired more staffers in December than they had predicted in the NFIB's November survey. Small businesses grew by an average of 0.24 workers in December – the highest reading since February of 2006.

The optimism crosses over into the promotional products industry, according to Matthew Watkins. The CEO of LogoSurfing Promotional Products (asi/246818) added three new outside sales reps in 2013. "We feel that they are now fully trained and expect a significant increase from our outside sales team as well as our continued growth with online sales," he said. Watkins is targeting the medical industry, as well as corporate accounts. He feels that corporate accounts will prove to be the best return in 2014.
Kirby Hasseman, owner of Hasseman Marketing & Communications (asi/221824), is very optimistic for 2014. "We have shown consistent growth over the past three years and are projecting to match or increase on that trend," he said. "Our largest growth markets have been manufacturing, education, finance and retail. Those are the vertical markets we plan to continue in."
TOP
ADVERTISEMENT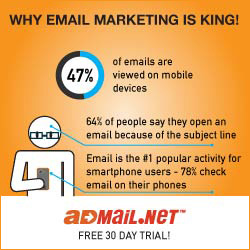 Holiday Retail Sales Up 3.8%
U.S. retail sales increased by 3.8% this holiday season, a top research group said this week, an improved but still unremarkable performance that could hurt revenue forecasts for top retailers. The National Retail Federation announced that retailers took in $601.8 billion during the holidays, falling just shy of the organization's forecast of 3.9% for the season. The total is an increase over last year's 3.5% growth for holiday sales.
A number of reasons were cited for the so-so results. The holiday shopping season for 2013 was six days shorter than the year before, compressing shopping time and moving retailers to offer earlier Black Friday sales. Heavy discounting among retailers also cut into profits. Data firm ShopperTrak showed in-store traffic fell sharply by 14.6% this season. A recent pessimistic note from Morgan Stanley analysts said that the 2013 holiday period is "turning out worse than any since 2008," adding a slowdown in the first half of the holiday season "proved too deep to recover from."
Several top retailers have issued negative forecasts that have hurt stock prices and driven away investors. Teen-oriented stores fared the worst, with disappointing reports from American Eagle, Zumiez, Buckle and others. Key retailer, Target, suffered through a weak December after news broke that customer credit cards were possibly compromised by hackers. American Apparel (asi/35297), which sells in both retail and wholesale channels, reported sales in stores open at least one year slipped 6% in December year-over-year.
The retail market accounts for more than 4% of promotional product spending, according to Counselor State of the Industry research.
TOP
ADVERTISEMENT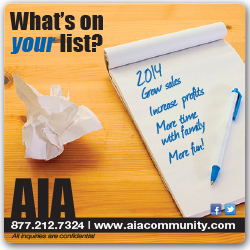 Counselor Q&A: Launching A Mobile App
In Counselor's latest Q&A profile, Motivators' (asi/277780) eCommerce Manager Bill O'Shea explains how the New York-based company developed and launched its own mobile app. Motivators introduced its app in April 2010 and the company saw benefits almost immediately. For example, by October of that year, the distributor's Web traffic had increased by 87%. "Because we're an online business, it's important to stay at the forefront of technology," said O'Shea. "Creating a mobile app helped us to do so."
Of course, launching an app took planning and a willingness to adapt. It took Motivators six months to research, design and test its app before its release. A few more months passed before Motivators offered an update to the app – a major upgrade that allows people to buy promotional products right from their mobile devices.
What can you learn from Motivators' experience? Should your firm consider launching its own app? Read this January Counselor Q&A to find out. Click here to see the profile.
TOP
ADVERTISEMENT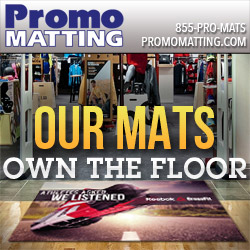 Counselor Honors Distributor Choice Award Winners
At a ceremony during ASI Orlando, Counselor unveiled this year's Distributor Choice Award winners – the industry's top suppliers in 60 product categories. Seattle-based iClick (asi/62124) won the top award as 2014 Counselor Supplier of the Year, leading a group of 42 total companies that were honored. This year's awards also included two new categories – children's apparel, won by alphabroder (asi/34063) and party products, won by WOWLine (asi/98360).   
Click here to see the entire group of award winners, as voted on by distributors.
TOP
ADVERTISEMENT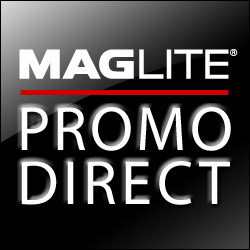 ASI Radio: Trade Show Tips
On this week's Tuesday Morning Program, the hosts gave callers advice on how to successfully work a trade show. How can you navigate a show floor to reach the most suppliers? How can you shoot creative product videos, in a matter of seconds, to draw more interest from prospects? What can you plan for in advance to make the most of your trade show time?
Click here to listen to the complete call-in segment. If you missed any part of the radio show, a recording is now available at www.asicentral.com/radio. And, remember to join us on Tuesday, January 21, for our next broadcast. Log on at 10:30 a.m. ET to listen to the show and hear your voice on the air.
TOP
ADVERTISEMENT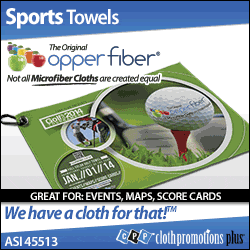 Nominate Now For Counselor's Hot List
Are you doing something unique, hip, fun or trendy in the industry right now? Do you know somebody who is?

Counselor is looking for nominations of people for its annual Hot List. We're on the lookout for anyone in the industry who is taking an interesting approach to business, shaking up the status quo or simply networking like a maniac at all hours of the night. We're in search of those people who are making the industry a unique marketplace that's fun and energetic.

Send an e-mail by Friday, January 31, to Karen Akers at kakers@asicentral.com explaining why your nominee should be recognized on Counselor's Hot List. And, please make sure to include a picture of the person you're nominating. Thanks!
TOP
In The News
Gill Studios (asi/56950) has introduced The Bum Box, a light, easy to carry box seat that supports up to 264 lbs. To get more information on the product, click here to watch a video.
TOP
People On The Move
Idea Custom Solutions has hired Jay Busselle as director of sales. Busselle will support the company's digital media sales initiatives in the promotional products space.
PRODUCT SPOTLIGHT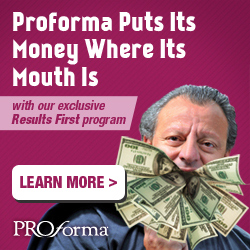 Introducing a new and better way to get your business going and growing.

Proforma's revolutionary Results First program will get you the results you want before making any financial commitments to join Proforma.
Only Proforma has the resources to offer a program like Results First. Only Proforma has $4 million per year in sales and marketing support, $430 million in purchasing power and a 150 person support team to truly deliver the results you want.
Click here to learn how Proforma's Results First program can grow your business—even before you join.
Proforma (asi/300094)
TOP
THE ASI SHOW
ASI'S HOSTED BUYER EVENT
Are you interested in participating in fASIlitate, ASI's hosted buyer event? If so, let us know by filling out this form. fASIlitate offers million-dollar sales producers the unique opportunity to spend private time with the industry's most sought-after suppliers. During pre-set private meetings, you'll be able to discuss sales initiatives and projects with the vendors you are most interested in working with. Participating distributors receive luxurious accommodations and travel at no cost.
Four fASIlitate events are planned for 2014:
March 24-25 • Hyatt Regency Long Beach • Long Beach, CA (prior to ASI Long Beach)
April 1-2 • New York Marriott Marquis • New York, NY (prior to ASI New York)
May 4-7 • Lago Mar Resort and Club • Ft. Lauderdale, FL
September 16-19 • Arizona Biltmore Hotel • Phoenix, AZ (after the ASI Power Summit)
Click here if you are interested in attending. Or, contact Rafael Dosman at 800-546-3300, ext. 3564 with any questions. Visit www.fasilitate.com for more information.
Follow The ASI Show on Twitter and become a fan on Facebook today!
Counselor® PromoGram® is a trademark of the Advertising Specialty Institute. You were sent this newsletter as a benefit of your ASI membership. Copyright 2014, ASI. All Rights Reserved.
If you'd like us to send Counselor PromoGram FREE to anyone else at your company (or to your off-site sales reps), go to www.asicentral.com/newsletters and complete the online form.
Interested in advertising in Counselor PromoGram? Send an email to ekoehler@asicentral.com
Click here to subscribe to Counselor® magazine. You must be a member of ASI to subscribe to this publication. The publisher has a right to refuse subscriptions to non-members.
Advertising Specialty Institute®, 4800 Street Road, Trevose, PA 19053