The Power Of Consultative Selling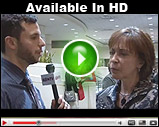 A few years ago, Barbara Sanfilippo of High Definition People decided to jettison all her old, outdated computers and software and start anew. She brought in two computer people to help set up her office. Mike was friendly and personable, but had no idea what her business was about and simply threw product information at her. Davis was slightly more standoff-ish, but had both taken the time to find out about her business and asked probing questions about her old system. Safe to say, Davis got Sanfilippo's business.
The point? True consultants take the time to plan ahead, find the pain points of their clients and be a consultant, as Sanfilippo demonstrated in her session, "Forget Powerpoint: Be Strategic, Advise Your Client, Win the Sale." "Nobody wants the product," said Sanfilippo. "They want the results you're trying to help them achieve. The products are just the vehicle."
Sanfilippo talked about the "pains and dreams" of prospects – the issues that caused them problems in the past and the ideal future scenarios they would want. "When you uncover their pains and dreams," she said, "you uncover their emotive drivers, which causes people to take action."
She also shared the wisdom of her three Ps: pre-call planning, profiling and partnering. Intensive pre-call planning unearths key details that you can use on a sales call, while profiling involves asking the right open-ended questions to really find out more. And through enough research and experience, you can learn to anticipate the concerns and goals of prospects. "If you can state a common problem they have and then ask them a question," she said, "they'll feel 'You really understand me.' "
Sanfilippo talked with Counselor after her session about what it takes to really connect with clients. Click here to watch the video.