ADVERTISEMENT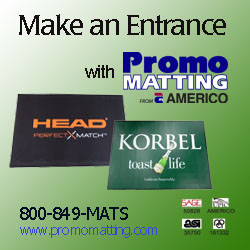 PSI Dusseldorf Features Record Number Of Exhibitors
PSI Dusseldorf, Europe's largest ad specialty trade show, opened yesterday with 993 exhibitors – a record number for the show and a 16% increase from last year. The show has drawn big crowds, with more than 18,000 visitors expected to attend the three day event. "According to the recent forecast by Zenth-Optimedia, one of the world's largest media agencies, the global advertising market presents itself in a very robust condition in 2012, in spite of the crisis of the euro and stock exchange slumps, with a predicted 1.8% increase for Western Europe and 2% growth for Germany," says PSI managing director Michael Freter.
Celebrating its 50th anniversary, the PSI Dusseldorf Show has become a hallmark for showcasing new design, packaging and color trends, and an accurate barometer of those factors will be filtering to the North American ad specialty marketplace. "A 3-D clock fitting in any corner, a ballpoint pen that gives off fragrances or a PC cover with a built-in cleaning system – it's original and handy innovations such as these that are at the center of our show," Freter said. Adds Scott Pearson, vice president of merchandise and design for Counselor Top 40 supplier Sweda (asi/90305): "The PSI show has certainly provided a fresh perspective on how sophisticated and serious promotional products are managed in Europe."
ASI's president and CEO Tim Andrews – invited by PSI to speak on behalf of the U.S. market – told the international group of VIPs in attendance at the event that ASI's quarterly surveys of its supplier and distributor members have shown eight consecutive quarters of growth. "We expect 2011 will show an overall increase for the industry in the 5-7% range – for an expected total of about $18.4 billion – about a billion dollars more than in 2010," Andrews said.
Additionally, ASI held a panel discussion yesterday on the topic of how European companies can penetrate the U.S. market and vice versa. Panelist Michael Bernstein, CEO of Polyconcept's European supplier group, noted that for European companies interested in doing business in the U.S., the two keys are speed of product delivery and to avoid the tendency to over-promise and under-deliver. "In Europe, five-day turnaround is considered fast," Bernstein said. "In the U.S., many of our orders at Polyconcept North America are produced and shipped in a day."
Next year's PSI Dusseldorf Show will be held from January 9-11, 2013. For more information, click here.