Counselor® PromoGram® 

Volume 782 / January 18, 2011

SPONSORED BY




Congress Presses China On Yuan Manipulation
Coinciding with Chinese President Hu Jintao's arrival in the U.S. today, several Congressional leaders are again threatening to take action against Beijing for alleged currency manipulation. This latest round of political maneuvering


PRODUCT SPOTLIGHT
 

ASI NEWS

ESP Orders Free
ASI now offers ESP Orders, the industry's No. 1 ordering platform, at no charge with our revolutionary ESP Web platform.
Find out more.

Out With the Old 
Paying attention to online customer opinions should be at the top of your list of New Year resolutions.
Find out more.

LOGOMALL
ASI welcomes the following Suppliers to the LogoMall Network 
Find out more...
ASI STORE
Find, review, and purchase the latest exclusive ASI products... 
Find out more... 

 

ADVERTISEMENT

ADVERTISEMENT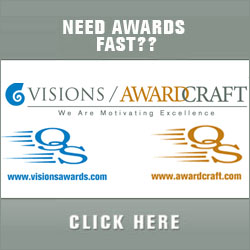 follows blunt remarks made by Hu, who recently rejected U.S. arguments that the yuan is undervalued by as much as 40%. "There's no bigger step we can take to preserve the American dream and promote job creation, particularly in the manufacturing sector than to confront China's manipulation of its currency," said Senator Charles Schumer (D-NY).

A proposed bill, co-authored by Schumer, would impose tariffs on products exported to the U.S. by any country found to have undervalued currency. Companies based in these countries would also be banned from receiving U.S. government contracts. The new legislation, called the Currency Exchange Rate Oversight Reform Act of 2011, is similar to another measure, also meant to publicly pressure China, which failed to pass the U.S. Senate last year. "We think we have a majority of support in this session and that it will pass in the Senate and the House," Schumer said.

While there is widespread agreement by economists that an undervalued yuan creates an unfair trade advantage for China, some believe passing currency legislation would likely backfire on the U.S. by opening the door to retaliation. "It's counterproductive," said John Frisbie, president of the U.S.-China Business Council. "It wouldn't help get to the goal of a market-oriented exchange rate."

China's revaluation of its currency, which economists expect to increase in value by about 5% this year, could also result in rising costs on goods imported from there.

ADVERTISEMENT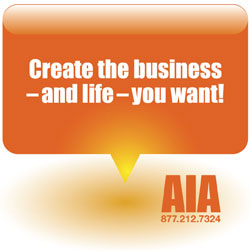 Postal Service Raises Rates, Changes Direct Mail Rules
In a boost to marketers, the U.S. Postal Service (USPS) has announced it will allow companies to send flat-sized mail pieces, like letters or flyers, to every stop on a delivery route without using exact names and addresses. Previously, this saturation mail service was only available to government agencies and on rural routes. "Simplified addressing will help local small and midsize businesses as well as large businesses drive more traffic and attract new customers," said Paul Vogel, chief marketing officer for the USPS.
Under the new direct mail rules, businesses won't have to purchase pricey mailing lists or spend extra time addressing every envelope they send. Instead, businesses can simply put "Postal Customer" on envelopes or parcels intended for a designated route, and provide enough items for every active address. "Simplified addressing will serve as the on-ramp for many small businesses trying to reach their audiences within a specific geographic range," said Vogel.
Although saturation mailing will become easier for marketers, companies will have to pay a bit more than in the past for sending advertising pieces, depending on what type of item is sent. Separately last week, the USPS announced that postage rates will go up for postcards, periodicals, international letters, parcels and advertising mail on April 17. The increase will not affect the price of first-class stamps, Express Mail or Priority Mail. The price changes are being made to match the rate of inflation, according to the USPS, which says the increases are minimal. For example, USPS customers will have to pay $0.29 to send a postcard, up one cent from current rates.

ADVERTISEMENT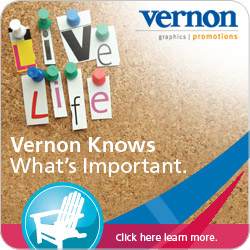 The Joe Show: Products Aplenty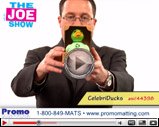 In this episode of The Joe Show, Counselor Managing Editor Joe Haley shows off some unique items that suppliers have recently introduced to the market. Looking to target the pet or golf tournament sectors? Need some ideas for sales incentive items? Check out this edition of The Joe Show.  
Click here to see this product-preview episode of The Joe Show.
Want more videos? Subscribe now to our YouTube videos.

ADVERTISEMENT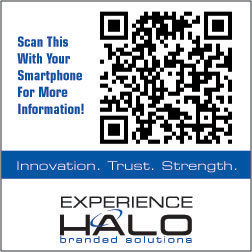 Gildan Donates $100,000 Through "I Support" Campaign
Gildan Activewear announced last week that it named charity Homeboy Industries as the recipient of a $100,000 donation from the apparel supplier. The donation is the culmination of Gildan's first "I Support…" campaign. "We are pleased to be able to present this donation to an organization that has been making a significant impact on the lives of young people in Los Angeles for more than 20 years," said Mike Hoffman, president of Gildan Activewear SRL. "Our hope is that this money will help Homeboy to continue their work developing programs and services that can change lives."
Launched in 2010, Gildan's "I Support..." campaign was designed to support charities and increase awareness about the importance of charitable donations and volunteerism throughout the apparel and ad specialty markets. Industry business partners and customers were asked to register a charity at www.genuinegildan.com and visitors were given the opportunity to vote for the stories they felt best demonstrated making a positive difference. When voting was completed, nearly 3,000 stories were registered to the website, generating 100,000 votes. Homeboy Industries was then selected by a panel of judges that included a variety of industry professionals and representatives from such organizations as DoSomething.org and Network for Good.
Homeboy Industries, which helps approximately 12,000 clients annually - 8,000 former gang members from more than 800 gangs as well as 4,000 gang-affiliated family and community members - will utilize the $100,000 donation to help fund its ongoing free programs and services for at-risk, recently released and formerly gang-involved youth in Los Angeles. These services include counseling, education, tattoo removal, substance abuse/addiction assistance, job training, placement and legal services. Homeboy Industries was singled out among a prestigious list of national and regional nonprofits - including the American Cancer Society, American Heart Association and the Cystic Fibrosis Foundation, among others - for its appeal and articulation, accountability, sustainability and impact.
"We are pleased to have been included among such an illustrious group of organizations, and honored that Homeboy was chosen as this year's recipient," said Fr. Greg Boyle, founder of Homeboy Industries. "It's gratifying to see companies like Gildan make a real commitment to improving lives in our community and the world. We applaud their efforts."


ASI Radio: Selling To Hot Markets 
This morning's Tuesday Morning Show on ASI Radio provided listeners with ideas for how they can sell and market their services to the most lucrative end-user markets. Plus, the hosts shared their "Favorite Things," interviewed an executive from an industry company with a highly unique corporate culture, and spoke to Eric Withaar, president of supplier Sportco, which just signed a new apparel partnership.  
If you missed the show, a recording is now available at www.asicentral.com/radio. And, don't forget to join us for our next broadcast on Tuesday, January 25 – live from The ASI Show in Orlando. Log on at 10:30 a.m. ET to listen to the show – and give us a call at (215) 953-4979 to hear your voice on the air.

Small Business Hiring Index Rises
Supporting recent reports of a strengthening job market, a closely-watched employment measure reached a seven-month high in December. The latest CBIZ Employment Index, which records hiring trends among business with fewer than 300 workers, increased by 1.5%, particularly lifted by gains in the private sector. "As demand begins to increase through consumer spending, smaller employers are able to increase their headcounts in an effort to pace the expanding economy," said Philip Noftsinger, business unit president for CBIZ Payroll Services.
 
CBIZ data shows 29% of companies added to their employee headcount in December, while 50.4% made no changes to their employee total, demonstrating stability in worker retention. Only one of out five respondents reported a decrease in the number of people it employs. "The results of this month's report are consistent with the tone of other employment reports that we have seen throughout the month and encourages one to look to a brighter 2011, " Noftsinger said.
Last week, several employment reports, including one from the U.S. Department of Labor, showed private payrolls increased by more than 100,000 in December. In a separate report released this week, the Conference Board's Employment Trends Index increased by 0.8% to 99.3, a monthly rise of 0.8%, the most in five months. The measure also rose 7.6% from a year earlier. Overall, unemployment in the U.S. now stands at 9.4%.

Take The Q4 Sales Survey
Counselor is now compiling important statistics that measure the industry's performance in the fourth quarter and full-year 2010. Let us know how your company did by taking this confidential survey.
Click here to take the two-minute survey and have your results recorded in our Quarterly Sales Survey. All responses are kept strictly confidential and are recorded in the aggregate.
Counselor PromoGram will report on the results of the Quarterly Sales Survey later this month.

Call For Entries: Counselor Product Design Awards
Counselor magazine is looking for innovative products for its Product Design Awards competition. Suppliers are invited to nominate their favorite eye-catching products in the following categories:
• Apparel/Caps
• Awards & Recognition
• Bags
• Calendars
• Computer Accessories
• Desk Accessories
• Drinkware
• Electronics
• Housewares
• Meeting Products
• Packaging 
• Sporting Goods
• Watches & Jewelry 
• Writing Instruments
In order to enter, please submit the following three items: 1. A sample of the product. (We recommend that the product be exclusive to the supplier that is submitting it, although this is not a requirement.); 2. A quick description of the product, including any special features; 3. The category that the product should be considered for. There is a limit of one submission per category, per company. All submissions will be judged on the following areas: design appeal, functionality and the ability to attractively feature a logo (when appropriate). Winners will be featured in the June issue of Counselor.
Please send all entries to: Karen Akers, Awards Editor, Counselor Magazine, 4800 Street Road, Trevose, PA 19053. Questions? E-mail Karen Akers at kakers@asicentral.com. Please note that only products from North American suppliers will be considered and that submissions will not be returned unless specifically requested.

New Course Available On ASI Education's OnlineLearningCenter 
Start working toward achieving your BASI (Bachelor of Advertising Specialty Information) or MASI (Master of Advertising Specialty Information) by taking self-paced, on-demand courses at ASI Education's Online Learning Center. In our newest course for distributors, "How to Hire the Best Customer Service Reps," you'll learn where to find great customer service reps; what qualities all the best reps have in common; how to interview and hire CSRs; and how to get them on board with your company's goals.
Click here to take the course.  

In The News
Acu Plus Embroidery and Screenprinting (asi/31041) in Levittown, NY has joined ASI as a supplier decorator member.
CSE (asi/155807) has announced its Supplier of the Year award winners for 2010: SanMar (asi/84863) won Best Supplier, Joey Klinger of SanMar was awarded Best Sales Representative, and Heather Newingham of Leed's (asi/66887) and Andrea Catalano of Gemline (asi/56070) received the award for Top Inside Sales Representative.
iPROMOTEu (asi/232119) has announced that 14 distributors, with a combined estimated annual sales volume of approximately $3.4 million, affiliated with it in December 2010. The new affiliates include: Jason Barrett of Hoffman Ad Pro Printing and Marketing in Kingston, PA; Ross Baxter of The Business Mechanic in Soldotna, AK; Lisa Davila of Bdazle LLC in Jacksonville, NC; Doug French of Advantage Promotions in Hampton, NH; Tammy Gickler of Taller Designs in Delaware, OH; Georgiana Hawkins in Carlsbad, CA; Jeffrey Johnson of Transaction Holdings in Las Vegas, NV; Susan Jones of Sue Jones Promotions in Jupiter, FL; Reena Jordan of All About Promotions in Escondido, CA; Carter Marsh of Prairie Production Co in Tulsa, OK; James Shields of Premier Promotional Products LLC in Scottsdale, AZ; JoAnn and Ronnie Thomson of Thomson Promotions, Inc. in Boca Raton, FL;  and Chris and April Wood of Promotional Concepts 4U in Mason, OH. One other new affiliate has requested that its identity temporarily remain confidential.
The Legacy Buying Group announced that it has named Sweda (asi/90305) as its Supplier of the Year for 2010.
The Murphy Group Inc. (asi/72743) has announced that it is celebrating its 20th Anniversary in 2011 by launching at least three new patented products.
Pony Xpress Printing (asi/297068) announced that Bruce Jolesch recently purchased the company from its original owners. Jolesch, who joined Pony Xpress 13 months ago, will now be president and CEO of the Garland, TX-based screen printer.
Screen Machine Co. Inc. (asi/85944) in Elk Grove Village, IL has joined ASI as a supplier decorator.

People On The Move
Gold Bond Inc. (asi/57653) announced that it has hired Matt Hodges as director of marketing.
Leaderpromos.com (asi/287087) announced that it has promoted Kathy Weible to executive vice president.
PRODUCT SPOTLIGHT
NEW! USB Sticks from AZX Sport ASI/30250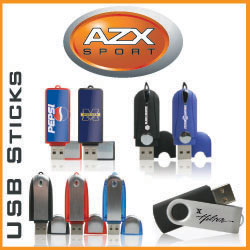 Features: 512MB - 16GB memory size available. Large variety of
colors and shapes. Ability to pre-load files onto USB.

Construction: Full color domed, Laser engraved
and pad printing available.

Lead Time: 1-3 business days on stock USB. 10 business days on
non stock USB. Minimum order 25pcs.

Orders and Art: Info.Promogram@aztex.com

Quote Requests: Info.Promogram@aztex.com

Visit www.azxpromotions.com to see our full line of products.

Or call 1-800-558-4836
CALL FOR QUOTE!
For other new and creative products,
visit the Product Central section on ASICentral.com.

EmailExpress SUPPLIER SPECIALS
Introducing a brand new product from the makers of Event-Trac!  asi/55571  - Visit us at www.quickstickonline.com to discover more about this amazing new product and become a QuickStick dealer today! View Special...
Eco Friendly Flash Drives Free Print Free Upload  asi/93131  - We Will Hit Your Price To Win View Special...
Cooler Graphics 2011 Catalog Is Now Online  asi/80345  - Our Online Catalog is now available for you to use. View Special...
2011 Munsingwear Apparel Collection Now in Stock  asi/77715  - Request your catalog! View Special...
Big Savings on Lapel Pins. 1" Soft Enamel Pin $0.24  asi/90154  - Free Shipping View Special...
NEW: QR Scanable Lanyards-A first for the promotional industry! Come by booth 6941 at the PPAI show.  asi/30250  - New to the Promotional Industry: QR Scanning Lanyards...A fantastic revolutionary promotional item. Finally a direct interactive link between the physical promotional product and the website! View Special...
NEW: QR Scanable Lanyards-A first for the promotional industry! Come by booth 6941 at the PPAI show.  asi/30250  - New to the Promotional Industry: QR Scanning Lanyards...A fantastic revolutionary promotional item. Finally a direct interactive link between the physical promotional product and the website! View Special...
NEW: QR Scanable Lanyards-A first for the promotional industry! Come by booth 6941 at the PPAI show.  asi/30250  - New to the Promotional Industry: QR Scanning Lanyards...A fantastic revolutionary promotional item. Finally a direct interactive link between the physical promotional product and the website! View Special...
Visit California Tattoos at ASI Orlando Booth #1608 and Save!  asi/43530  - 15% Off Your Next Order with California Tattoos! 7 Days Only! View Special...

ASI ORLANDO BEGINS SUNDAY, JANUARY 23
ASI Orlando (Jan. 23-25), the largest show on the East Coast, starts in just a few days and you won't want t miss it! With an amazing lineup of events, including a dynamic free Keynote by actor and activist Michael J. Fox (co-sponsored by Evans Mfg., asi/52840 and Showdown Displays, asi/87188) , the ASI Peppermint Twist-Off (we are going for the GUINNESS WORLD RECORDS™) and the Gala at the most exciting new theme park attraction to open in Orlando in years ― The Wizarding World of Harry Potter™, you will enjoy a show like no other.
Plan to leave with innovative sales-building ideas when you participate in the free ASI Education being offered ― all part of the ASI Certification Program. With 60+ sessions to choose from, there are workshops for every level of experience.
Distributors are choosing ASI Orlando as the show to kick off the start of the year. Join the thousands who are planning to attend. With a 1,000 booths featuring leading suppliers (including 197 who were not at ASI Orlando last year) you'll find hot, new items to set you apart.
Visit www.asishow.com for the complete schedule and to register. Remember, ASI distributor/decorator members also qualify for a free hotel room!*
THE ADVANTAGES ROADSHOW IS VISITING THE SOUTHEAST
The industry's #1 traveling show, the Advantages Roadshow, is visiting the Southeast this week and you are invited to attend for FREE. You don't have to invest a lot of time out of the office to acquire new tools and ideas to jumpstart your 2011 sales.
The Advantages Roadshow will be making stops in Raleigh (Jan. 17), Charlotte (Jan. 18), Atlanta (Jan. 19), Nashville (Jan. 20) and Memphis (Jan. 21). With free education from 7:45 a.m.-9:00 a.m. and 1 p.m.-2 p.m. and exhibits from 9 a.m.-1p.m., you'll enjoy an action-packed morning when you attend the Advantages Roadshow.
Visit www.advantagesroadshow.com for details. Pre-registration is not required; you may register on show site.
Follow The ASI Show on Twitter and become a fan on Facebook today!
The following are the dates and locations for The ASI Show in 2011:
Orlando, January 23-25, 2011
Dallas, February 16-18, 2011
New York, March 22-24, 2011
San Diego, May 18-20, 2011
Chicago, July 19-21, 2011
Plus, don't miss the ASI Advantages Roadshow, the industry's #1 traveling show. Visit www.advantagesroadshow.com for the complete schedule and go to www.asishow.com for information on all ASI Shows.
| | |
| --- | --- |
| | |
SPONSORED BY


Counselor® PromoGram® is a trademark of the Advertising Specialty Institute. You were sent this newsletter as a benefit of your ASI membership. Copyright 2011, ASI. All Rights Reserved.
If you'd like us to send Counselor PromoGram FREE to anyone else at your company (or to your off-site sales reps), go to www.asicentral.com/newsletters and complete the online form.
Interested in advertising in Counselor PromoGram? Send an email to ekoehler@asicentral.com
Click here to subscribe to Counselor® magazine. You must be a member of ASI to subscribe to this publication. The publisher has a right to refuse subscriptions to non-members.
Advertising Specialty Institute®, 4800 Street Road, Trevose, PA 19053