Counselor® PromoGram® 

Volume 780 / January 11, 2011

SPONSORED BY




Senate Proposal Would Repeal New 1099 Rules
With bipartisan backing, two U.S. senators plan to introduce yet another measure to repeal the 1099 tax reporting provision tied to recent health-care reform. The bill, which will formally be called the Small Business Paperwork Mandate Elimination Act, is being co-sponsored by Senator Mike Johanns (R-NE) and Senator Joe Manchin (D-WV). "As small businesses struggle to make ends meet, we can't force them to take on additional burdens that any reasonable person would reject," Manchin said.

PRODUCT SPOTLIGHT
 

ASI NEWS

Top 10 Pet Gifts of 2011 
Check out our favorite pet promo products from the year, which were purr-fect for pet store openings, dog shows and any other pet-themed promotional event.
Find out more.

Lights, Camera, Education 
The new Supplier Success System is in production and is sure to be as popular as the distributor version that helped so many industry newcomers.
Find out more.

LOGOMALL
ASI welcomes the following Suppliers to the LogoMall Network 
Find out more...
ASI STORE
Find, review, and purchase the latest exclusive ASI products... 
Find out more... 

 
ADVERTISEMENT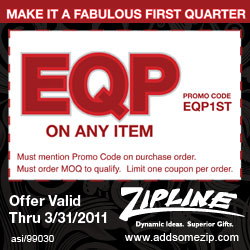 If eventually passed by Congress, the proposed bill would eliminate a current provision that forces businesses to file 1099 tax forms with the Internal Revenue Service for payments to any vendor of more than $600. A similar measure was rejected by the U.S. Senate late last year as it failed to gain the necessary 67 votes for repeal. "We were very close to repealing this burdensome provision last November and I hope the bipartisan spirit continues in the new year," said Johanns. "Telling our business owners that we're committed to removing obstacles to their growth would start off the new Congress on the right foot."

It is estimated by the U.S. Chamber of Commerce that 40 million businesses, nonprofits and even local governments would be hampered by the 1099 reporting mandate, scheduled to take effect in 2012. The measure was initially passed last year as part of the health care bill. High-ranking Congressional leaders of both major parties, as well as President Obama, have recently reiterated their support for a repeal of the 1099 rules. The Small Business Paperwork Mandate Elimination Act will be introduced on January 25 – the first day bills can be submitted to the 112th Congress.

ADVERTISEMENT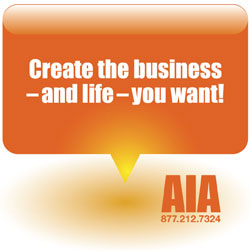 Small Business Hiring Index Rises
Supporting recent reports of a strengthening job market, a closely-watched employment measure reached a seven-month high in December. The latest CBIZ Employment Index, which records hiring trends among business with fewer than 300 workers, increased by 1.5%, particularly lifted by gains in the private sector. "As demand begins to increase through consumer spending, smaller employers are able to increase their headcounts in an effort to pace the expanding economy," said Philip Noftsinger, business unit president for CBIZ Payroll Services.
 
CBIZ data shows 29% of companies added to their employee headcount in December, while 50.4% made no changes to their employee total, demonstrating stability in worker retention. Only one of out five respondents reported a decrease in the number of people it employs. "The results of this month's report are consistent with the tone of other employment reports that we have seen throughout the month and encourages one to look to a brighter 2011, " Noftsinger said.
Last week, several employment reports, including one from the U.S. Department of Labor, showed private payrolls increased by more than 100,000 in December. In a separate report released this week, the Conference Board's Employment Trends Index increased by 0.8% to 99.3, a monthly rise of 0.8%, the most in five months. The measure also rose 7.6% from a year earlier. Overall, unemployment in the U.S. now stands at 9.4%.

ADVERTISEMENT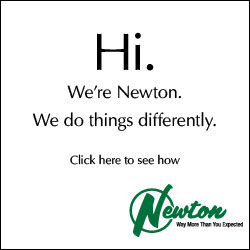 The Joe Show: New Products, New Ideas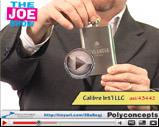 In this episode of The Joe Show, Counselor Managing Editor Joe Haley shows off some hot new products that suppliers have sent him recently. Looking for a highly useful desk accessory? How about the perfect golf tournament or tailgate gift? Check out this edition of The Joe Show.  
Click here to see this new-products episode of The Joe Show.
Want more videos? Subscribe now to our YouTube videos.

Counterfeit Logo Bust In Chicago 
Joseph Kim, a 27-year-old entrepreneur, was recently arrested in Cook County, IL, for violating copyright laws by selling counterfeit sports merchandise. Authorities seized more than $650,000 worth of sweatshirts, T-shirts and hats embroidered with counterfeited logos of the Chicago Bears, Chicago Blackhawks and other sports brands, according to the Cook County Sheriff's Office.

Kim sold sweatshirts for $8 to $12 each, but legitimate versions typically retail for about $50, the investigators said. From the three-story warehouse where Kim was storing more than 10,000 pieces of counterfeit merchandise, authorities also seized eight embroidery machines valued at $50,000 each, authorities said. Kim's counterfeit stash of clothing included 1,000 fraudulent Fox Racing items and hundreds more pieces of merchandise with Harley Davidson, Hurley, Tapout and Nike logos, among others, affixed to them. Also confiscated were computer discs with professional and college athletic logos, as well as major clothing brands.

"Kim told investigators he could embroider nearly any trademark requested," Cook County investigators said in a news release. Kim was using his legitimate embroidery business, Asian American Industrial Alliance (AAIA), as a cover for his illegal operation. AAIA holds several legitimate public and private contracts for printing services, but the majority of Kim's business was dedicated to counterfeit operations, authorities said.

Producing the fakes Kim was allegedly manufacturing can be easy and lucrative, said Randy Reneau, owner of Chicago-based All Seasons Screen Printing and Embroidery (asi/117124). "A lot of people are hurting for business and they'll sell their own mother," Reneau says. "Counterfeiters don't care about copyrights."

ASI Radio Offers Customer Service Tips


This morning's Tuesday Morning Show on ASI Radio provided listeners with advice for how they can provide knock-your-socks-off service. Plus, the hosts shared their "Favorite Things," provided ways listeners can improve their marketing efforts in 2011, and shared strategies for getting ahead in the workplace.  
If you missed the show, a recording is now available at www.asicentral.com/radio. And, don't forget to join us for our next broadcast on Tuesday, January 18. Log on at 10:30 a.m. ET to listen to the show – and give us a call at (215) 953-4979 to hear your voice on the air.

China To Let Yuan Appreciate 
In an attempt to combat inflation, the Chinese government will allow its nation's currency, the yuan, to rise 5% against the dollar in 2011, according to a leading national securities newspaper based in Beijing. Traders expect the yuan will appreciate by at least 2% during the first quarter alone in advance of Chinese President Hu Jintao's visit to the U.S. in mid-January. "Yuan appreciation will make imports cheaper to reduce the impact of rising commodity prices in the international market, providing relief from inflationary pressure," said the China Securities Journal, a publication well-connected to policy makers in Beijing.
The appreciation of the currency, though, can increase the prices on goods exported out of China. Despite the likely gains by the yuan, officials maintain any currency appreciation will have little effect on the roughly $270 billion U.S. trade deficit with China. In meetings this week, U.S. and Chinese leaders publicly announced their intentions to improve global cooperation, although many officials in Washington continue to privately press Beijing to reduce perceived trade imbalances. Supported by numerous studies, economists say the yuan is undervalued by as much as 27%, contributing greatly to strained relations in recent years between the U.S. and China.

Call For Entries: Counselor Product Design Awards
Counselor magazine is looking for innovative products for its Product Design Awards competition. Suppliers are invited to nominate their favorite eye-catching products in the following categories:
• Apparel/Caps
• Awards & Recognition
• Bags
• Calendars
• Computer Accessories
• Desk Accessories
• Drinkware
• Electronics
• Housewares
• Meeting Products
• Packaging 
• Sporting Goods
• Watches & Jewelry 
• Writing Instruments
In order to enter, please submit the following three items: 1. A sample of the product. (We recommend that the product be exclusive to the supplier that is submitting it, although this is not a requirement.); 2. A quick description of the product, including any special features; 3. The category that the product should be considered for. There is a limit of one submission per category, per company. All submissions will be judged on the following areas: design appeal, functionality and the ability to attractively feature a logo (when appropriate). Winners will be featured in the June issue of Counselor.
Please send all entries to: Karen Akers, Awards Editor, Counselor Magazine, 4800 Street Road, Trevose, PA 19053. Questions? E-mail Karen Akers at kakers@asicentral.com. Please note that only products from North American suppliers will be considered and that submissions will not be returned unless specifically requested.

Take the Stitches State of the Industry Survey 
Stitches is currently polling industry professionals to see how the market did in 2010 -- and we need your valuable input. We're inviting embroiderers and other decorators to take our third-annual State of the Industry survey. So, please take some time today to click the appropriate link below and complete the survey. You'll be entered into a random drawing to win up to $500.

Click here to take the survey.

Get Your Company Profiled In Counselor Magazine
Counselor is currently looking for distributors to profile for a new feature series in the magazine in 2011. Looking to improve your company's operations? Want to experience big growth next year? Counselor will be profiling the challenges of a distributor company in each issue, speaking in-depth with company principals to find out what obstacles may currently be holding their business back. A reporter will then take these challenges to a group of consultants and business experts, who will create a step-by-step plan for how this company can overcome its challenges and realize big revenue gains.
If you'd like to have your company profiled and provided with tailor-made growth strategies, send an e-mail to Andy Cohen at acohen@asicentral.com detailing your top three challenges and explaining how your business fared in 2010. Also, this feature will include a detailed financial analysis for the company being profiled, so interested companies should be prepared to provide three years' worth of P&L statements on their businesses. Company principals should also be prepared to be visited by a reporter and photographer for the article.

In The News
Alliance Rubber Company (asi/34345) has announced that it was closed yesterday and will most likely be closed today due to the storm in Arkansas.
Barker Specialty Orlando, an affiliate of Barker Specialty Company (asi/132690), announced that it received the 2010 Small Business of the Year Award from the Small Business Council of the Kissimmee/Osceola County Chamber of Commerce.
BIC Graphic (asi/40480) and Norwood (asi/74400) have refreshed their social media pages and launched new ones for 2011. The new blog can be accessed at www.norwood.com, www.norwoodcanada.com and www.bicgraphic.com.  
Chocolate Inn (asi/44900) announced that it has launched the new Confectionary Catalog.
Facilis Group has been awarded the League of American Professionals' Magellan Award for its annual e-mail marketing campaign, making it one of the top 50 communications campaigns of 2010.
HPI Emblem (asi/62066) has celebrated its 25th year in business since it first began operations in San Diego, CA.
Leed's (asi/66887) has announced a new partnership with Pro Towels Etc. (asi/79750), which marks Leed's entry into the towel category. Pro Towels will remain active in the industry and continue to offer its complete line of products directly to distributors, while a selection of 17 towel items will also be available under the Leed's service platform.
SanMar Corporation (asi/84863) has announced that it is celebrating its 40th anniversary this year.
Sweda (asi/90305) has announced that it will be celebrating its 35th anniversary in 2011.

People On The Move
AAkron Rule (asi/30270) has named Carrie Sabo its central regional sales manager, covering TX, CO, MT, ND, SD, WY, NE, KS, OK and NM.

Proforma has welcomed the following owners and offices to its network: Liz Anderson, Proforma Peak Opportunities, Colorado Springs, CO; Blanka Barnett, Proforma Inspired, Fuquay-Varina, NC; Jo Burdek and Karin Clare, Proforma Onesource Promotions, Clearwater, FL; Greg and Kim Hogle, Proforma Printing In Time, Jeffersonville, IN; Brent and Kathryn Key, Proforma Revolution, Baton Rouge, LA; Mark and Karen King, Proforma Target Your Market Promotional Products, Marietta, GA; Harry Mellen, Proforma Northeast Marketing, Londonderry, NH; Amanda Miller, Proforma DMK Marketing Concepts, Knoxville, TN; Beth Shaw, Proforma S2S Promo, Whistler, BC, Canada; Jennie and Joshua Sizemore, Proforma Midwest Marketing and Promotions, Columbus, OH; Marci Soran, Proforma studioM productions, Sandy Springs, GA.

Spector and Co. (asi/88660) has announced the following personnel changes: Heidi Urban joins the business development department as a program development coordinator; Ana Curado and Sharon Nixon, account managers in customer service, will now handle all of Urban's former accounts; Karine Soucy, account manager, is now handling Randi Dresher's accounts, as Dresher is currently on maternity leave.

PRODUCT SPOTLIGHT
NEW! USB Sticks from AZX Sport ASI/30250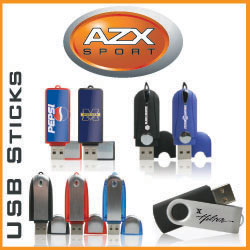 Features: 512MB - 16GB memory size available. Large variety of
colors and shapes. Ability to pre-load files onto USB.

Construction: Full color domed, Laser engraved
and pad printing available.

Lead Time: 1-3 business days on stock USB. 10 business days on
non stock USB. Minimum order 25pcs.

Orders and Art: Info.Promogram@aztex.com

Quote Requests: Info.Promogram@aztex.com

Visit www.azxpromotions.com to see our full line of products.

Or call 1-800-558-4836
CALL FOR QUOTE!
For other new and creative products,
visit the Product Central section on ASICentral.com.

EmailExpress SUPPLIER SPECIALS
First ever our New 92 page Sports Awards Catalog  asi/45330  - Introducing new Sports Achievement Catalog w/over 1000 award products, every category of recognition products. Order today, receive the complete digital publication with every feature necessary for your own website & your clients complete viewing. View Special...
Flash Drives Free Print Free Set Up Free Upload  asi/93131  - We Will Hit Your Price To Win View Special...
2011 Bay State Full Line Catalog  asi/38980  - Bay State Full Catalog Line View Special...
TOTE, $.49 SHOW SPECIAL  asi/37980  - Visit us online www.bagworldpromo.com View Special...
Special Low Pricing on Most Popular models. 1GB $3.72  asi/90154  - Free Shipping View Special...
Offer Your Clients a Full Line of High Quality Print Products!  asi/79558  - Offer your clients high quality table tents, notepads and newsletters. Plus, get $50 off your next order of any these products! View Special...
Looking for a new Screen Printer?  asi/701979  - Hassle-Free Custom Screen Printing! View Special...
Write one more order today with Ad Master Line  asi/31485  - Write one more order today with Ad Master Line View Special...
Visit California Tattoos at PPAI Expo Booth #3903 and Save!   asi/43530  - Teaser: Visit California Tattoos at PPAI Expo Booth #3903 and Save! View Special...
Check us out in Las Vegas - Booth #5364. Great Flash Drive Specials as low as $3.40 net.  asi/37218  - Free Shipping, Free Set Up, and Free 2 Color Imprint View Special...
Custom USB drives, FREE Ground Shipping - FREE Samples  asi/73571  - FREE Shipping - FREE Samples View Special...
All New Paint with Water Books  asi/45815  - Check out these ALL NEW Paint with Water Books View Special...
Our 2011 Sportswear Collection Catalog is now Online !  asi/84358  - Our Online Catalog is now available for you to use. View Special...
Introducing Flavor Funnel - A Truly Unique and Innovative New Promotional Product  asi/40142  - The amazing FLAVOR FUNNEL! This incredible little gadget will take the shaking, leveling, and guesswork out of getting even distribution of liquid toppings throughout your bag of popcorn. See how it works at www.flavorfunnel.com. View Special...
Introducing Enro / Damon: Dress Shirts, Sportswear, Ties, Pants, Belts  asi/52487  - Look smart and stay comfortable. View Special...
Bulldog Packaging a Sure Bet  asi/42426  - Enter to win an iPad! View Special...
Custom Laser Engraved Sunglasses - New Product  asi/63008  - Custom laser engraved sunglasses-New Product View Special...
New from American Zebra Line - Suprene Beverage Holders!  asi/35745  - New from American Zebra Line - Suprene Beverage Holders! View Special...
NEW: QR Scanable Lanyards-A first for promotional industry! Come by booth 6941 at the PPAI show.  asi/30250  - New to the Promotional Industry: QR Scanning Lanyards...A fantastic revolutionary promotional item. Finally a direct interactive link between the physical promotional product and the website! View Special...

ASI ORLANDO IS LESS THAN TWO WEEKS AWAY
ASI Orlando (Jan. 23-25), the largest show on the East Coast, is less than two weeks away and you won't want t miss it!  With an amazing lineup of events, including a dynamic free Keynote by actor and activist Michael J. Fox (co-sponsored by Evans Mfg., asi/52840 and Showdown Displays, asi/87188) , the ASI Peppermint Twist-Off (we are going for the GUINNESS WORLD RECORDS™) and the Gala at the most exciting new theme park attraction to open in Orlando in years ― The Wizarding World of Harry Potter™, you will enjoy a show like no other.
Plan to leave with innovative sales-building ideas when you participate in the free ASI Education being offered ― all part of the ASI Certification Program. With 60+ sessions to choose from, there are workshops for every level of experience.
Additionally, more than 700 leading suppliers (including 197 who were not at ASI Orlando last year and 161 you won't see at PPAI) will be debuting thousands of new items.
Visit www.asishow.com for the complete schedule and to register. Remember, ASI distributor/decorator members also qualify for a free hotel room!*
Follow The ASI Show on Twitter and become a fan on Facebook today!
The following are the dates and locations for The ASI Show in 2011:
Orlando, January 23-25, 2011
Dallas, February 16-18, 2011
New York, March 22-24, 2011
San Diego, May 18-20, 2011
Chicago, July 19-21, 2011
Plus, don't miss the ASI Advantages Roadshow, the industry's #1 traveling show. Visit www.advantagesroadshow.com for the complete schedule and go to www.asishow.com for information on all ASI Shows.
| | |
| --- | --- |
| | |
SPONSORED BY


Counselor® PromoGram® is a trademark of the Advertising Specialty Institute. You were sent this newsletter as a benefit of your ASI membership. Copyright 2011, ASI. All Rights Reserved.
If you'd like us to send Counselor PromoGram FREE to anyone else at your company (or to your off-site sales reps), go to www.asicentral.com/newsletters and complete the online form.
Interested in advertising in Counselor PromoGram? Send an email to ekoehler@asicentral.com
Click here to subscribe to Counselor® magazine. You must be a member of ASI to subscribe to this publication. The publisher has a right to refuse subscriptions to non-members.
Advertising Specialty Institute®, 4800 Street Road, Trevose, PA 19053