ADVERTISEMENT
SHARE PROMOGRAM

ASI NEWS


Register for Canadian Power Summit
ASI's first-ever Power Summit in Banff, Canada will feature three days of networking, top business leaders and informative strategizing.
Find out more.

New ESP Mobile™ App Available
Over 40 new app features, including virtual samples and speak to search, now available for iPhone, iPad and Android.
Find out more.



ESP WEBSITES


ASI welcomes the following suppliers to the ESP Websites network.
Find out more.



ASI STORE




Find, review, and purchase the latest exclusive ASI

products...
Find out more.




ADVERTISEMENT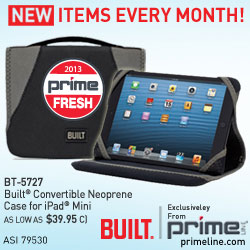 Consumer And Business Confidence Rebounds
Following three straight months of declines, consumer confidence rose sharply in February, according to the closely-watched measure released by the Conference Board, a private research firm. The Conference Board's latest confidence index was higher than analysts forecasted, having increased to 69.6, up significantly from January's reading of 58.4.
"Consumer confidence rebounded in February as the shock effect caused by the fiscal cliff uncertainty and payroll tax cuts appears to have abated," said Lynn Franco, economic indicators director at the Conference Board, in a statement.
The Conference Board's gauge of consumer expectations for the next six months also jumped in February, reaching 73.8, improving from 59.9 last month. Consumers' assessment of current business and labor conditions increased seven points to 63.3. In addition, data shows 16.7% of survey respondents anticipate more jobs in the coming months (14.4% in January), while 21.5% now expect fewer jobs (26.7% in January). Compared to previous readings, a greater number of people believe their incomes will rise in the future as well.
It's not only consumers that appear more optimistic about the economy – businesses seem to have renewed confidence as well. A measure of planned business spending increased to its highest level in more than a year in January, continuing a shift that began in last year's fourth quarter. Non-defense capital goods orders – also known as core capital orders – increased 6.3% last month, the largest gain since December of 2011.
Finally, in another potential sign of recovery, a separate report from the National Association of Realtors showed its pending home sales index rose 4.5%, hitting its highest mark in nearly three years.