ADVERTISEMENT
ASI NEWS


Register for Canadian Power Summit
ASI's first-ever Power Summit in Banff, Canada will feature three days of networking, top business leaders and informative strategizing.
Find out more.

New ESP Mobile™ App Available
Over 40 new app features, including virtual samples and speak to search, now available for iPhone, iPad and Android.
Find out more.



ESP WEBSITES


ASI welcomes the following suppliers to the ESP Websites network.
Find out more.



ASI STORE




Find, review, and purchase the latest exclusive ASI

products...
Find out more.











ADVERTISEMENT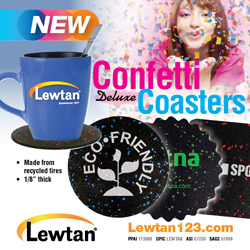 BIC APP Reports Financials
BIC APP, the parent division of Counselor Top 40 supplier Norwood (asi/74400) and BIC Graphic North America (asi/40480), has reported its 2012 sales decreased 9.2% on a comparable basis to 291.1 million euros ($389.4 million). In the fourth quarter of last year, revenues at BIC APP which includes Norwood, BIC Graphic and Europe-based Antalis Promotional Products dipped to 89.1 million euros ($119 million), a year-over-year decline of 12.2%, according to a financial statement released late last week.
Looking forward, however, BIC executives now expect considerable improvement for BIC APP in 2013, forecasting stronger sales when measured against revenues in recent years. "Driven by enhanced customer service and innovative imprinting solutions, BIC APP net sales should be stable to slightly increasing," said Mario Guevara, CEO of BIC Group. Officials also said in a public statement that they expect BIC APP to generate "low to mid-single digit annual sales growth within the next three to five years."
In its latest earnings report, BIC Group announced its overall 2012 revenues which include sales of stationery products, shavers and lighters increased worldwide by 2.8%, reaching 1.9 billion euros ($2.5 billion). In Q4, sales at BIC Group fell 0.4% to 464.1 million euros ($621 million).
"Despite the challenging economic environment which has affected all our markets, we achieved solid 2012 results thanks to the sustained performance of our consumer business," Guevara said. "We will continue to prepare future growth through investments in research and development, brand support and manufacturing capacities funded by our strong cash generation."
BIC APP's 2012 struggles, the company said, are attributable to the "implementation of our new ERP system, resulting in shipment delays. These issues are being addressed and the business has shown an improvement in customer service." Ranked by Counselor as the fourth-largest supplier in the industry, Norwood and BIC Graphic North America reported 2011 sales of $350 million, down from $385 million a year earlier.