ASI NEWS


ESP Mobile™ App Demo'd in Dallas
ASI shows off 40 new app features, including virtual samples and speak to search, at the ASI Show in Dallas.
Find out more.

ESP Websites Hit 5K Milestone
Thousands more going live in coming months and nearly 50 new features now available.
Find out more.



ESP WEBSITES


ASI welcomes the following suppliers to the ESP Websites network.
Find out more.



ASI STORE




Find, review, and purchase the latest exclusive ASI

products...
Find out more.



NEWS FROM THE ASI SHOW! Dallas
ADVERTISEMENT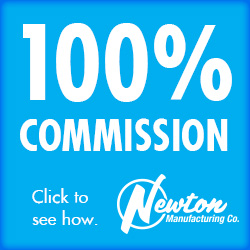 Emmitt Smith Scores With Dallas Audience
As the keynote speaker at The ASI Show in Dallas this morning, former Dallas Cowboys' great and NFL Hall of Famer Emmitt Smith energized and motivated the enthused audience. Wearing a gray vest, blue striped shirt and slate-colored tie, Smith strode onto the stage to a standing ovation, and kept attendees on the edge of their seats with tales from his football career and life after football. His main message: Be bold with your goals. "Your attitude determines your altitude," Smith said. "You have to believe in yourself and your own abilities to be able to reach new heights. But, the only way to get there is to write those goals down. It's only a dream until you write it down. That's when it becomes a real goal."
Weaving in stories from when he was eight years old playing football through his high school and college playing days and up to his post-NFL life, Smith said he consistently had to overcome adversity and change. While at the University of Florida, his team's offensive coordinator was fired after two of his seasons, and then the whole coaching staff was let go after his junior year.
Faced with a difficult choice of staying in school to graduate – something he said he had promised his mother he'd do – or going to the NFL, Smith decided to enter the NFL early. "This wasn't the plan, and I'm a big plan guy," Smith said. "But change is going to come for everybody and how you face it can often determine your success. Once I made the decision, which I cleared with my mom, of course, by promising her I'd go back to school to graduate, then I jumped in and started to make new goals for my pro career."
Ultimately, Smith told the ASI Dallas audience that the key to success in business and in life is to love what you do and put everything you have into it. His high school football coach taught him an important lesson that he implements in his life to this day – and he suggests all business people should employ as well. The coach told everyone on the team toput a mirror in their lockers, look in that mirror every day, and ask themselves two very simple questions: Am I doing everything I can to make the team better? And, can I do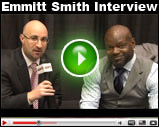 more?

"You always have room to push harder and strive for more," Smith said. "You just have to believe that you can do it. You always should have something more to shoot for. That's how you become the best football player, salesperson, anything."

Counselor Editor Andy Cohen interviewed Smith after his keynote session to get more motivational advice. Click here to watch the video.