ADVERTISEMENT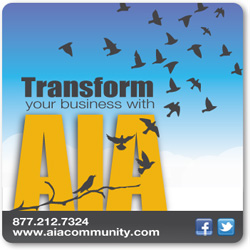 Trade Show Report: MAGIC Highlights Apparel Trends
Despite the myriad of distractions amid the hustle and bustle of the trade show floor, you couldn't help but notice the American Apparel (asi/35297) T-shirt Mark Smalley held up. That's because the V-neck – a just-debuted 50% cotton/50% polyester short sleeve – was a vivid, eye-grabbing neon green. "Neon is going to continue to be really big," said Smalley, a marketing associate at American Apparel.

Indeed, neon was one of the many trends sweeping the floor Monday in Las Vegas at the MAGIC Fashion Show, which featured more than 4,000 exhibitors and in excess of 7,000 brands. The bright color craze extended beyond apparel to accessories, including caps like those made by South Pasadena, CA-based Veloce Hats. The company's lime green, orange, hot pink and electric blue neon caps, which include flipable brims that can feature customized messaging, are proving popular with the urban and youth markets. "We're seeing them worn a lot at music festivals," says Jonathan Torres, marketing associate at Veloce. "They're great for promotions where you're targeting a younger audience."

Here were some other highlights from day one of the show yesterday:

Made-In-the-USA: End-user interest in American-made apparel continues to grow. Just ask Jacky Chan of Ammatac Corp. (asi/30281). Speaking exclusively to Counselor Monday, Chan said the biggest selling point of Ammatac's most popular item – a micro fleece jacket – isn't that it comes in 13 colors and only costs $7.50 per piece if ordered in quantities of at least 50. No, it's that the jacket is Made-in-the-USA, and that Ammatac can embroider the item in-house at its facility in Burlingame, CA. "It's Made-in America, and that's an important part of what attracts customers," Chan says.

Crew Neck Sweatshirts: Expect crew neck sweatshirts to be popular this fall at retail and in campus bookstores. The collection of crews from Billionaire Bags – which featured applique, screen printed, and chain-stitch embroidery embellishments – is a good example of what you'll likely see on shelves. With end-users increasingly expecting to find retail-style offerings in the promotional apparel arena, crew necks are certain to be on the buying lists in markets ranging from collegiate to resorts and beyond.

Daring Denim: Denim received a number of interesting treatments at the show. Consider the popular denim gym and duffel bags by American Apparel and the super skinny women's jeans from Ci Sono by Cavalini that come in a variety of non-traditional colors like canary yellow, purple, pink, and cobalt blue.

Rose Gold Watches: Watches will always be a great high-end gift to a cherished client or an employee who has turned in an outstanding performance. And if end-buyers want to give a timepiece that's on trend, they'd do well to make it a rose gold watch. The rose gold treatment has grown popular in lines ranging from Michael Kors to Fossil.
The MAGIC Marketplace continues through tomorrow in Las Vegas.