ASI NEWS


Promo Products Take Star Turn
The ad specialty industry was big news on Fox stations across the country in segments aired in 13 markets.
Find out more.

Sales Are Up
ASI's 2011 distributor sales research report shows total industry sales of $18.5 billion, up 6.2% from 2010.
Find out more.
LOGOMALL

ASI welcomes the following Suppliers to the LogoMall Network.
Find out more.

ASI STORE

Find, review, and purchase the latest exclusive ASI products...
Find out more.


Biz Stone: "Opportunities Can Be Manufactured"
One young entrepreneur distributor stood up in the packed ballroom at The ASI Show Dallas this morning and asked keynote speaker Biz Stone a simple but meaningful question: What's the one thing you'd like me to know when I leave here today? Stone, the pioneering technology guru who co-founded Twitter, pondered a moment. "Wear sunscreen," he joked, drawing laughs from the distributor and the rest of the audience. But when the chuckles died down, Stone gave his real answer: "The only real way to succeed is to just jump off the cliff. You really have to go for it; you can't hedge."

Such easy, irreverent humor and poignant insights into succeeding in business and life characterized Stone's keynote speech, which kicked off the final day of exhibits at ASI Dallas. Speaking in a laid-back conversational style, Stone shared a series of stories – about everything from the founding of Twitter to a German film that helped inspire the go-for-it philosophy that's been integral to his success – that resulted in tidy takeaways distributors can immediately apply to be more successful.

One of those takeaways was that "opportunity can be manufactured." To illustrate his point, Stone told how he founded a lacrosse team at his high school after it became clear he wasn't prepared to make the rosters in more traditional sports. Recruiting players and coordinating with administrators, Stone was soon excelling on the lacrosse field, captaining the team. "You can arrange the right circumstances to be successful," Stone said. "It works well whether you're a high school freshman or running a business."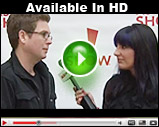 Responding to an audience question, Stone said businesses will get the most benefit from Twitter – and social media in general – if they create content that is compelling to customers and prospects. "You want to give them something that makes them smarter and keeps them coming back for more," said Stone. "Give people a peek behind the curtain; show them your humanity." Fielding another question from an attendee, Stone said attempts to censor social media will ultimately fall flat, not because of technology's power, but because of the human spirit. "I think freedom of expression and speech and the fact that people are naturally social animals will bowl over anything," he said.

Revealing a bit of the quirkiness that has helped fuel the creativity that has made him a world famous innovator, Stone talked about a German art house movie in which an angel decides to become human because he wants to experience the sensations – love, good food – of being a man. While this meant the angel had to give up his immortality, the
experience of being human was worth it, said Stone. There's a valuable lesson there. "He was willing to die to get what he wanted," said Stone. "If you want something, you have to totally go for it; be prepared to mega fail or mega succeed."

Discussing the creation of Twitter, Stone revealed that he went through unsuccessful attempts to develop a new technology platform. But what kept him and his co-founders working on Twitter, despite the comments of naysayers who thought the work-in-progress had no future, was simply that they were having fun doing it. Indeed, having fun continues to be a core metric of success at Twitter. "If you're not emotionally engaged in what you are building, it's not going to go well for you," said Stone. While an admitted tech geek, Stone is most excited not by Twitter's status as a groundbreaking technological phenomenon, but rather that the tool is a means for people to openly exchange information. "If Twitter is a triumph," said Stone, "it's not a triumph of technology, but a triumph of humanity."
ASI's Nicole Rollender caught up with Stone after his keynote to find out more of his business advice. Click here to watch the interview.