Laura Bush Inspires Dallas Audience
At the podium before a standing room only crowd at the ASI Dallas Show, former First Lady Laura W. Bush spoke of her first night in the White House. How, after a whirlwind of inaugural balls, she lay down with aching feet to sleep and felt, not the strain of the massive pressure now on her and her husband's shoulders, but a gentle peace because her immediate family was all sleeping at the White House that night, safe and together. "How often do you have nearly everyone you love under one roof?" Mrs. Bush asked poignantly.
In similar anecdotes told with grace and warm humor, Mrs. Bush offered insights into her life as America's foremost woman in a keynote speech that captivated the crowd and drew several standing ovations. "I really liked her humor and all the tidbits about her life that she shared," said Martha Smith of AIA/RC Sales (asi/109480).
Peppering in jokes about how she was portrayed by an often hostile media, Mrs. Bush spoke of finding her identity as First Lady through advocacy on issues near to her heart, such as improving education, literacy initiatives and enhancing the lives of women around the world through education and health awareness. "To sit here and hear her say that we're women and we can do anything and this is a women's world was moving," said Norma Westphal of Proforma JETT Eagle Advertising. "She made me cry."
Candid and compelling, Mrs. Bush spoke of the turbulent times through which her husband, President George W. Bush, guided the country, beginning with the September 11, 2001 terrorist attacks. "These years changed us as individuals and as a nation," she said. In a segue into talking about the attacks, Mrs. Bush recalled a national book festival she organized on September 8, 2001. About 30,000 people attended. "That was probably the last weekend people could participate in an event like that without looking over their shoulders or up in the sky," she said. As tears welled in some audience members eyes, Mrs. Bush related how a secret service agent first informed her of the attacks, how she sat stricken with Senator Ted Kennedy in his office as the horrific scope of the tragedy became clear and how, that night, she and her husband hunkered in a subterranean bunker, fearing a direct attack on the White House. "We awoke on September 12 to a different life," she said before commenting on the personal pain her husband felt when he talked with families of service men and women killed in Iraq.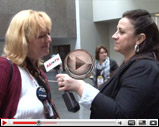 Still, Mrs. Bush didn't dwell on despair. Rather, she related the pride she felt not only in her husband, but in all Americans as the nation perseveres with what she said is hope and strength in the post 9/11 world. At the outset and ending of her speech, Mrs. Bush commented on her Texas roots and said she and her husband were glad to be living again in the place they've always thought of as home. "We're living the afterlife in a state George calls the promised land," said Mrs. Bush.
Counselor caught up with attendees just after Mrs. Bush finished her speech. Click here to see the video interviews.