SPONSORED BY


| | |
| --- | --- |
| | ADVERTISEMENT |
ADVERTISEMENT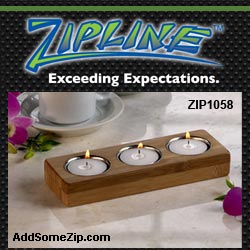 Video Report: Marketing Tactics To Thrive In '09


Looking for some strategies to help your business succeed in this difficult economy? In our special video series this month, we're offering just those types of tactics. In conjunction with Counselor's March issue, which profiles growing distributors and offers a variety of ways that industry companies can grow right now, this video series will highlight some of the successful strategies that distributors are using to weather the current storm – and come out on top.
Click here to watch the second installment of our Gearing Up For Growth video series – this one focused on your marketing efforts. And be on the lookout in next week's Counselor PromoGram for the third episode of the series.

ADVERTISEMENT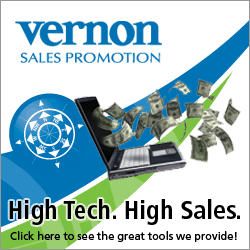 Suppliers Consolidate Operations
After five years of planning and transition, All Book Covers Inc. (asi/34262) and Bradford Alan (asi/41460) have formally combined operations and now manufacture products from one facility in Tempe, AZ. All Book Covers has closed its California plant, citing high business costs in the state. The new consolidated company is called All Book Covers AZ dba Bradford Alan. "I'm glad we're now under one roof," says Ivan Fishman, who has owned both All Book Covers and Bradford Alan for several years. "Even before the recession, it was too expensive to continue in California."
Fishman says he offered all of his California-based employees an opportunity to move to the Arizona plant. About a dozen decided to move, but roughly 60 workers stayed in California. One salesperson remains in California. The consolidated Arizona facility is 80,000 square feet and includes two buildings. "We had to move all our equipment, so that was a challenge," says Fishman. "We now have room to grow. It was a good decision."
All Book Covers and Bradford Alan generated combined revenues of about $10 million in 2008. Fishman is hoping for a successful 2009, but is setting realistic goals because of the economic downturn. "I know there is light at the end of the tunnel, but I just don't see it yet," he says. "I think this year things will turn around for our industry."
All Book Covers AZ dba Bradford Alan employs 80 workers. The company produces menu and diploma covers, hotel guest directories, leather products and other items.

ADVERTISEMENT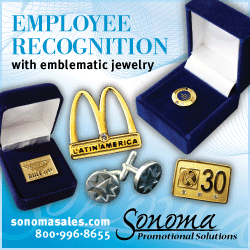 ASI Internet Radio Is On The Air


Every Tuesday morning from 10:30am eastern time to 11:00am, a team of ASI editors will be debating the most important topics facing the industry. Oh, and we'll also be offering our own off-beat look at the market. This morning, we broadcast live from our home studios in Trevose, PA. We discussed why Oscar gift bags were less bling-y this year, how to market your business with print advertising, and why some outgoing voice mail messages are just useless. Plus, we even offered some strategies to callers looking to ramp up their new-business efforts right now.
If you missed the show, don't worry. A recording is now available at www.asicentral.com/radio. And, don't forget to join us next Tuesday, March 3, for our next broadcast. Log on to www.asicentral.com/radio at 10:30 am eastern time and give us a call at 215-953-4979.

ADVERTISEMENT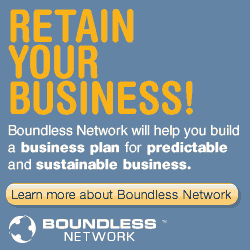 Manufacturer Changes Name
In an effort to streamline and strengthen its brand, plastics manufacturer Thermo-Serv/Betras (asi/91080) is changing its name and logo. The Dallas-based company will now be called ThermoServ. "We just felt there was some ambiguity about our name among our customers," says Jessica Edwards, marketing director for ThermoServ. "We thought since it's a new year it would be a good time for a name change."
In recent years, ThermoServ has undergone name and identity changes because of an acquisition and a merger. In 2002, then-Thermo-Serv acquired the plastic beverageware division of Aladdin Industries, LLC. In 2006, Thermo-Serv merged with Betras Plastics to become Thermo-Serv/Betras. Edwards says the company is now focusing on promoting its American-made drinkware and recycled products. "We recently held an open-house for distributors so they could see what we do and it was very successful," says Edwards. "We have inexpensive, but high-quality products, so we're doing well.
Edwards says ThermoServ, which was founded in 1956 and now has more than 300 employees, just had "its best January ever" in sales.

ADVERTISEMENT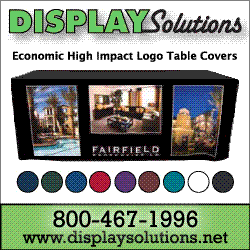 Promotional Product Saves Family's Life
Sharon Wahl's job as a salesperson for Ad Madison (asi/107130) is to convince others of the value of promotional products. But even she wasn't expecting one of her projects to provide the ultimate value: It saved a family's life.

It began innocently enough when the Blue Mound, WI, resident was approached by Plastic Ingenuity, a plastic packaging company and one of Wahl's best clients. "Every year or two they order a safety gift if their safety meets up to expectations," she says. "And this year when [their owner] called me for a safety gift he said, "Well, we want something useful. We want something people are going to use in the home.'"

They settled on a Kidde Carbon Monoxide detector. The client bought over 450 and distributed them to his employees in December. Weeks later, one of the workers, working the late-night third shift, received a call from his wife that the carbon monoxide detector went off. After calling 911 and getting their two kids out of the house, the fire department came and discovered there was a carbon monoxide leak. The Plastic Ingenuity owner e-mailed Wahl that day to tell her the story. "This March will be 10 years I've been selling promotional products," says Wahl. "I have never had an e-mail like that. To be able to sell something that actually helped save somebody's life? Yeah, that's a great feeling."


A great feeling for the owner too, who didn't even bother to put a logo on the detectors. Recalls Wahl, "He said 'You know what? Everybody who puts this up is going to know where they got it. I don't even need to logo it.'" And if they didn't remember before, they will definitely remember now.

Take The State Of The Industry Survey
Counselor is currently polling professionals in the industry to see how the market did in 2008. We need your input. We're inviting both suppliers and distributors to take our annual State of the Industry survey. So, please take some time to click the appropriate link below and complete the survey. You'll be entered into a random drawing to win up to $1,000.
Click here to take the distributor survey.
Click here to take the supplier survey.

Vote Now For The Best-Designed Industry Products
The results are in: Counselor magazine has selected the finalists for its third annual Product Design Awards. Here's where you come in. Please click here to vote for the products that YOU think are the best designed, considering both aesthetic appeal and functionality. You can select up to three products in each of the 14 featured categories. It only takes a few minutes, and your input is very important to us!
The winners will appear in the June 2009 issue of Counselor. Thanks very much for your help.

UPS Announces Tool To Remove Guesswork From Packing
In addition to receiving a comprehensive discount program, ASI members can also take advantage of a new tool to reduce waste and transportation costs and prevent damaged packages. The new UPS Packaging Advisor takes the guesswork out of shipping by guiding you step-by-step to industry guidelines.
Here's how it works: First, you select the category of your goods. Next, enter the product's dimensions and weight. Based on this information, the Packaging Advisor will provide some guidelines on the exterior carton, interior cushioning, product placement, closure, and shipping label placement.
This online tool will help you determine just what you need for your packages, whether from home or from the office. It's now available at http://www.ups.com/packaging?loc=en_US. For more information on ASI Affiliate UPS, or to enroll in the ASI member UPS discount program visit www.asicentral.com/ups (U.S.) or www.asicentral.com/upscanada (Canada)

ASICentral Poll Results: Predicting 1st Quarter Sales
With the economy in the throes of recession, we fully expected results to the following ASICentral poll question to lean heavily toward the negative:

How do you expect your 1st Quarter 2009 sales to compare to 1st Quarter 2008?

Surprisingly, they didn't. Click here to get a breakdown of the rose-colored data and to find out what it all might mean in the long run.

Got questions, comments or any type of feedback regarding anything ASICentral, don't hesitate to contact us at feedback@asicentral.com, and please check the Team Blog often for site updates. And if you're not already a fan of ASICentral on Facebook, what are you waiting for?

In The News
Bag Makers Inc. (asi/37940) has launched a Boomerang 5-Day production service, available for the company's entire line of Celebration non-woven totes and paper and plastic bags. The service reduces production time and includes discounts on rush orders.
Crystal D (asi/47759) has added 80 American-made plaques to its product offering. The plaques are made from either cherry or recycled materials.
Drummond Printing Inc. (asi/50873) recently made contributions to Susan G. Komen for the Cure and the American Heart Association. The donations were based on a percentage of the proceeds generated by the company's Breast Cancer and Heart Disease Awareness Journals.
Leed's (asi/66887) has expanded its EcoSmart line. About half of the company's 77 EcoSmart products are being sold for less than $10.
TRG Group (asi/90507) has named Nicki McCollough its 2008 Horizon's Award winner. The annual award is given to the corporate markets' team member who contributes the most toward the division's goals within a calendar year.
Vision USA (asi/80060) has introduced 13 new products for 2009, including stainless steel travel mugs, full color process tumblers and acrylic deskware.
Vista Leather (asi/93988) was honored with Gold awards in the foil stamping and embossing categories at the Promotional Product Professionals of Canada Show.
Zipline (asi/99030) is waiving repeat set-up charges for distributors in 2009.

People On The Move
Corporate Images Inc. (asi/169081) has hired Lesli Hebert Covell as an account manager in its Houston, TX, office.
Touchstone Merchandising Group LLC (asi/345631) has appointed Dan Jellinek to serve as vice-president. He will be responsible for recruiting sales talent.
Vantage Apparel (asi/93390) has named Paul Kory its national accounts manager.

EmailExpress SUPPLIER SPECIALS
Best Selling Drawstrings asi/65595 - Order Now - 1-888-KOOLPAK or visit us at www.koolpak.com View Special...
New Kinetic Bands, Rewarding Healthy Lifestyles from MediaTree (asi/70303) asi/70303 - Always an innovator in the promotional products industry, MediaTree (asi/70303) has just introduced NEW Kinetic Bands which enable you and your clients to effectively promote fitness and healthily lifestyles. View Special...
Flash drives from $3.90 net! Free imprint, shipping and set-up fees! asi/37218 - Free Shipping, 1 or 2 color Imprint, Free Set-Up Fees! View Special...
Post Show Savings from the WOW Line - 1/2 Price Set up charge! asi/68670 - Just in case you missed us at the ASI Show, here's some of what we have to offer in 2009! View Special...
Custom Shape MP3 Players asi/63053 - To view full selection, call CorporateKey at 1-866-438-5655 or visit www.CorporateKey.com. View Special...
New 7 Day Production Models With Free Setup! asi/82528 - 7 day production time after proof approval. Offer good on limited models designated with the 7 day logo. Limited to a one color imprint on barrel or clip. Catalog quantities only. View Special...
POLO - 5,000 Stitches Embroidery Special asi/68463 - Polo shirts special, 5,000 stitch embroidery starting at $4.99 View Special...
Fantastic New Tool for Distrubutors! asi/53434 - ETTSI - Incentive Premiums launches new Sales Tools for Distributors to show products with a wide range of Client Friendly Websites. Sign up and gain access to the tools. View Special...
Get 10% Off Your First Order! asi/73285 - With our state-of-the-art manufacturing techniques and competitive pricing, we can supply you with the emblematic jewelry you want, at the price you need, with the quality you deserve. View Special...
CUSTOM BRANDED GAS CARDS ON SALE! asi/92429 - CUSTOM BRANDED MUSIC DOWNLOAD CARD PROMOTIONS by USA CONNECT! Come Check Us Out!! Promote with custom branded Music Download Cards! This promotional campaign will get results! FREE custom card design will all orders. Low minimums, unbeatable pricing View Special...
A RAINBOW OF ECO COLOURS PRICED JUST RIGHT! asi/48885 - Multiple Award Winner DEBCO-48885 offers a rainbow of stock colour options priced right for these tough economic times!!! View Special...
TOTES,AS LOW AS $1.65[R],PRINTED asi/37980 - Visit us online www.bagworldpromo.com View Special...
America's Food asi/77799 - Spice blends, Hot sauces, BBQ ! Promotions have never tasted so good. View Special...
Promote to the Home Cooked Meal Movement asi/36558 - Market to the Growth Trend – Home Cooked Meals! Aprons, Etc. has the perfect selection of affordable Household / Kitchen promotions that fit any budget! Choose from: Silicone Spatulas & Basting Brushes to Oven/Grilling Mitt. View Special...
Award Winning Grocery Tote asi/65595 - Order Now - 1-888-KOOLPAK or visit us at www.koolpak.com. View Special...
Custom Shape MP3 Players asi/63053 - To view full selection, call CorporateKey at 1-866-438-5655 or visit www.CorporateKey.com. View Special...
Cotton Pique Polo @ $3.65 all sizes! asi/72806 - Free sample of our Wedge 100% Combed Cotton Pique Polo. Incredible price: $3.65 (all sizes).Incredible quality! Incredible Customer Service. Incredible full service embroidery. Contact us so we can help drive your business. View Special...
INCREASE SALES NOW! Call on Customers Who Will Buy CARHARTT asi/68567 - Our reputation has been built on quality and turnaround. CARHARTT - It's not just for winter wear! View Special...
February Great Deals from Nissin asi/30107 - No Tape Charge! No Set Up Charge! View Special...
Overseas quote under a BUCK asi/86043 - Seba offers Direct Manufacturing on custom caps, visors, bags, jackets, shirts and much more. We offer low minimums, Free Spec samples, Free Digitizing and Fast Turnaround. Go Seba! Go Custom! Call for details. View Special...
China direct price, custom-made caps - minimum 144 pcs only asi/30245 - Work smarter!! China Direct Price, Custom-made Cap, Mininum Order-144 pcs-0.75/pc !!!! Why don't you try ATT again? View Special...
Need something inexpensive that's environmentally friendly asi/45815 - Solutions for your environmental promotion on a budget View Special...

ASI NEW YORK – JUST TWO WEEKS AWAY (MARCH 8-10)
Excitement for ASI New York – the first and only major industry trade show in New York – is growing with pre-registration tracking ahead of 2008. Register today and enjoy three action-packed days that includes one-on-one time hundreds of cutting-edge suppliers, top-notch education (sponsored by Fields Mfg., asi/54100) and around-the-clock networking.

Plus, plan to attend the brand-new Evening at The Top of the Rock (a sophisticated night of fun on the 64th floor of Rockefeller Center) on Monday, March 9. And an exclusive Keynote by best-selling author of Just Ask a Woman: Cracking the Code of What Women Want and How They Buy, Mary Lou Quinlan, on Tuesday, March 10. Her interactive program will discuss how customer service excellence will define who wins...and who doesn't in these challenging times.
Register today at www.asishow.com. Or, call 877-ASI-SHOW with any questions. Click here for a helpful video on commuting to ASI New York.
ADD THE LARGEST SHOW OF THE SUMMER – ASI CHICAGO – TO YOUR CALENDAR
Register today for ASI Chicago, July 21-23, the largest show of the summer and biggest event to visit the Midwest. Featuring 800 leading suppliers introducing thousands of new products for the all-important second selling season, ASI Chicago is a not-to-be-missed event.
Participate in top-notch education, a free Keynote by best-selling author Harry Beckwith and around-the-clock networking, including an exciting evening cruise on Lake Michigan. Step aboard the Spirit of Chicago at Navy Pier and enjoy a delicious buffet, open bar, dancing and music with an interactive DJ, live entertainment and breathtaking skyline views.
Register today at www.asishow.com. Or, call 877-ASI-SHOW with any questions. ASI distributor and decorator members can enjoy free admission and a free hotel room.

THE ASI ADVANTAGES ROADSHOW IS HEADED TO THE MIDWEST
The industry's #1 traveling show, the ASI Advantages Roadshow, has begun its 2009, 18-week tour with huge success. Nearly 3,000 distributors have attended an Advantages Roadshow during its first four weeks.

Delivering a productive, one-on-one atmosphere for distributors to meet with top suppliers, the Advantages Roadshow will be visiting the Midwest in March. (Louisville, March 2; Indianapolis, March 3; S. Chicago, March 4; N. Chicago, March 5; Milwaukee, March 6; Minneapolis, March 16; Des Moines, March 17; Omaha, March 18; Overland Park, March 19 and St. Louis, March 20).

All distributors are invited to attend the Advantages Roadshow for free. Exhibit hours are 9 a.m.-1 p.m., with free education (sponsored by Fields Mfg., asi/54100) from 7:45 a.m-9 a.m. and 1 p.m.-2 p.m. Visit www.advantagesroadshow.com for complete details.
The following are the dates and locations for The ASI Show in 2009:
New York: March 8-10
Chicago: July 21-23
ASI Holiday & Incentives Expo, Las Vegas: September 16-17

Plus, don't miss the ASI Advantages Roadshow, the industry's #1 traveling show. Visit www.advantagesroadshow.com for the complete schedule!



SPONSORED BY


Counselor® PromoGram® is a trademark of the Advertising Specialty Institute. You were sent this newsletter as a benefit of your ASI membership. Copyright 2009, ASI. All Rights Reserved.
If you'd like us to send Counselor PromoGram FREE to anyone else at your company (or to your off-site sales reps), go to www.asicentral.com/newsletters and complete the online form.
Interested in advertising in Counselor PromoGram? Send an email to ddienna@asicentral.com 
Click here to subscribe to Counselor® magazine. You must be a member of ASI to subscribe to this publication. The publisher has a right to refuse subscriptions to non-members.
Advertising Specialty Institute®, 4800 Street Road, Trevose, PA 19053