ADVERTISEMENT



TOP
ADVERTISEMENT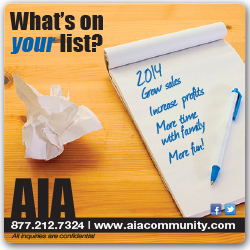 Podcast: Are You A Top-Notch Entrepreneur?
The hosts of the Tuesday Morning Show on ASI Radio recently interviewed special guests Barbara Corcoran and Kevin O'Leary, stars of the ABC business reality show Shark Tank, to find out their secrets of entrepreneurial success.
The duo discussed business ideas and execution, the biggest mistakes entrepreneurs make and how to reduce risk. Plus, Corcoran and O'Leary explained exactly what they look for when deciding whether to invest in a business or not.
Click here to listen to the complete interview. Also, don't forget that Corcoran and O'Leary will be keynoters at ASI Orlando on Tuesday, January 7. Go to www.asishow.com for more information.
TOP
ASI Radio: New Year's Resolutions


On today's Tuesday Morning Show, the hosts offered up some of their own New Year's resolutions and provided advice for business resolutions that listeners should implement immediately. Plus, we revealed our Favorite Things, detailed five ways to be a better salesperson in 2014, and debated why so many companies are using failed business plans.
If you missed the show, a recording is now available at www.asicentral.com/radio. And, don't forget to join us for our next broadcast – Tuesday, January 7. Log on at 10:30 a.m. ET to listen to the show – and give us a call at (215) 953-4979 to hear your voice on the air. 
TOP
Counselor Unveils Best Places To Work
At the inaugural Counselor Best Places to Work Conference, held recently in Santa Barbara, CA, Counselor magazine announced its 2013 ranking of the best workplaces in the industry. With a list of 85 distributors and suppliers, the Counselor Best Places to Work this year is headed up by supplier firm Crystal Impressions by Seaena (asi/47782). "It's truly a great honor to be number-one on the list," said Allison Robbins, one of the company's owners, upon finding out about the ranking. "We're a fun company that we all love spending time at."
Rounding out the top five on the 2013 Best Places to Work list are: Proforma Albrecht & Co. (asi/116308), Beehive Specialty (asi/135780), Royal Crest Promotions (asi/83740), and Clean Fun Promotional Marketing (asi/162979). Click here to view the complete ranking of the 2013 Counselor Best Places to Work list.
TOP
Vote In The Wearables Apparel Design Awards 
Each year, Wearables names the best apparel and accessories in the industry – and we can't do it without your help. Your votes will determine the winners of our annual Wearables Apparel Design Awards. Choose the products you think are the best, considering design appeal, wearability and overall look.
Click here to vote. Voting will take place throughout December. And be sure to check out the February issue of Wearables to find out the winners.
TOP
In The News
Oraline (asi/75205) has announced that as of December 30 each of its divisions has been rebranded with its own unique logo and identity. The company will immediately begin the use of the new promotional division branding across all platforms including catalogs and a new website: www.brandedbrushes.com.
Proforma (asi/300171) Printing & Promotion announced that it is celebrating 15 years of being a family-owned business since its founding in 1999. Barry Resnick, and his two sons, Bill and John Resnick, have gotten their company recognition as a fastest-growing business by Boston Business Journal and Inc. magazine.
.
Starline (asi/89213) has announced the launch of the 2014 Full Line catalog and a New and Best Products edition where the supplier will be introducing new products totaling over 170 in all. Visit www.starline.com for additional information and to view the full list of products.
The Premier Promotional Group announced the addition of SanMar (asi/84863), Cutter & Buck (asi/52315), Norwood/Bic (asi/74400) and World Wide Line (asi/98290) to its supplier network.
TOP
People On The Move
Jetline (asi/63344) announced that it has hired Megan Zezzo as its regional sales manager for the Midwest. She will be responsible for representing the supplier in ND, SD, NE, MN, IA, MO, WI, IL, MI, IN, OH, and KY.