TOP
ADVERTISEMENT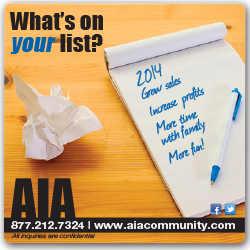 ASI Radio: Social Media Success Tips
On today's Tuesday Morning Show, the hosts interviewed social media expert Marki Lemons Ryhal, who provided listeners with strategies and tactics (including ROI and measurement tips) for succeeding with social networking. Plus, we revealed our Favorite Things, provided the most pressing marketing solutions for 2014, and revealed the traits of highly motivated workplaces.
If you missed the show, a recording is now available at www.asicentral.com/radio. And, don't forget to join us for our next broadcast – Tuesday, December 31. Log on at 10:30 a.m. ET to listen to the show – and give us a call at (215) 953-4979 to hear your voice on the air. 
TOP
Legislation Aims To Prevent Job Applicant Credit Checks
A new measure introduced by U.S. Senator Elizabeth Warren (D-MA) and co-sponsored by five other legislators would ban companies from conducting credit checks on most prospective employees. The bill, named the Equal Employment for All Act, would outlaw the checks in many fields, with limited exceptions like for jobs related to national security.
"There's little or no evidence of any correlation between job performance and a credit score," Warren said. "This is a point of basic fairness. People who get hit with hard economic blows end up getting squeezed out of the system."
A research brief released by the Demos Foundation, a liberal think-tank, notes that one of the most common reasons for bad credit is the loss of a job and health insurance. Those losses, consequently, make it a challenge to pay bills on time, Demos found. A Demos report also shows that one in 10 unemployed Americans have been denied a job because of information in their credit reports. Many of these checks are run on applicants seeking entry level positions.
However, trade groups like the Consumer Data Industry Association defend the use of applicant credit checks as a basis for preventing embezzlement and fraud. Data from the Association of Certified Fraud Examiners estimates that each year there are about $1 trillion worth of employee thefts – an average of $175,000 per business. That figure increases to $200,000 for companies with fewer than 100 employees.
TOP
Podcast: Are You A Top-Notch Entrepreneur?
On last week's Tuesday Morning show on ASI Radio, the hosts interviewed special guests Barbara Corcoran and Kevin O'Leary, stars of the ABC business reality show Shark Tank.
The duo discussed business ideas and execution, the biggest mistakes entrepreneurs make and how to reduce risk. Plus, Corcoran and O'Leary explained exactly what they look for when deciding whether to invest in a business or not.
Click here to listen to the complete interview. Also, don't forget that next month Corcoran and O'Leary will be keynoters at ASI Orlando on Tuesday, January 7. Go to www.asishow.com for more information.
TOP
Counselor Unveils Best Places To Work
At the inaugural Counselor Best Places to Work Conference, held recently in Santa Barbara, CA, Counselor magazine announced its 2013 ranking of the best workplaces in the industry. With a list of 85 distributors and suppliers, the Counselor Best Places to Work this year is headed up by supplier firm Crystal Impressions by Seaena (asi/47782). "It's truly a great honor to be number-one on the list," said Allison Robbins, one of the company's owners, upon finding out about the ranking. "We're a fun company that we all love spending time at."
Rounding out the top five on the 2013 Best Places to Work list are: Proforma Albrecht & Co. (asi/116308), Beehive Specialty (asi/135780), Royal Crest Promotions (asi/83740), and Clean Fun Promotional Marketing (asi/162979). Click here to view the complete ranking of the 2013 Counselor Best Places to Work list.
TOP
Vote In The Wearables Apparel Design Awards
Each year, Wearables names the best apparel and accessories in the industry – and we can't do it without your help. Your votes will determine the winners of our annual Wearables Apparel Design Awards. Choose the products you think are the best, considering design appeal, wearability and overall look.
Click here to vote. Voting will take place throughout December. And be sure to check out the February issue of Wearables to find out the winners.
TOP
In The News
Beyond Zebra Inc. (asi/138945) announced that its CFO, Stacy Burleson, helped to organize the inaugural Stop the Clot Walk in Los Angeles on December 15. Burleson, a blood clot survivor, serves on the volunteer committee for the National Blood Clot Alliance and was honored at the event as the walk's top fundraiser.
Jornik (asi/63549) announced that its facility will be closed between December 23 and December 27. It will re-open on December 30.
Maglite Promo Direct (asi/68449), which will be joining the market as of January 1, announced that suppliers that have been carrying Maglite products will continue to supply Maglite-branded items to the ad specialty industry moving forward. According to Tom Richardson, Maglite vice president of sales, those suppliers include: Compass Industries (asi/46170), Caltex Global Marketing (asi/43580), Beacon Promotions (asi/39250), and Bay Supply & Marketing (asi/39005).
Proforma (asi/300094) announced that members of its Support Center have raised more than $2,000 in cash and gifts for the Adopt-A-Family program, which provides presents to local underprivileged children. This year, Proforma was able to bring holiday cheer to 15 Cleveland-area children in need.
Promotional Product Professionals of Canada (PPPC) announced that Steve Levschuk, president of Talbot Marketing (asi/341500), will become the newest inductee into the PPPC Hall of Fame.
Starline (asi/89320) announced that Doug Oslance won its Rep of the Year award and Ed Maloney and Blake Dugger of Maloney & Associates won the company's Multi-Line Rep of the Year award. The supplier also announced that three of its sales reps were honored with the following association awards: Jen Kruger won Supplier Representative of the Year from Promotional Products Association Midwest (PPAM); Patrick Reinecker of Reinecker Marketing Associates won the Houston Promotional Products Association (HPPA) Multi-Line Representative of the Year award; and Rich Conroy of Flanagan and Associates won the Carolinas Association of Advertising and Marketing Professionals Multi-Line Representative of the Year award.
TOP
People On The Move
BrandAlliance (asi/145177) announced that it named Terie Vickers-Craig as its director of vendor relations, with the appointment effective as of January 3.
CleggPromo (asi/45450) announced the following additions to its staff: Freddy Limas as production coordinator, Janae Cook as national account manager for Clegg's POP division, and Molly Moreno as account manager calling on distributors in Kansas, Arkansas, Idaho, Montana, Tennessee, North Dakota, South Dakota, Nebraska, Wyoming and Northern California.
GNP Branded Gear (asi/200020) announced that it has promoted Kate Welsh to e-commerce operations manager.
TOP
THE ASI SHOW
THE FREE REGISTRATION DEADLINE IS JUST AROUND THE CORNER
ASI Dallas, the largest ad specialty show in the Southwest, delivers the BIGGEST suppliers, the BIGGEST sales opportunities and the BIGGEST events! ASI distributor and decorator members can attend for FREE when you register by January 6.
Taking place February 4-6 at the Kay Bailey Hutchison Convention Center, ASI Dallas offers all this and MORE…
It doesn't get much BIGGER than this. Register today for ASI Dallas at www.asishow.com.
Follow The ASI Show on Twitter and become a fan on Facebook today!
The following are the dates and locations for The ASI Show in 2014:
Orlando, January 5-7, 2014
Dallas, February 4-6, 2014
Long Beach, March 25-27, 2014
New York, April 3-4, 2014
Chicago, July 15-17, 2014
Plus, don't miss the ASI Advantages Roadshow, the industry's #1 traveling show. Visit www.advantagesroadshow.com for the complete schedule and go to www.asishow.com for information on all ASI Shows.
Counselor® PromoGram® is a trademark of the Advertising Specialty Institute. You were sent this newsletter as a benefit of your ASI membership. Copyright 2013, ASI. All Rights Reserved.
If you'd like us to send Counselor PromoGram FREE to anyone else at your company (or to your off-site sales reps), go to www.asicentral.com/newsletters and complete the online form.
Interested in advertising in Counselor PromoGram? Send an email to ekoehler@asicentral.com
Click here to subscribe to Counselor® magazine. You must be a member of ASI to subscribe to this publication. The publisher has a right to refuse subscriptions to non-members.
Advertising Specialty Institute®, 4800 Street Road, Trevose, PA 19053