TOP
ADVERTISEMENT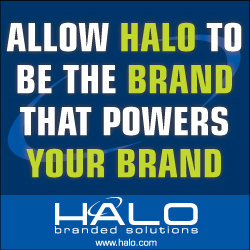 Counselor Commentary: Ready For A Hiring Surge?
Hey, good news: All that cash that was burning holes in the proverbial pockets of American companies is getting kicked back into the economy these days. While many corporations went through much of 2012 and 2013 with record levels of cash on their books, spending is beginning to be noticed again.
Manufacturing activity in November was the highest it has been all year. Further, a new survey from The Business Roundtable shows that 40% of CEOs say they plan to increase their company's capital spending in the next six months. And, in one of the most positive signs for the U.S. economy, payroll processor ADP said this week that private companies added 215,000 jobs in November, which is the strongest month of job growth this year.
Job growth and economic expansion is real right now, and it leads to both an opportunity, as well as a warning, for industry companies. First the opportunity: Now is a good time to hire additional staff – salespeople, customer service reps, factory workers – so that your company can increase capacity and capitalize on the expanding economy. If you're simply moving along with a status quo employee base, then you're certainly missing out on business from companies in your area that are increasing their marketing spend right now. The time is ripe to add new people to your staff. Take some of that cash off the sidelines like many companies are doing, and add new people – not only will it ensure that you'll be able to take advantage of new business opportunities, but it will also add some new life to your organization.
Now, for the warning: With the job market becoming more plentiful, employees are certain to stray. Are you doing enough to ensure that they're content working at your company? Find out. Ask them what the company is doing right, what could be better, and how you can ensure that they want to stay. Now is the time to nail down their loyalty – before it's too late, because the burgeoning job market became too tempting.
TOP
ADVERTISEMENT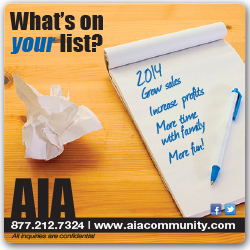 Economy Check: Manufacturing Index Hits Two-Year High
U.S. manufacturing in November increased at its fastest pace in two and a half years, the latest demonstration of strength from the sector, according to the Institute for Supply Management (ISM). An index from ISM measured at 57.3, a jump from 56.4 in October and the highest reading since April of 2011. New orders and production both increased last month, and employment recorded its highest rise in 19 months. In total, 15 of 18 manufacturing industries showed measurable improvement.
Manufacturing has improved globally in recent months, but not at the same rate of improvement as in the U.S., data shows. "Things seem to be looking up everywhere," said Bradley Holcomb, chairman of the ISM factory survey. "We're clearly in a leadership position with high numbers and strong export activity."
While ISM's manufacturing numbers were strong, the service sector did not demonstrate the same type of improvement in November, instead growing at its slowest pace since June. The index fell to 53.9 last month, down from 55.4 in October. It was just in August when the service-sector index had reached an eight-year high. The slowed growth was linked to more cautious spending by consumers and a decline in hiring from businesses.
Still, the overall outlook for the service sector is strong, according to economists. "The November decline is a bit disappointing, but the survey is still consistent with decent GDP and jobs growth in the fourth quarter," Paul Dales, an economist at Capital Economics, said in an interview with the Associated Press. According to an ISM report, nearly 86% of job gains in the past three months have been in the service sector.
TOP
ADVERTISEMENT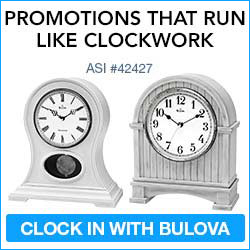 Counselor Unveils Best Places To Work
At the inaugural Counselor Best Places to Work Conference, held recently in Santa Barbara, CA, Counselor magazine announced its 2013 ranking of the best workplaces in the industry. With a list of 85 distributors and suppliers, the Counselor Best Places to Work this year is headed up by supplier firm Crystal Impressions by Seaena (asi/47782). "It's truly a great honor to be number-one on the list," said Allison Robbins, one of the company's owners, upon finding out about the ranking. "We're a fun company that we all love spending time at."

Rounding out the top five on the 2013 Best Places to Work list are: Proforma Albrecht & Co. (asi/116308), Beehive Specialty (asi/135780), Royal Crest Promotions (asi/83740), and Clean Fun Promotional Marketing (asi/162979). Click here to view the complete ranking of the 2013 Counselor Best Places to Work list.
TOP
ADVERTISEMENT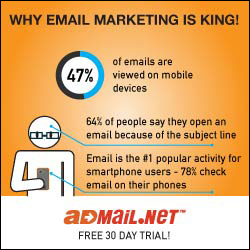 Counselor Market Watch: Retail
Distributors know getting promotional incentives inside stores – whether through contest giveaways, mid-aisle kickstands, gift-with-purchase tie-ins or premiums handed out with product demos – can be a challenge. And, let's be honest, if you have no experience working with retail groups, the chances of landing an in-store promotional gig with Target or Wal-Mart are probably slim to none. So what can you do? Where should you look to gain orders from retailers?
Click here to read Counselor's Market Watch feature for December, which provides tips on tapping into retail sector opportunities.
TOP

ASI Radio: Superb Holiday Gift-Giving
On this week's Tuesday Morning Show, the hosts gave listeners advice on how to provide clients and staff with the most creative gifts this holiday season. What kinds of combination gifts are trendy? What things do you have to consider before you send food gifts? What items are on the wish lists of Millennials?
Click here to listen to the complete call-in segment. If you missed the show, a recording is now available at www.asicentral.com/radio. And, don't forget to join us on Tuesday, December 10, for our next broadcast. Log on at 10:30 a.m. ET to listen to the show – and give us a call at (215) 953-4979 to hear your voice on the air.
TOP
Vote In The Wearables Apparel Design Awards
Each year, Wearables names the best apparel and accessories in the industry – and we can't do it without your help. Your votes will determine the winners of our annual Wearables Apparel Design Awards. Choose the products you think are the best, considering design appeal, wearability and overall look.
Click here to vote. Voting will take place throughout December. And be sure to check out the February issue of Wearables to find out the winners.
TOP
In The News
Enduraline (asi/52480) has announced it will be closed for its winter shutdown from December 21, 2013, through January 1, 2014.
Natural Trends LLC (asi/73497) has introduced the Redneck Repair Kit®, a boxed promotional product featuring the WD-40 No Mess Pen and a sheet of duct tape.
Sportsman Cap and Bag (asi/88877) has released its 2014 catalog. For more information, visit www.sportsmancaps.com.
TOP
People On The Move
Stromberg Brand (asi/89955) has hired Ken Cecco to provide sales representative in PA, NY, NJ, MD, DE, and Washington, DC.
PRODUCT SPOTLIGHT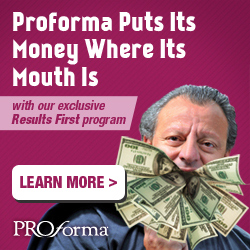 Introducing a new and better way to get your business going and growing.

Proforma's revolutionary Results First program will get you the results you want before making any financial commitments to join Proforma.
Only Proforma has the resources to offer a program like Results First. Only Proforma has $4 million per year in sales and marketing support, $430 million in purchasing power and a 150 person support team to truly deliver the results you want.
Click here to learn how Proforma's Results First program can grow your business—even before you join.
Proforma (asi/300094)
TOP
THE ASI SHOW
TOMORROW IS THE DEADLINE FOR FREE ADMISSION
Tomorrow, Friday, December 6 is the deadline to register for FREE for ASI Orlando, Sunday, January 5, through Tuesday, January 7, in the North Hall of the Orange County Convention Center. Don't delay. ASI distributor and decorator members can benefit from all this and more at NO COST…
Register today for ASI Orlando, the ad specialty industry's FIRST SHOW OF THE YEAR, at www.asishow.com. ASI distributor and decorator members can attend for FREE, take advantage of special ASI Show travel discounts and qualify for a FREE hotel room on the evening of January 6.
Counselor® PromoGram® is a trademark of the Advertising Specialty Institute. You were sent this newsletter as a benefit of your ASI membership. Copyright 2013, ASI. All Rights Reserved.
If you'd like us to send Counselor PromoGram FREE to anyone else at your company (or to your off-site sales reps), go to www.asicentral.com/newsletters and complete the online form.
Interested in advertising in Counselor PromoGram? Send an email to ekoehler@asicentral.com
Click here to subscribe to Counselor® magazine. You must be a member of ASI to subscribe to this publication. The publisher has a right to refuse subscriptions to non-members.
Advertising Specialty Institute®, 4800 Street Road, Trevose, PA 19053