Counselor® PromoGram® 

Volume 777 / December 30, 2010
 

SPONSORED BY






Holiday Online Sales Rise
Paced by increases in apparel purchases, online retail sales during the 2010 holiday season rose 15.4% to $36.4 billion, according to MasterCard's SpendingPulse eCommerce Index. Data shows the most productive day for online retailers was Black Friday, when sales were up 34.5% over 2009. "That's a real change for this year," said Michael McNamara, vice president for research and analysis at SpendingPulse. "Despite the growth, there is still a lot of runway in front of it."

Bolstered by Internet-only discounts, free shipping and earlier promotions, online sales of clothing (+25.7%), electronics (+12.2%) and jewelry (+4.5%) all increased this year in the 50 days prior to Christmas. On six separate days during the holiday season, online sales topped $1 billion. Sales on Cyber Monday were up 19.4%, led by Amazon, which alone sold 13.7 million products on November 29, translating to 158 items per second.

PRODUCT SPOTLIGHT
 

ASI NEWS

Top 10 Pet Gifts of 2010 
Check out our favorite pet promo products from the year, which were purr-fect for pet store openings, dog shows and any other pet-themed promotional event.
Find out more.

Lights, Camera, Education 
The new Supplier Success System is in production and is sure to be as popular as the distributor version that helped so many industry newcomers.
Find out more.

LOGOMALL
ASI welcomes the following Suppliers to the LogoMall Network 
Find out more...
ASI STORE
Find, review, and purchase the latest exclusive ASI products... 
Find out more... 

 
ADVERTISEMENT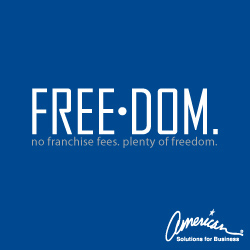 Even apart from a record-breaking online shopping season, overall holiday retail sales easily trumped the forecasts of analysts. According to a separate MasterCard tracker, holiday sales increased 5.5% in 2010, exceeding pre-recession spending levels. The National Retail Federation was only expecting a 3.3% improvement this year in holiday sales. "For the past year or two, when I've seen growth in one area, it seems to come at the expense of another," said McNamara. "Here, things are actually all moving in the right direction."
In the days since Christmas, experts say retail sales have actually slipped below forecasts, in large part because of a blizzard that hit the Northeast U.S. on Sunday, December 26. Research firm ShopperTrak said this week that the massive snowstorm has delayed about $1 billion in post-Christmas sales. However, experts are predicting many consumers, especially those who received gift cards for Christmas, will make up for the short-term retail losses by continuing to shop and spend into early January.

ADVERTISEMENT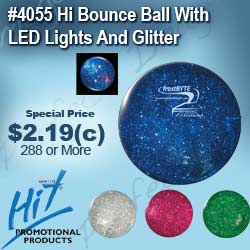 SBA Announces Rapid Loan Program 
The U.S. Small Business Administration (SBA) has introduced two new lending initiatives that are designed to provide loan approval more efficiently and offer better services to minority-owned companies. Applications for SBA-backed loans under $250,000 will soon be just two pages long and can be approved in less than a day. "Many entrepreneurs and small-business owners across the country have enormous potential to drive economic growth and create good-paying jobs in their local communities, but too often they face barriers in fulfilling that potential," said Catherine Hughes, chairperson of the SBA's Advisory Council on Underserved Communities.

In addition to speeding up the loan process, the SBA is also aiming to better assist women-owned and veteran-owned businesses, as well as companies that are based in lower-income or rural areas. Under a program called Community Advantage, borrowers will be encouraged to meet and gain advice from community advisors and nonprofit development companies. "We are taking steps that will increase the number of places small-business owners in underserved communities can go to get loans," said SBA Administrator Karen Mills in a statement.

Both initiatives are expected to be available by March 15.


Looking Ahead To The New Year
On Tuesday's ASI Internet Radio Show, the hosts took questions from callers looking for ways to improve their companies in 2011. Is it time for a technology upgrade? Should you consider hiring more sales reps? How about a boost through self-promotion? Get some creative ideas and advice by listening to this clip from the show. 
Click here to listen to this forward-thinking segment from Tuesday's show.
If you'd like to check out a recording of the entire online radio show, go to www.asicentral.com/radio. And, don't forget to join us on Tuesday, January 4, for our next broadcast – the first show of 2011. Log on to www.asicentral.com/radio at 10:30 a.m. ET and give us a call at (215) 953-4979 or e-mail us at radio@asicentral.com to participate in the show. We want to hear from you.

Health-Care Changes Coming In 2011
Under the new Affordable Care Act (ACA), small-business owners will soon be met with both savings opportunities and spending restrictions beginning in 2011. Of most immediate note, on January 1, constraints will be placed on the usage of funds from health-care savings accounts for over-the-counter medicines. "Anyone with these accounts has until December 31 to buy all those things that were over-the-counter," said Joy Wilson, health policy director for the National Council of State Legislatures. "After that, it will require a doctor's visit and a prescription, or it's out-of-pocket."
Also beginning next week, employers will be required to report the value of the benefits they provide their employees for all health coverage on workers' W-2 forms (this excludes salary reduction contributions to health savings accounts). Business owners should also be aware of likely insurance rate hikes as health-care reforms are implemented. Experts are encouraging business owners to at least consider enrolling in a different health-care plan. "Chances are 80% that if you've been insured with one insurance company and you shop it, you'll probably save money," said Ed Sterczek, president of Mass Marketing Insurance.
There are other savings opportunities on the horizon as well. The ACA will eventually provide $200 million in grant money to small-business owners that create wellness programs for their employees. Details will likely be announced within the next year. Recently, the Obama Administration also released guidance to help small-business owners determine if they are qualified for a tax credit of up to 35% of health expenses.
Finally, also in 2011, states will be working out the arrangements of health insurance exchanges, which will be administered by either a government agency or nonprofit organization. While these arrangements will not be put into place until 2014, the first companies that will be invited to participate are those with 100 employees or fewer, making it worthwhile for small-business owners to provide feedback. "State legislatures will be putting together task forces for this, and I would think the small-business community will want to be a part of it," Wilson said.

Get Your Company Profiled In Counselor Magazine
Counselor is currently looking for distributors to profile for a new feature series in the magazine in 2011. Looking to improve your company's operations? Want to experience big growth next year? Counselor will be profiling the challenges of a distributor company in each issue, speaking in-depth with company principals to find out what obstacles may currently be holding their business back. A reporter will then take these challenges to a group of consultants and business experts, who will create a step-by-step plan for how this company can overcome its challenges and realize big revenue gains.
If you'd like to have your company profiled and provided with tailor-made growth strategies, send an e-mail to Andy Cohen at acohen@asicentral.com detailing your top three challenges and explaining how your business fared in 2010. Also, this feature will include a detailed financial analysis for the company being profiled, so interested companies should be prepared to provide three years' worth of P&L statements on their businesses. Company principals should also be prepared to be visited by a reporter and photographer for the article.

Webinar Helps Distributors Prove Value Of Ad Specialties
Counselor recently conducted a webinar designed to provide distributors with information and data that allows them to prove the ROI and value of promotional items to clients. Based on the ASI Global Advertising Specialties Impressions survey, the online education session examined the various ways that distributors could use cost-per-impression data to show clients the return on investment they receive from their promotional campaigns.

Click here to view a recording of this webinar.
In The News
The Georgia Association of Promotional Products Professionals has honored Scott Cooper of Ash City (asi/37127) with its 2010 Supplier Representative of the Year Award and Barry and Mary Beth Pearson of Pearson Marketing Inc. with its 2010 Multiline Representative of the Year Award.
People On The Move
Design Your Recognition LLC (asi/48051) has hired Karen and Chris Stauffer of Cascade Marketing Group as independent regional sales representatives in the Northwest region, which includes OR, WA, ID and MT.
PRODUCT SPOTLIGHT
NEW! USB Sticks from AZX Sport ASI/30250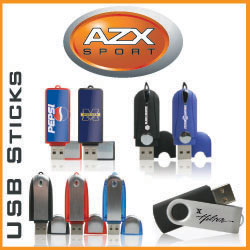 Features: 512MB - 16GB memory size available. Large variety of
colors and shapes. Ability to pre-load files onto USB.

Construction: Full color domed, Laser engraved
and pad printing available.

Lead Time: 1-3 business days on stock USB. 10 business days on
non stock USB. Minimum order 25pcs.

Orders and Art: Info.Promogram@aztex.com

Quote Requests: Info.Promogram@aztex.com

Visit www.azxpromotions.com to see our full line of products.

Or call 1-800-558-4836
CALL FOR QUOTE!
For other new and creative products,
visit the Product Central section on ASICentral.com.

EmailExpress SUPPLIER SPECIALS
USB with 7 days delivery. 1GB $3.17  asi/90154  - Visit us online at www.sunjoy.us. View Special...
NEJ $8 Fleece Hooded Sweatshirt  asi/72806  - While supplies last View Special...
DEBCO - ARE YOU QR READY?  asi/48885  - DEBCO "CRACKS THE CODE" ON QR BARCODES View Special...

THE ADVANTAGES ROADSHOW IS VISITING THE NORTHEAST NEXT WEEK — ATTEND FOR FREE
The industry's #1 traveling show, the Advantages Roadshow, is visiting the Northeast next week with stops in Boston, Jan. 3; Long Island, Jan. 4; New Jersey, Jan. 5; Philadelphia, Jan. 6, and Baltimore, Jan. 7,
All distributors are invited to attend for FREE.  You'll enjoy free education from 7:45 a.m.-9 a.m. and 1 p.m.-2 p.m. and exhibits from 9 a.m.-1p.m.
In addition to discovering the latest ad specialties from the industry's leading suppliers, you'll leave with new tools for re-energizing your business in the New Year!
Pre-registration is not required; you may register on show site. However, if you register prior to the Roadshow at www.advantagesroadshow.com you'll receive a FREE download of one of ASI Education's most popular sessions, "Secrets of Successful Email Marketing."
For the complete 12-week Advantages Roadshow schedule, visit www.advantagesroadshow.com.
NETWORK WITH FORMER FIRST LADY LAURA BUSH ― PAY ONLY $249

Register today for the 2nd annual ASI Women's Summit taking place on February 18, 2011, during ASI Dallas, at the Adolphus Hotel's French Room and enjoy an event like no other! (Co-sponsored by Fields Mfg., asi/54100, J. Charles Crystalworks, asi/62985 and Logo Mats, asi/67849) 
You'll have the exclusive opportunity to network with other women professionals in the ad specialty industry, as well as hear a motivational Keynote by former First Lady Laura Bush.
The afternoon schedule will feature registration and networking from noon until 1:30 p.m., where you'll be able to share stories with colleagues while mingling with Mrs. Bush; a sit-down lunch with Keynote from 1:30 p.m. to 2:30 p.m.; an interactive hot topics discussion from 2:30 p.m. to 3:15 p.m. and an awards presentation highlighting the "Top 10 Women to Watch" from 3:15 p.m. to 3:30 p.m.

Register by January 7 and pay ONLY $249! For more information, visit www.asishow.com. All attendees will receive a free autographed copy of Mrs. Bush's new book, Spoken from the Heart, a New York Times #1 best seller.
Follow The ASI Show on Twitter and become a fan on Facebook today!
| | |
| --- | --- |
| | |
SPONSORED BY


Counselor® PromoGram® is a trademark of the Advertising Specialty Institute. You were sent this newsletter as a benefit of your ASI membership. Copyright 2010, ASI. All Rights Reserved.
If you'd like us to send Counselor PromoGram FREE to anyone else at your company (or to your off-site sales reps), go to www.asicentral.com/newsletters and complete the online form.
Interested in advertising in Counselor PromoGram? Send an email to ekoehler@asicentral.com
Click here to subscribe to Counselor® magazine. You must be a member of ASI to subscribe to this publication. The publisher has a right to refuse subscriptions to non-members.
Advertising Specialty Institute®, 4800 Street Road, Trevose, PA 19053