Consumer Sentiment Rises In December
Analysts are now forecasting the best holiday shopping season in four years as confidence, spending and expectations among consumers are all continuing to trend higher, according to a pair of new surveys. The Thomson Reuters/University of Michigan preliminary index of consumer sentiment in December has risen to 74.2, reaching its highest point since June. Meanwhile, separate findings from a CNBC survey show 60% of Americans plan to spend more for holiday gifts this year, a 10% improvement compared to 2009.

PRODUCT SPOTLIGHT
 

ASI NEWS

Give and Get 
Learn what companies are giving to employees and clients this year via the latest Successful Promotions corporate gift giving survey.
Find out more.

Laura Bush's Fave Promo Prod 
The former first lady discussed our industry and life after the White House on ASI Radio.
Find out more.

LOGOMALL
ASI welcomes the following Suppliers to the LogoMall Network 
Find out more...
ASI STORE
Find, review, and purchase the latest exclusive ASI products... 
Find out more... 


ADVERTISEMENT

ADVERTISEMENT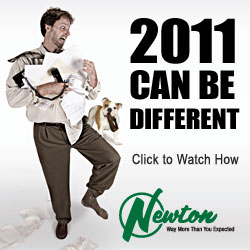 With consumers' optimism increasing, the National Retail Federation is now predicting that November-to-December sales will rise by 2.3% this year, compared to 2009. The International Council of Shopping Centers recently said it expects December sales to improve as much as 3.5%. "I would generally say that the core customer is absolutely back shopping," said Neiman Marcus CEO Karen Katz.
Believing the economy is strengthening, consumers are more likely to buy big-ticket items this year, data also shows. For example, one in six Americans expects to give or receive an Apple product, like an iPad or an iPhone. Only matched by Wal-Mart, electronics retailer Best Buy is now a top choice for purchases, with 48% of Americans saying they will spend money at a big box store this holiday season. Internet sales have reached watershed marks this year as well, with roughly 25% of consumers in the U.S. saying that shopping on the Internet is one of their top two choices for spending, the largest percentage ever.
Looking beyond December, data from the surveys shows 37% of Americans expect the economy will improve in 2011, while just 20% believe it will get worse. Optimism about wages is increasing, too, with workers expecting earnings gains of 2.1% in 2011, up from 1.3% a year ago. For the first time since 2007, the majority of Americans feel the value of their homes will rise in the next year as well.

ADVERTISEMENT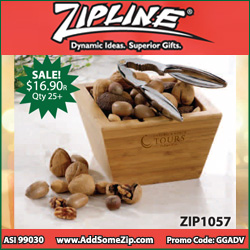 Survey: Businesses Lack Online Security
Internet security is not a priority for many small business owners, according to a new study by AVG Technologies. The security firm's SMB Landscape Report finds that 52% of small and medium-sized businesses in the United States and United Kingdom have no IT security guidelines for their staff, putting no clear restrictions on what employees download or access online. Additionally, one in seven of the 2,000 companies surveyed report having no Internet security in place. While more than three-quarters of respondents agree that IT is critical to their businesses, only 39% say they have highly skilled IT employees on staff.

Small business owners are aware of the importance of online security, according to the report, which finds that 77% of respondents say a security breach could have a significant negative effect on their businesses. Eighty-three percent say that having the right level of protection is critical to their businesses. "We have a firewall on our server and use Norton anti-virus software," says Craig Hollern, president of American Eagle Screen Print & Embroidery (asi/120508). He adds that even with this protection, the company has had to fend off viruses from outsiders and agrees that it's vital that distributors have strong Internet security in place. "You can't be unprotected—you have to have some kind of protection because any time you're out there you're wide open to somebody getting your information."

Karen McDowell, a security analyst at the University of Virginia, says that these precautions help, but a more significant issue is how small and medium-sized business (SMB) owners approach their online banking. "Organized cyber thieves have stolen at least $70 million from small to mid-sized businesses over the last few years, and the problem isn't the bank's security," she says. "SMB owners and employees use the computer for routine Internet work, research, surfing, etc., and the cybercriminals load malware onto the SMB owner's computer. When the owner banks online, that malware intercepts his transaction, stealing the owner's login and password, or his money, and other sensitive data."

To combat this, McDowell recommends that distributors use a dedicated computer for online banking and do no other Internet work, using fully updated browsers with strong passwords, and good antivirus and anti-malware protection.

ADVERTISEMENT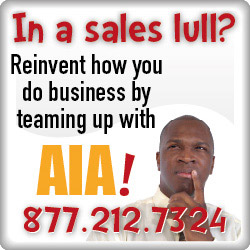 The Joe Show: Hot Products For The New Year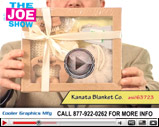 In this episode of The Joe Show, Counselor Managing Editor Joe Haley shows off some great new ad specialty items on the market. Want new ideas for the New Year? Looking to attract new clients with unique product ideas? Check out this episode of The Joe Show.  
Click here to see this new-products edition of The Joe Show.
Want more videos? Subscribe now to our YouTube videos.

ADVERTISEMENT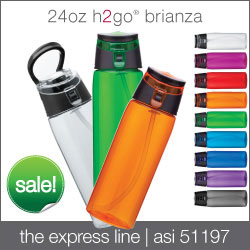 SBA Offers Business Technology Tool
Partnering with Microsoft, the U.S. Small Business Administration (SBA) has developed a new technology guidebook to help entrepreneurs compete in an increasingly web-driven economy. The free resource tool, called Business Technology Simplified, focuses on a variety of topics, including time management, marketing techniques, cloud-based computing and customer acquisition. "Our goal as an agency is to get information, tools and services into the hands of small business owners more quickly so they can spend more time doing what they do best – creating the jobs that will drive our economic recovery," said SBA Administrator Karen Mills.
The guidebook, which includes a foreword written by entrepreneur and NBA Hall of Famer Magic Johnson, is being offered in several different formats. Business owners can either pick up a printed version of the reference tool at local SBA offices, review the manual electronically, or access the information through an online learning course. "This new guidebook is one more tool available to support small business growth through access to information and resources," said Mills.
The online course option, which is available at any time of day, contains an audio lesson indexed by learning modules that feature technology tips. The 20-minute presentation gives advice on how to upgrade accounting programs, improve online security and track project expenses. The course is one of nearly 30 online tutorials offered by the SBA and can be found at www.sba.gov/training.

ADVERTISEMENT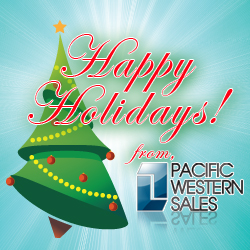 ASI Radio Shares Business-Building Strategies


This morning's Tuesday Morning Show on ASI Radio provided listeners with tactics for how they can get a bigger piece of their clients' advertising budgets. Plus, the hosts shared their "Favorite Things," offered tips for giving client gifts this holiday season, and played our annual Holiday Song contest.  

If you missed the show, a recording is now available at www.asicentral.com/radio. And, don't forget to join us for our next broadcast on Tuesday, December 21. Log on at 10:30 a.m. ET to listen to the show – and give us a call at (215) 953-4979 to hear your voice on the air.

Employment Outlook Improves For 2011 
Employers in the U.S. are increasingly optimistic about hiring in the first quarter of 2011, according to a new survey from research firm Manpower Inc. The adjusted Manpower Employment Outlook for Q1 2011 is +9%, signaling the most promising job market since 2008. "The fact that hiring expectations are trending upward is an encouraging sign," said Jonas Prising, Manpower president of the Americas. "This quarter's survey responses paint a picture of a job market that is easing up."

Of the more than 18,000 respondents, 14% expect an increase in their staffing levels early in 2011. By comparison, about 70% of employers anticipate no changes in staffing, with 10% planning for a decrease and an additional 3% undecided about their intentions. Manpower data shows employers in 11 of 13 sectors surveyed have a positive outlook for the first quarter of 2011, led by the leisure and hospitality industry (+12%), professional and business services (+11%), information (+11%) and wholesale and retail trade (+10%). In geographic terms, data shows respondents in the Midwest and South have the most optimistic employment view (+10%), closely followed by respondents in the Northeast (+9%) and West (+7%).

While the employment outlook for 2011 is positive, there are signs the 2010 job market is closing on an upward swing as well. A separate report shows the number of advertised jobs rose by 44% in October, with the private sector increasing its help-wanted ads by its largest number in four years. Gains were made across a variety of industries, led by retail (+6%).

Webinar Helps Distributors Prove Value Of Ad Specialties
Counselor conducted a webinar last week designed to provide distributors with information and data that allows them to prove the ROI and value of promotional items to clients. Based on the ASI Global Advertising Specialties Impressions survey, the online education session examined the various ways that distributors could use cost-per-impression data to show clients the return on investment they receive from their promotional campaigns.
Click here to watch a recording of the webinar.
And, click here to check out the complete findings of the 2010 Global Advertising Specialties Impressions survey.

Podcast: Exclusive Laura Bush Interview


The hosts of ASI Radio's Tuesday Morning Show recently welcomed former First Lady Laura Bush to the show. Bush shared her experiences in the White House, and offered stories about the many charitable causes that she's involved with. She also provided listeners with ideas for how they can thrive through obstacles and challenges. "Keep your eye on the ball and stay focused," Bush said during the show. "You have to do everything you can to keep your eye on what the goal is and not be sidetracked by other criticisms or problems that come up."
Click here to listen to a podcast of the whole interview.

Counselor Introduces Holiday Party Contest
Have a great company party planned this month? Tell the industry about it, and enter our 2010 Holiday Party Contest. Go to our Best Places to Work Facebook page (www.facebook.com/BestPlacestoWork) or to our website at www.CounselorMag.com to let us know about your company's holiday party. Did you do something unique this year? What kind of holiday festivities went on in your office?

Let us know now by entering the Counselor Holiday Party contest. Go to www.facebook.com/BestPlacestoWork to upload pictures, videos, and stories. The most creative entry will win a $100 gift card for their office.

In The News
Logomark (asi/67866) has announced that its 2011 Portfolio catalog introduces 85 new products and extended customer care services and is available now. Distributors can order the catalog online, download a PDF or view a digital flipbook through the website. For information about the new catalog, go to www.logomark.com.
Norwood & BIC Graphic North America (asi/40480) announced that they are re-launching the two brands with a unified look in 2011. Beginning on January 1, the company will have new marketing materials and a new web presence with a unified feel based on BIC's orange color scheme. The combined branding will be unveiled with the 2011 catalog mailing, taking place this month. Moving forward, Norwood will also unify all of its brands under one ASI number: asi/74400; BIC will maintain its current ASI number.
Timeplanner Calendars Inc./JournalBooks (asi/91340) has celebrated its 40th anniversary with a company-wide barbeque and will continue its celebration throughout January, as 2011 marks the official anniversary. Coinciding with the occasion, the company is launching a new, redesigned Timeplanner catalog for 2011-2012.

People On The Move
CaféPress (asi/43167) announced that it has appointed Robert Marino as the company's new president. Marino had most recently been the company's vice president of operations.
Imprints Wholesale (asi/62486) has named Lori Broadwater outside sales representative for Texas.
Liqui-Mark Corporation (asi/67675) has hired Colm Harding of Harding and Associates as its multi-line sales representative for OK, TX, AR, LA, CO and NM and Silvia Reyes as customer service representative.
Penn Emblem Company (asi/62485) has promoted Javier Arceo to vice president of operations and Gina Markward to controller.
Prime Line (asi/79540) announced that it has named Marcus Sweeney national accounts manager of the company.
SnugZ USA (asi/88060) has announced that it promoted Rosanne Riddle to chief operating officer. Riddle, who most recently served as vice president of finance for SnugZ, will now be responsible for operational leadership of the company's sales, marketing, accounting, fulfillment and IT operations.
Tangerine Promotions (asi/341609) has hired Bob Levitt as vice president to open a West Coast branch of the company.

PRODUCT SPOTLIGHT
NEW! USB Sticks from AZX Sport ASI/30250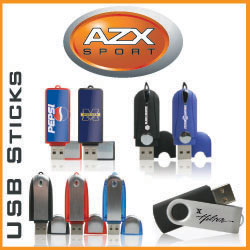 Features: 512MB - 16GB memory size available. Large variety of
colors and shapes. Ability to pre-load files onto USB.

Construction: Full color domed, Laser engraved
and pad printing available.

Lead Time: 1-3 business days on stock USB. 10 business days on
non stock USB. Minimum order 25pcs.

Orders and Art: Info.Promogram@aztex.com

Quote Requests: Info.Promogram@aztex.com

Visit www.azxpromotions.com to see our full line of products.

Or call 1-800-558-4836
CALL FOR QUOTE!
For other new and creative products,
visit the Product Central section on ASICentral.com.

EmailExpress SUPPLIER SPECIALS
Full Color Squeezelites - 3 Day Service  asi/38980  - Last minute holiday needs ? View Special...
Custom USB drives, 2GB $5.99, Holiday Special  asi/73571  - USB Flash Drives 2GB $5.99 View Special...
What do your customers want this holiday?  asi/78827  - More sales, more sales, more sales, Oooh and more sales!! View Special...
Save $100 on Custom Stationery and Presentation Folders!  asi/79558  - Offer Your Clients Custom Stationery and Presentation Folders. Call today to get $100 off your first order! View Special...
Flash Drives Free Gift Card With Your Order in December  asi/93131  - We Will Hit Your Price To Win View Special...
Tote Away Sales with Unbeatable Tote Bag Pricing  asi/90154  - Free Shipping View Special...
FREE FREIGHT-$.76 TOTE BAG  asi/37980  - Visit us online www.bagworldpromo.com. View Special...
Sportco Premium Apparel & Decoration  asi/88792  - Hot New products for 2011 - In Stock Now! View Special...
New Year USB Specials! AP201 as low as $3.11 net!  asi/37218  - Free Shipping, Free Set Up, and Free 2 Color Imprint View Special...
NEJ $8 Fleece Hooded Sweatshirt  asi/72806  - While supplies last View Special...
APPLIQUES-Direct Embroidery without the Expense & Commitment   asi/98264  - Appliques give the look of direct embroidery on apparel without the expense and the commitment, because you no longer need to ship the apparel to a decorator and you can also remove the appliques. Appliques can be applied in-house View Special...
Q4 Deals on Travel Mugs and Tumblers from Ad Master Line  asi/31485  - Visit us online for more great specials www.admasterline.com! View Special...
Are your clients in need of a last minute gift?  asi/87821  - Our cookies are not only handmade and baked just for you, but are also exceptionally tasty. View Special...
PromoPowerBalance Wristbands Now Available!  asi/92429  - PromoPowerBalance Wristbands Now Available from USA CONNECT! Come Check Us Out!! Promote with PromoPowerBalance Wristbands now with Custom Branding! This promotional campaign will get results! Call now at 1-866-USA-CONNECT! View Special...
Need it Tomorrow... CALL US TODAY  asi/48051  - DYR Design Your Recognition has a new platform that lets you create custom Awards, Recognition and Gift products in just minutes. We can even ship the same day. Next time your client calls you in a panic remember DYR, the solution for last min orders View Special...
So Much More Than Temporary Tattoos - Save 20% Now!   asi/43530  - California Tattoos: So Much More Than Temporary Tattoos! Save 20% Now! View Special...
CLEARANCE BLOWOUT SALE-LOWEST PRICES EVER !!!!  asi/37980  - Visit us online www.bagworldpromo.com. View Special...

FREE REGISTRATION DEADLINE IS DECEMBER 27!
Calling all ASI distributor and decorator members! Don't miss your opportunity to attend ASI Orlando (January 23-25) for FREE! Register by Monday, December 27, and enjoy all this and more. . .

Tens of thousands of new products from over 700 suppliers: Debuting their 2011 catalogs, leading companies (including the Top 40) will be featuring show specials only available to ASI attendees.

ASI Million-Dollar Sales Summit: An exclusive event for the best and brightest distributor salespeople. (Co-sponsored by Fields Mfg., asi/54100, Logo Included, asi/67837 and Logo Mats, asi/67849) 

ASI Peppermint Twist-Off: We are twisting our way into the GUINNESS WORLD RECORDS™.

2011 ASI Fashion Show: A sneak peek at the industry's hottest new promotional apparel.

The Wizarding World of Harry Potter™: Live the adventure of Harry Potter™ during a private party at the hottest attraction at Universal.

Michael J. Fox Keynote: Always Looking Up: The Adventures of an Incurable Optimist (Co-sponsored by Evans Mfg., asi/52840 and Showdown Displays, asi/87188) 

60+ FREE Education Workshops: All part of the Advertising Specialty Institute Certification Program.  (Education sponsored by Fields Mfg., asi/54100)

Register today for ASI Orlando – the largest ASI Show of the year – at www.asishow.com. And, remember, ASI distributor/decorator members enjoy FREE admission and even a FREE hotel room.

HAVE YOU HEARD WHAT'S PLANNED FOR ASI DALLAS?
The industry is abuzz about ASI Dallas, the largest ad specialty show in the Southwest. Featuring a schedule like never before, both suppliers and distributors are planning to attend this unmatched sales-building event.

Taking place February 16-18 at the Dallas Convention Center, ASI Dallas will feature a Factory Tour of ASI supplier ThermoServ, 50+ FREE educations sessions (Sponsored by Fields Mfg., asi/54100), the acclaimed Ultimate Texas Bash, a motivational Keynote by former First Lady Laura Bush (Sponsored by Pepco Poms, asi/77280) and the 2nd annual ASI Women's Summit (Co-sponsored by Fields Mfg., asi/54100, J. Charles Crystalworks, asi/62985 and Logo Mats, asi/67849). 

Register today for ASI Dallas at www.asishow.com. And, remember, ASI distributor/decorator members enjoy FREE admission and even a FREE hotel room.

Follow The ASI Show on Twitter and become a fan on Facebook today!

The following are the dates and locations for The ASI Show in 2011:
Orlando, January 23-25, 2011
Dallas, February 16-18, 2011
New York, March 22-24, 2011
San Diego, May 18-20, 2011
Chicago, July 19-21, 2011

Plus, don't miss the ASI Advantages Roadshow, the industry's #1 traveling show. Visit www.advantagesroadshow.com for the complete schedule and go to www.asishow.com for information on all ASI Shows.




| | |
| --- | --- |
| | |
SPONSORED BY


Counselor® PromoGram® is a trademark of the Advertising Specialty Institute. You were sent this newsletter as a benefit of your ASI membership. Copyright 2010, ASI. All Rights Reserved.
If you'd like us to send Counselor PromoGram FREE to anyone else at your company (or to your off-site sales reps), go to www.asicentral.com/newsletters and complete the online form.
Interested in advertising in Counselor PromoGram? Send an email to ekoehler@asicentral.com
Click here to subscribe to Counselor® magazine. You must be a member of ASI to subscribe to this publication. The publisher has a right to refuse subscriptions to non-members.
Advertising Specialty Institute®, 4800 Street Road, Trevose, PA 19053