ASI NEWS

Sneak-Peek Video of ESP Web and ESP Orders
Check out a cool video about ASI's revolutionary new ESP Web. 
Find out more...

New Sprint Wireless Savings for ASI Members 
Check out our newest member benefit: savings on wireless services and equipment from Sprint. 
Find out more...

ASI STORE
Find, review, and purchase the latest exclusive ASI products... 
Find out more... 

 
 
ADVERTISEMENT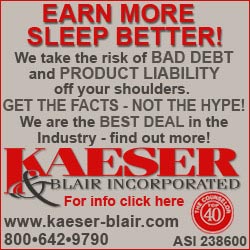 Consumer Confidence Reaches Three-Month High
Beating the forecasts of analysts, the consumer confidence index recorded a three-month high in December, jumping roughly two points to 52.9. Other economic indicators, though, including the Conference Board's present-situation index, remain mixed, strengthening theories that a full recovery will take time. "Confidence is stronger than when we started the year, but for much of the last several months we've been moving sideways," said Lynn Franco, director of the Consumer Research Center of the Conference Board, a non-profit firm.

Along with a spike in consumer confidence, the Conference Board's expectation index also increased in December, rising five points to 75.6. Among respondents, 48.6% reported jobs were still difficult to find, down from the 49.2% in November. Despite those positive signals, the Conference Board's present-situation index, which measures the current economic state of respondents, fell nearly three points to 18.8, reaching its lowest level since of February 1983. "A more optimistic outlook for business and labor market conditions was the driving force behind the increase in the expectations index," Franco said. "Regarding income, however, consumers remain rather pessimistic about their short-term prospects and this will likely continue to play a key role in spending decisions in early 2010."

A separate survey, released by CareerBuilder.com, shows optimism among a greater number of employers. About 20% of employers said they would add full-time, permanent workers in 2010, compared with 14% who said they would do so in 2009.  Meanwhile, only 9% of employers intend to cut workers in 2010, a significant improvement compared to expectations for 2009 a year ago.