ADVERTISEMENT
SHARE PROMOGRAM

ASI NEWS


ESP Mobile™ Virtual Sample Enhanced
ASI's apps have new features and enhancements that include a magic wand to alert users to all products that are virtual sample-enabled.
Find out more.

ASI Awards 1,000+ Certifications
ASI® surpasses an education milestone after awarding 1,078 certifications through its free Online Learning Center, with 27,000 now enrolled.
Find out more.



ESP WEBSITES


ASI welcomes the following suppliers to the ESP Websites network.
Find out more.



ASI STORE




Find, review, and purchase the latest exclusive ASI

products...
Find out more.


ADVERTISEMENT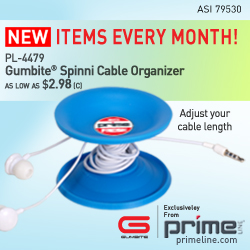 WorkflowOne Acquired By Standard Register
As reported this morning in a Breaking News Alert, Counselor Top 40 distributor WorkflowOne (asi/333647) has been acquired by document management firm Standard Register. The transaction is valued at $218 million, with the majority financed by assuming $210 million of long-term debt.
"This deal is a good one for our merchandise and marketing teams," said Jeff Grippando, vice president of branded merchandise at WorkflowOne, in an interview today with Counselor. "We now have an opportunity to push our strategies that we developed to new vertical markets and clients."
WorkflowOne will initially operate as a subsidiary of Standard Register before later being integrated under the Standard Register name. Joseph P. Morgan, Jr., president and CEO of Standard Register, will lead the combined company, and former WorkflowOne president and CEO Timothy A. Tatman will serve as an advisor during the integration. "By joining forces with Standard Register, we will be able to provide our customers with deeper capabilities across a broader range of products and services than ever before," said Tatman.
When the integration of the two Dayton, OH-based companies is complete, Standard Register expects to achieve $1 billion in annual revenue and $40 million in annual savings, as the acquisition enhances the firm's cost structure and financial flexibility. Standard Register currently serves many large healthcare, financial services and manufacturing companies.
The combined company is expected to serve more than 12,000 customers and create a $300 million health-care patient-centric communications business. It will bring together 4,000 employees, including 920 in Dayton. "Standard Register and WorkflowOne have a combined heritage in printing, document management and communications that is enhanced through this acquisition," Morgan said.
Ranked by Counselor as the 13th largest distributor in the industry, WorkflowOne reported 2012 North American ad specialty sales of $100.6 million. According to Grippando, the firm's first-half 2013 sales increased 5.9% versus last year, mainly on the strength of success in cross-selling print and promotional products.