ASI NEWS

Schoolhouse Rock
A new study says the education market rose to No. 1 in the industry for the first time, accounting for $2.16 billion in ad specialty revenues.
Find out more.

Road Rules
The ASI Show announced the 2012 schedule for the Advantages Roadshow, visiting 40 cities throughout North America.
Find out more.

LOGOMALL

ASI welcomes the following Suppliers to the LogoMall Network.
Find out more.

ASI STORE

Find, review, and purchase the latest exclusive ASI products...
Find out more.


TSC Apparel Acquires All Star Activewear
Continuing its expansion in the Houston area, Ohio-based TSC Apparel (asi/90518), a subsidiary of Counselor Top 40 supplier ProFill Holdings, has acquired wholesaler All Star Activewear. Financial terms of the deal were not disclosed. To accommodate increased orders in the region, TSC has also expanded its Houston distribution center by more than 50%, the company announced this week. "Houston is a big focus area for growth for us," said Marianne Allen, marketing director of TSC Apparel, in an interview yesterday with Counselor. "All Star already has a customer base and familiarity with the area."
ADVERTISEMENT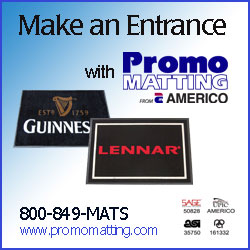 Per the agreement, Bob Ashy, co-founder of All Star Activewear, will join TSC as an account executive, based in Houston. Founded in 2007, All Star Activewear is a provider of items like T-shirts, golf shirts, towels and bags. "All Star is a natural fit for the TSC Apparel family," said Blair Pike, TSC's sales manager. "The addition to our Texas sales team and larger facilities from which we can service our accounts will help us carry the momentum we have established in Houston into 2012 and beyond."
TSC Apparel opened a distribution center in Houston early last year, offering next-day ground shipping across much of Texas, Louisiana and Oklahoma. Besides Houston, the company also operates from locations in Ohio, Georgia and California.
According to Allen, sales at TSC Apparel are again trending upward this year and, with a growing customer base, further site expansion is possible in 2012. ProFill Holdings, ranked by Counselor as the 17th largest supplier in the ad specialty industry, includes entities TSC Apparel and Cincinnati Line/WearMagic (asi/45180). The company reported 2010 revenues of $76.5 million and has a five-year growth rate of 27.1%.