ADVERTISEMENT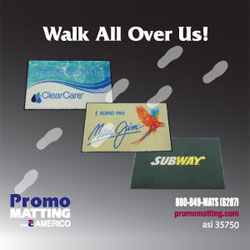 International: Counselor Visits China Trade Shows
The 111th Canton Fair, held at the China Import and Export Fair Complex in Guangzhou, China, opened Phase 2 of its event – showcasing consumer goods, gifts and premiums – from April 23-27. Covering an exhibition area of more than 12 million square feet, show organizers report hosting 58,700 booths over a three-week period. Drawing well over 100,000 international attendees, the show is considered by many North American suppliers to be a critical event from which to find new products for their lines.
"The Canton Fair has been a very productive trip for us," said Taylor Tadmor, the president of Tekweld (asi/90807) and a repeat visitor to the Canton Fair, who attended with Liqui-Mark Corp.'s (asi/67675) vice president, Josh Goodelman. "As owners who are not only involved in the product development process, we are heavily involved in sales which enables us to utilize feedback from our customers to not only source but develop new products with our supplier base all over the world. We find color trends, new materials and designs to revolutionize our product lines."
Goodelman, a first time attendee at the show, pointed out that applying retail trends to the promotional market ensures clients have the most cutting edge products and ideas to be successful for all of their marketing needs. "The most important part of the trip has been spending time at our factories auditing and inspecting our production processes and spending time with our factory staff ensuring consistency and quality with our product lines using high quality control standards," Goodelman said.

Phase 3 of the Canton Fair will be held from May 1-5 and features exhibitors with items covering market categories such as textiles and garments, office supplies, cases and bags, and health and recreation products. Held simultaneously with the Canton Fair was the Shenzhen Gift Show, an event run by Reed Exhibitions. Now in its 20th installment, the show housed 3,300 exhibitors and is predicted to attract over 110,000 attendees by the last show day on April 28. Taking up nine halls in the Shenzhen Convention & Exhibition Center, product categories on display include drinkware, stationary, apparel, electronics, housewares, bags and leisure products. Product trends uncovered at the show include a clear, neoprene bag that self-seals around a smart phone or tablet, making the devices waterproof and able to be used underwater, as well as drinkware in pastel metallic colors with neoprene lids.
For more information on the Canton Fair, go to www.cantonfair.org; for more information on the Shenzhen Gift Show, go to www.chinagiftsfair.com.