Create An Over-Achieving Company Culture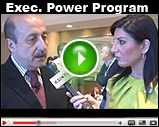 During the first-ever ASI Executive Power Program designed exclusively for C-level executives and sales managers at industry distributorships and supplier companies, branding and leadership expert Warren Greshes, owner of Speaking of Success, led a dynamic, interactive discussion about how to inspire and build a self-motivated, over-achieving company culture. "To install a self-starting generator, or an internal motivator, in all your employees, help them define their goals for the next year or five years," said Greshes, who noted that recognition is the single-biggest motivator at companies, rather than money. "Now, you know their unique hot buttons – you know what will motivate them. Then, define the activities they'll do to meet those goals. Tell them you expect them to excel, and praise them for working toward those goals."
In his presentation, Greshes outlined the best ways to create self-motivated employees, including these:
Set high standards. "No business owner should accept mediocrity," Greshes said. "You set the standards for how your company will run." But, he said, allow people the room to be individually creative. "That way you foster innovation, while still setting standards and parameters, and having accountability," he said.
Create an environment where failure isn't fatal. "Some bosses just lie in wait for the screwup – they're the jump-out-of-the-bushes bosses," Greshes said. "You have to let people try things, to have decision-making ability. You have to allow them to make mistakes." However, you don't have to tolerate employees who make the same mistakes over and over. "Advise your employees how to correct the mistake and then recognize them for doing that," he said. "And, continue to recognize good performance and employees who are working toward their goals."
Help people build winning streaks. "To help people get to their goals, only ask them to do what they can handle," Greshes said. "That way, they never fail, and you can keep asking them, for example, to incrementally increase the sales calls they make. They'll expand their productivity and meet their defined activity goals every single day."
Click here to watch a video interview with Greshes.