Use Multimedia Marketing To Get Attention
In a session at ASI San Diego titled "Pump Up Your Marketing With Multimedia Campaigns," Heidi Thorne, owner of Thorne Communications, emphasized how inexpensive and easy it is to create videos, podcasts and other multimedia elements with just your smart phone. "Use your smart phone to capture at least one video, audio clip or photo at the next trade show you're at, and post it to your website or blog," said Thorne, who noted that what holds distributors back from multimedia marketing is fear of the process being too difficult. "Your goal is to become 'sticky,' which means you want people to keep coming back to see what you've just posted. And it's just so easy to do."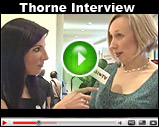 Thorne also pointed out that distributors shouldn't be afraid to be different, "or even a little crazy in their online marketing efforts," she said. "Your goal is to grow the number of subscribers to your YouTube page, or visitors to your company website or blog. You'd be surprised what will get viewers' attention, say a video of how a pen is made or just quick audio tips that you put out every week."
Click here to watch Nicole Rollender, Stitches editor, interview Thorne about the best ways for distributors to begin creating multimedia marketing elements.