ADVERTISEMENT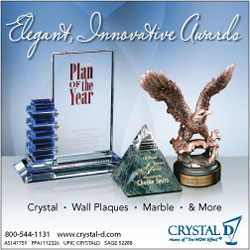 Polyconcept Announces Management Changes 
Polyconcept, the largest hard-goods ad specialty supplier in the world and parent company of Counselor Top 40 supplier Polyconcept North America (PCNA), announced that Cees Martens has been appointed as PF Concept International's CEO and member of Polyconcept's Executive Committee. PF Concept is a sister company to PCNA and is not the parent company of industry suppliers Bullet (asi/42424), Journalbooks (asi/91340) and Leed's (asi/66887). The company had previously announced that Yann Leca, former CFO of Polyconcept, was promoted to CEO overseeing the company's Global Supplier Group.
"After the very successful redeployment of our U.S. activities under the Polyconcept North America banner and David Nicholson's leadership, we are extremely pleased to have the opportunity to promote Yann Leca who has been our CFO since 1998 to a broader operational role as head of our Global Supplier Group," said Philippe Varnier, chairman/CEO of Polyconcept, in an exclusive interview with Counselor. "Moreover, I am convinced that the change of leadership at our European supplier arm, PF Concept, with Cees Martens taking the helm and bringing his experience and impressive track record, will allow us to rebound faster than the market as the economy improves."

With previous employment as general manager of the Markers & Highlighters Business Unit of Newell Rubbermaid in Oak Brook, IL, which includes the leading U.S. brand Sharpie, Martens has 23 years of professional experience in sales, marketing and operations. Based in Roelofarendsveen, The Netherlands, Martens takes over from Rutger de Planque, who has elected to pursue other opportunities after 20 years with PF Concept. Martens will continue to grow PF Concept's position as the European promotional products industry's leading supplier, serving more than 10,000 distributors across 50 countries. He will report to Leca, whose new role put him in charge of all the group's global catalogue-based promotional products activities towards distributors.

The Polyconcept Supplier Group includes PF Concept, Polyconcept North America and their related Asian-based sourcing activities. It delivers close to one million orders annually to 25,000 distributors worldwide. The North American unit reported $275.4 million in revenues in 2009.