| | |
| --- | --- |
| | ADVERTISEMENT |
| | |
Canada Officially Imposes Tariffs on U.S. Goods
Canada has officially imposed retaliatory tariffs on U.S. imports, including products that could directly affect the promotional products industry.
The move comes several weeks after President Donald Trump announced the U.S. would be implementing 25% tariffs on steel and 10% on aluminum from Canada, the EU and other countries. The reciprocal Canadian tariffs will be worth approximately $12.6 billion (C$16.6 billion), the value of the 2017 Canadian exports affected by the U.S.'s recent tariffs.
Canada's Foreign Minister Chrystia Freeland, who has also been the country's top trade representative during the recent NAFTA talks, announced the tariffs would go into effect this week, saying, "We will not escalate, and we will not back down."
On the list of products that now come with penalties are steel and aluminum exports from the U.S., along with maple sugar and syrup, sugar confectionaries, chocolate, caffeinated roasted coffee, tableware and kitchenware, bobbins, pillows and cushions, playing cards, ballpoint pens and felt-tipped pens and markers.
Read the full article here.
Legal Pot in Canada Comes With Advertising Restrictions
Marketers, promotional product pros and graphic designers dreaming up trippy logos and packaging artwork to build the brands of legal recreational cannabis businesses in Canada might want to pause on their galaxy sketches and tie-dye creations.
Regulations appear aimed at keeping branding, packaging and labeling plain and regimented – a fact that some critics say will hurt the nascent industry.
Regardless, it will be wise for companies – and the promotional products firms that sell to them – to comply with the regulations. After all, law empowers authorities to impose fines of up to $250,000 for a first-time offense. Each additional offense is punishable by a fine of up to $500,000. Rule-breakers can even face prison time.
Given the stark repercussions, promo companies eager to work with Canadian marijuana businesses must be knowledgeable about the rules. Foremost among them is that marketers can't create branding that would appeal to minors. Relatedly, marketers are prohibited from creating branding or package design that portrays a marijuana product in a manner that makes it seem glamorous, recreational, exciting, risky, daring or able to produce vitality. Testimonials are a no-no, as are celebrity endorsements. Want to come up with a clever fictional character to help build a brand? Regulations prevent that, too.
Read the full article here.
| | |
| --- | --- |
| | ADVERTISEMENT |
| | |
Starbucks to Phase Out Plastic Straws by 2020
The days of sipping venti half-caf skinny iced lattes from a plastic straw are numbered. Starbucks recently announced that it will be phasing out single-use plastic straws from its more than 28,000 stores by 2020, in an effort to reduce plastic waste and curb ocean pollution. Instead, customers will be given a strawless lid (comparable to a child's sippy cup) or an alternative-material straw option. The company estimates the move will eliminate more than one billion plastic straws per year from its stores.
"For our partners and customers, this is a significant milestone to achieve our global aspiration of sustainable coffee, served to our customers in more sustainable ways," CEO Kevin Johnson said in a press release.
Starbucks designed, developed and manufactured the strawless lid for iced beverages; the lid is already available at more than 8,000 of its stores in the U.S. and Canada. Straws made from alternative materials, such as paper or compostable plastic, will be available for blended drinks like Frappuccinos, or for customers who prefer or need a traditional straw, according to the company.
Perhaps unsurprisingly, the strawless initiative will first roll out in Seattle and Vancouver this fall. Both cities recently passed their own plastic straw bans. Vancouver's ban, which takes effect in the fall of 2019, is part of broader sustainability legislation, which also includes a ban on the distribution of foam cups and containers. Seattle, where Starbucks is headquartered, is the first major U.S. city to ban single-use plastic straws in bars and restaurants, the culmination of a decade-old waste-reduction ordinance.
Read the full article here.
Women of Promo Confront Workplace Inequality
In the July cover story of Advantages magazine, women from across the industry, including Canada, discuss the gender-based workplace challenges they've faced and the strides the industry has made to make the working environment more gender-equal. But while things have improved immensely, say these women, there are definitely improvements still to be made.

"We feel like we have to let comments slide to keep our jobs," Kate Plummer, vice president of sales & marketing at Toronto-based Clearmount (asi/45440) told Advantages. "More people worry about how they're perceived because it's a small industry. You don't want to be seen as pushy or aggressive…we want to keep the waters calm and have a good reputation."
Read the full article here.
Q&A: Two Crazy Ladies Celebrates 30 Years
Melanie Sibbitt, president & CEO of Two Crazy Ladies (asi/347888) in Toronto, recently spoke with ASI Canada about her company's 30th anniversary this year.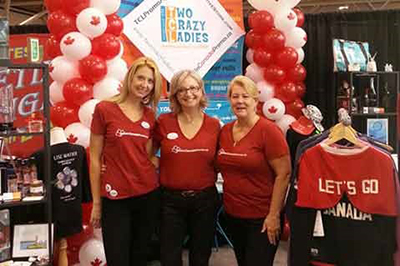 Melanie Sibbitt (far right) started her distributorship in 1988 with a single product.
ASI Canada: What were your career expectations before entering the promo market?
Melanie Sibbitt: I was in the hospitality industry, managing restaurants and hotels, and I loved it. Then in 1986, I was in a head-on car accident that halted my career ambitions. After a long recovery and short stint in the restaurant business, I noticed something my sister Kim was working on. She's an artist and the other original "Crazy Lady," and she had created the Doodle Mug that you could write messages on with write-on/wipe-off markers. She had six different messages along the top and space for a company logo along the bottom. I asked her what it was and when she told me, I said, "Let's make it and take it to a trade show." Two months later, in the fall of 1988, we were exhibiting at the Premium & Incentive Show in Toronto. There would be no Two Crazy Ladies Inc. without Kim and the Doodle Mug, and I'm eternally grateful to Kim for her creativity all those years ago. We'll actually be giving out special 30th anniversary edition mugs to clients as gifts this year.
AC: Did you have any experience with promotional products before that first trade show?
MS: I had no idea what the promotional products industry was. But at that first show, people stopped and laughed at our company name and then asked if we could do hats, pens and bags. Of course we said yes. We had no idea where to find anything, but that didn't stop us! I would use the Yellow Pages to find suppliers and then drive my artwork to them. I'm honored to still have my first client whom I met at that show in 1988.

AC: How have you expanded since your first trade show?
MS: I operated out of my kitchen for the first five years, and then I opened office space and hired staff. My dad was my mentor and a good guy. We found this perfect spot in Toronto, and it was $600 a month. I was a little nervous and didn't think I could afford it, but my dad said, "If you can't afford $600 a month, you can't afford to be in business." So I went for it! I was there for seven years and then moved to a bigger place. The team of women I have now are incredible; Sabina and Giorgia have been with me for 19 years, and Ashley for 12. They learned so much through osmosis and education seminars, since they didn't have any industry experience when they started. I'm really proud of my fabulous team. They're incredible ambassadors of the Two Crazy Ladies Inc. brand.
AC: What's one of your favorite projects you've worked on?
MS: I knew the owner of the company that imported Yellow Tail wine into Canada when the product was first introduced. I worked with him when I was 19, in the hospitality industry. When they started selling their wine in Canada in 2002, we did all their promo products. We created a wallaby-shaped wine stopper as a value-add product for liquor store promotions. Then we created luggage tags that doubled as bottle hangers that we tied into a contest to win a trip to Australia. It was a really fun product line to create new promo products for. We sourced some of the products from our preferred suppliers, and when we couldn't find the product, we created it. If you can't find it, you make it!
Read the full article here.
Health Canada Recalls Ellen Degeneres Children's Coveralls
Health Canada has issued an official recall for children's coveralls and cap sets. The Ellen Degeneres-branded apparel, made in China, includes appliqué that can detach and pose a choking hazard. One choking incident has been reported, but no injuries as of this writing.
The pink striped garment sets include coveralls with a kangaroo pocket and bunny-shaped appliqué on the left chest, and a cap with pompom. They were sold in sizes three to 24 months, and the label notes style number ED01210 or ED13210.
Approximately 130 sets were sold at Buy Buy Baby stores in Canada and online from August 2017 to March 2018. No ASI-listed companies were named in the recall.
Consumers are instructed to return affected garments immediately to the place of purchase for a refund. Buy Buy Baby can be reached at (800) 462-3966 or at customer.service@bedbath.ca. More information is available on Buy Buy Baby's official notice page.
Health Canada Recalls BBQ Lighters
Health Canada has issued an official recall for barbecue lighters from Canadian Tire Corp Ltd. The refillable MASTER Chef BBQ Igniter lighters, made in China, do not meet Canada's Lighters Regulations and may pose a fire or burn hazard. No injuries have yet been reported, and no ASI companies were named in the recall.
The lighters have an adjustable flame height, and have a gray handle and black barrel. The back of the packaging lists a date of manufacture as 2016-02-01, product number 076-2044, lot number AD6523/G35J and UPC 645990215739. The back of the lighter also lists the manufacture date.
Specifically, Health Canada reports that the lighters may exceed the allowable flame height during ignition; allow a sudden increase in flame height; and continue to burn after the ignition mechanism has been released.
More than 52,500 pieces were sold in Canada between May 2016 and June 2018 by Canadian Tire. Consumers are asked to stop using the lighters and return them to the nearest Canadian Tire location for a refund. Canadian Tire can be contacted at (800) 387-8803 or by email at customerservice@cantire.ca.
The Joe Show Canada: Raising the Bar
In this episode of The Joe Show Canada, Product Editor Joe Haley has a number of convenient products on hand, including a double wall-insulated tumbler, 6-in-1 divot repair tool and more. Watch the episode here.
| | |
| --- | --- |
| | PEOPLE ON THE MOVE |
| | |
| --- | --- |
| ADVERTISEMENT | |
Soft Stuff Creations Welcomes Multi-Line Representative
Soft Stuff Creations (asi/88121) in Blaine, WA, and Surrey, BC, has hired Howard Berman of HB Sales as the company's multi-line representative for the Northwest region of the U.S., covering Alaska, Arizona, California, Hawaii, Idaho, Oregon, Utah and Washington.
"I am very excited to represent Soft Stuff Creations as a multi-line rep and have the opportunity to continue to establish them as a leader in plush toys and golf head covers," said Berman in a statement. "I can't wait to start showing everyone this product line."
Berman has extensive industry experience, and is a board member of the Promotional Marketing Association of Northern California (PMANC).
"We are thrilled to have Howard as part of the Soft Stuff team," said Sharon Griffith, vice president of sales & marketing, in a statement. "He is well respected in the industry and will be invaluable in introducing our products to his many industry contacts. Howard will build sales and be an important partner to all our distributors."
Starline Hires Regional Sales Manager
Starline USA (asi/89320) has hired Kerri May as the regional sales manager for Iowa, Colorado, Kansas, Missouri and Nebraska. She has more than 14 years of experience in the industry.
"We couldn't be more pleased to have Kerri joining our team," said Brian Porter, senior vice president of sales & marketing, in a statement. "When we began this search, the most important things for us were amazing energy and a strong understanding of the industry. Kerri brings both of those to the table. With Starline's aggressive growth strategy, in both core and brand lines, her experience will be invaluable."
Contact Kerri May at kmay@starline.com.
Justincase Appoints Southeastern U.S. Multi-Line Representation
Markham, ON-based Justincase (asi/63698) has appointed multi-line representation for the Southeastern U.S. Lee Pearson and Kevin Ridgeway will represent Justincase in Alabama, Kentucky, North Carolina, South Carolina, Georgia and Florida.
"Kevin and I really look forward to working with Justincase," said Pearson in a statement. "Their quality and the variety of product and price has unlimited potential for every vertical market in our district."
Pearson and Ridgeway have more than 30 years of experience in multi-line representation for distributors in the Southeastern U.S. "We are very excited to team up with Lee and Kevin," said Max Baer, president of Justincase, in a statement. "This year, Justincase is experiencing record growth, and we are fully geared up for outstanding service and major growth in the Southeast States."
Contact Lee Pearson at lpleebird@aol.com and Kevin Ridgeway at kevinridgway@att.net.
HUB Pen Hires Graphic Designer
HUB Pen (asi/61966) has hired Tom Spirito as a graphic designer. In his new role, he will assist the HUB marketing team in creating sales tools for company and customer use.
"I'm excited to be a part of the HUB team," said Spirito in a statement. "I've loved getting to know the friendly and supportive staff."
Spirito brings 14 years of experience in print, apparel and web design, and was previously a senior artist in Adidas' sports licensing division.
"Tom is a great addition to our marketing team," said Sharon Menssen, director of marketing for HUB Promotional Group, in a statement. "Tom has great experience and creativity that he brings to the table, along with his positive attitude and willingness to jump right in and contribute."
Contact Tom Spirito at tspirito@hubpen.com.