Obituary: Rosalind Fraser Plummer, Clearmount
Rosalind Fraser Plummer, owner of Clearmount (asi/45440) and a luminary in the Canadian promotional products industry, passed away unexpectedly on April 15. She was 58.
Born in Glasgow, Scotland in 1958, Plummer moved to Montreal when she was 8 years old. She attended Queen's University, where she earned a degree in Sociology in 1980, and subsequently settled in Toronto. Over the course of 27 years, Plummer and her husband David built Toronto-based Clearmount into a premier provider of customized awards, recognition items and other premier products such as SIGG water bottles. Plummer not only spearheaded a supplier firm known for producing outstanding work, but also led the development of a positive company culture that encouraged employee loyalty, with many employees celebrating anniversaries of 20 years or more.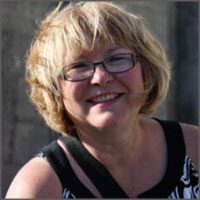 Additionally, Plummer was highly active in the broader promotional products industry and her community. A strong proponent of education, professional development and women's empowerment, she was a regular presence at PPAI's Women's Leadership Conference and was instrumental in making PPPC's Women's Empowerment Event a success for six consecutive years. Her family liked to joke that there was never a sign-up sheet that she didn't put her name to.
"She had an outsized impact on the lives of those she touched," her family said in a statement. "Her smile and laughter made this world a brighter place."
"Ros," as she was affectionately known, spent her final two weeks on a vacation with friends and her husband. She died suddenly on the trip home. This week would have marked her 59th birthday. Her family plans to celebrate the day in her honor.
"She loved her family and friends fiercely, and they loved her back with that same intensity," the family statement reads. "She lives on in the strength she passed on to her three daughters, the memories that she created with her best friend David, and in the joy and laughter that she shared with her mother Rose and sister Sharon." Indeed, Plummer's legacy includes daughter Kate, who joined Clearmount 10 years ago and plays an integral role at the company.
In lieu of flowers, the family requests donations to be made in Plummer's memory to two organizations that held a special place in her heart: the Heart & Stroke Foundation of Canada and Peacebuilders International. Condolences, photographs and memories may be forwarded through www.humphreymilesnewbigging.com.
The Plummer family had one other suggestion for those who wish to honor and remember Ros in a manner that would be in line with the spirit and verve with which she lived. "In her memory," the family said, "please read a good book, open a great wine and make a toast to those you love."
The funeral was held at St. John's York Mills Anglican Church in Toronto on April 22. Following the service, a reception to celebrate Ros' life was held at the nearby Rosedale Golf Club.
Q1 Distributor Sales Rise 3.3%
Distributors increased their sales in the first quarter of 2017 by 3.3%, according to new data released today by ASI. The rise in sales isn't as high as the 3.4% jump recorded in the fourth quarter of 2016, but is up sharply from the 1.4% reported in the first quarter of last year.
"A 3.3% year-over-year growth from existing customers is consistent with what we are finding with our established customer base," said Brian Abrams, founder and CEO of Corporate Imaging Concepts (CIC, asi/168962).
Abrams says CIC's sales increased 27% overall for the first quarter, slightly ahead of expectations. "Our fastest area of growth continues to be new clients leveraging our proprietary technology to resolve sophisticated supply chain needs. With two new seven-figure wins in the past month, we anticipate our sales growth to exceed 20% for the balance of the year," Abrams said.
About 31% of distributors reported an increase in sales in the first quarter, while 21% reported a decrease. Large distributors (with more than $1 million in revenue) increased their sales the most, with 3.6% year-over-year growth for the quarter. Meanwhile, small distributors (with annual sales under $250,000) experienced a bump up in sales of 1.8% compared to the first quarter of 2016. Mid-size distributors (those with between $250,000 and $1 million in sales) posted nearly flat sales.
"We are contributing to that 31% that reported a sales increase," says Jamie McCabe, president of McCabe Promotional Advertising (asi/264901) in London, ON. "Our volume is up 16% year-over-year. Our plan includes continued growth for the remainder of the year and beyond that. We're not entirely sure what to expect in the future, but we're going to keep making hay while the sun is shining."
The Counselor Confidence Index, which gauges the health and optimism of distributors, reached its highest rating ever at 116 in Q1 of 2017. That's up from 115 in Q4 2016 and marks three consecutive quarters of growth. "We are up this quarter greater than the 3.3% average. We feel our second quarter will be even stronger with the addition of Coke being added to our roster," said Steve Friedman, CEO of Top 40 distributor Tangerine Promotions (asi/341609).
The growth of the Counselor Confidence Index reflects a general sense of optimism among distributors as they plan for the remainder of this year and into 2018. More than half of distributors (55%) are predicting a year-over-year increase in sales overall for 2017.
| | |
| --- | --- |
| | ADVERTISEMENT |
| | |
Canadian Cannabis Legislation Comes With Marketing Restrictions
Canadian Prime Minister Justin Trudeau has officially announced legislation that would legalize recreational use of cannabis in Canada by July 1, 2018 – pending approval by Parliament. While some promotional product distributors see opportunity in what might be a booming market flush with billions, the Canadian government is eyeing strict limits on the ways pot can be marketed and advertised.
To protect Canada's youth from using marijuana, the Cannabis Act would put strict regulations on the promotion and branding of marijuana and its legal producers. The legislation outlaws packaging, labelling and promotional products that appeal to youth; selling cannabis through self-service displays or vending machines; and promoting marijuana in any setting where someone under 18 could be exposed to it. The penalty for violating these rules is a maximum fine of $5 million or three years in jail.
The proposed legislation allows for limited promotion in "narrow circumstances," such as inside marijuana retailers, as long as they are not accessible to those under 18. "Comprehensive advertising restrictions should cover any medium," a Canadian task force studying cannabis legalization advised in a report. Such restrictions would include "print, broadcast, social media, branded merchandise, etc., and should apply to all cannabis products, including related accessories."
In addition, the legislation states that packaging on marijuana, similar to tobacco, must be unostentatious, stating only the producer's name and pertinent company information, as well as strain type, price and any additional labeling requirements. Any packaging that could be appealing to those under 18, including things that resemble popular food products or feature bright colors and/or children's characters, would be strictly prohibited.
While there appears to be challenges ahead when it comes to promoting and marketing marijuana in accordance with the legislation, distributors in Canada are looking forward to the promotional possibilities in a newly legalized market.
"Promotional products will absolutely play a role," says Kally Schokking, sales & marketing coordinator at Ontario-based Brand Blvd (asi/145124). "From my perspective, the opportunities are massive. I am really curious to see how it all plays out. Pay attention. Get informed. Be in the conversation. The more you learn about the market and the players in it, the better positioned you'll be to compete."
Meanwhile, Canadian marijuana producers are lobbying to maintain their individual brand identities, particularly when it comes to packaging. In the weeks before the official legislation announcement, a group of seven licensed producers wrote a joint letter to the government asking for more leeway to develop their brands and promote them in an effort to differentiate themselves from illicit producers.
"Brands allow professional companies to separate themselves from less-scrupulous competitors," Brendan Kennedy, president of medical marijuana producer Tilray in British Columbia, told the Canadian Press. The companies further emphasized that their objective in establishing distinctive brand identities, far from luring people into using marijuana, is for point-of-service advertising and education.
"No one in this industry is looking to repeat the same mistakes as tobacco or alcohol," said Kennedy. "No one wants to see a Joe Camel of this industry."
Hanesbrands Announces Preliminary Q1 Results
Hanesbrands (asi/59528) expects to report increased net sales of $1.38 billion for the first quarter of 2017, according to preliminary quarterly results the apparel maker has released. The Winston-Salem, NC-based company also revealed that it has begun the search for a new chief financial officer following current CFO Richard D. Moss' decision to retire by the end of the year. The company operates a corporate location in Mississauga, ON.
As for the first quarter, Hanes' anticipated revenue tally of $1.38 billion is up a reported 13% over the same quarter the prior year. Hanes also expects to report strong net cash from operations. Meanwhile, Hanes reaffirmed its full-year 2017 financial guidance issued in February, including expectations that net sales will rise to $6.45 billion to $6.55 billion. Reaching the midpoint of that range would represent about 8% annual net sales growth, according to Hanes. The company plans to hold its first-quarter investor conference call on May 2.
"We're off to a strong start in 2017, and we are diligently focused on daily execution and performance," said Hanes Chief Executive Officer Gerald W. Evans Jr. "This year is an important transition as we set the foundation of another decade of success."
After 2017, a different top financial executive will be in charge of helping spearhead that success. Moss, 59, will retire by the year's conclusion. While Hanes searches internally and externally for his replacement, he will continue to serve as CFO – a responsibility that includes overseeing the finance-related execution of the company's long-term strategies and improvement initiatives.
Moss started with Hanes in 2006 as treasurer. Five years later, he earned a promotion to CFO. He has been instrumental in helping Hanes grow "from a spinoff company with significant debt into one of the world's largest basic apparel companies with a strong balance sheet," according to a company statement.
"Rick has been an invaluable leader in our organization," said Evans, who was promoted to CEO in October 2016. "I know Rick has been looking forward to retirement, and I am grateful that he committed to staying on through my transition as CEO. We expect a very smooth succession process for the CFO role."
3M Reports Q1 Growth
St. Paul, MN-based 3M Co., parent company of Top 40 supplier 3M/Promotional Markets (asi/91240), reported Q1 sales of $7.7 billion, a year-over-year increase of 3.7%. The company did not break out revenue for promotional products.
Organic local-currency sales were up 11.5% in electronic and energy, 5.7% in industrial, 4.8% in safety and graphics, as well as 3.1% in healthcare, but down 1.2% in consumer. Geographically, sales were led by strong growth of 10.1% in the Asia Pacific region. The first-quarter performance drove the company, which operates a location in North York, ON, to boost its overall forecast of 2017 sales growth to 2% to 5%, up from previous predictions of 1% to 3%.
"The 3M team delivered a strong start to 2017," said Inge G. Thulin, the firm's CEO, in a statement. "We increased investments across the enterprise to further accelerate growth and improve productivity, while increasing our dividend for the 59th consecutive year. In the first quarter, we also announced the acquisition of Scott Safety, which will bolster 3M's already strong position in the personal safety market."
3M/Promotional Markets is ranked 15th on Counselor's list of top 40 suppliers, with estimated 2015 North American promotional product sales of $99 million.
| | |
| --- | --- |
| | ADVERTISEMENT |
| | |
Proforma Inducts New Million Dollar Club Members
Top 40 distributor Proforma (asi/300094) has recognized a record 171 owner-affiliates who reached a million dollars and more in 2016 sales with induction into its Million Dollar and Multi-Million Dollar Clubs. The three-day celebratory event was held at the Ritz-Carlton Dove Mountain in Tucson, AZ.
Proforma inducted 18 first-time Million Dollar Club members, while 12 members moved forward to the Multi-Million Dollar Club and four members moved directly into the Multi-Million Dollar Club.
Kristen Scotto, owner of Proforma Scotto Promotions (asi/491696) in West Palm Beach, FL, and first-time Multi-Million Dollar Club member, achieved $1 million in sales in one month last year, as did Barb and Mike Sovereign, co-owners of Proforma Canada in Mississauga, ON, and members of the 5 Million Dollar Club.
Meanwhile, Bill Hageman, Jim Shindler and Jeff Skinner, co-owners of Proforma Graphic Services in Columbus, OH, and members of the 10 Million Dollar Club, achieved three $1 million months in 2016. Pat Lenehan, owner of Proforma ASAP (asi/490919) in Westlake, OH, and a fellow 10 Million Dollar Club member, achieved four $1 million months, four $2 million months and one $3 million month last year.
Top honors went to Fred and Suzette Albrecht, co-owners of Proforma Albrecht & Co. (asi/116308) in Milford, OH, and members of the 25 Million Dollar Club; in 2016, they achieved two $1 million months, six $2 million months, three $3 million months and the first $4 million sales month by an individual business in Proforma's history.
"One of the greatest honors for us at Proforma is celebrating the accomplishments of our Million and Multi-Million Dollar Club Owners and Sales Reps," said Greg Muzzillo, founder of Proforma, in a statement. "Listening to each member talk about their unique journey to achieving a million dollars or more in sales is inspiring. Whether they are selling comprehensive programs such as e-commerce or providing marketing solutions in niche markets, each of these Owners has engaged in Proforma's proven systems and resources to propel their businesses to new levels of success."
Members of the Million and Multi-Million Dollar Clubs have sales ranging from $2 million to more than $35 million, with combined sales at more than $250 million. In addition, over 50 members have met the sales growth qualifications for the Inc. 5000 list of Fastest-Growing Companies in the U.S.
"The energy and excitement surrounding this group of extremely knowledgeable and driven distributors at Proforma's Million Dollar Club celebration is incredible," said Melinda Durkee, co-owner of Proforma Durkee (asi/491761) in Charlotte, NC, and a first-time member of the Multi-Million Dollar Club. "We first joined the Million Dollar Club in 2012 and we are thrilled to now be a part of the Multi-Million Dollar Club."
With reported 2015 North American sales of nearly $400 million, Proforma ranks third on Counselor's list of the Top 40 largest distributors in the promotional products industry.
Prime Line Announces Price Reductions on Rubik's Cubes
Prime Line (asi/79530) is now offering price reductions on five of its stock Rubik's Cube products, including the original 9-Panel Full-Stock Cube (PL-4685). Prime Line is the exclusive supplier of the Rubik's brand to the North American promotional products market, and has sold over 4 million Rubik's branded items since 2001.
"The success of our Rubik's line enabled us to lower prices and, in some cases, minimums for our best-selling models," said CEO Jeff Lederer in a statement. "The Rubik's Cube is special in that it gives marketers an opportunity to brand with a cultural icon. It's also a great vehicle to tell the story of a new product or service, launch a merger or rebranded company, or promote a new movie or TV series."
In addition, the company has also added the Rubik's Slim Power Bank (PL-4601) and the Custom Rubik's Bluetooth Speaker (SA-700226), both available with full customization, to the Source Abroad by Prime product line. Prime offers both stock and custom Rubik's items, including a flashlight, keychain, stress reliever and more.
Over 450 million Rubik's Cubes have been sold globally since the product was first launched in the retail market in 1980. The Cube was inducted into the Toy Hall of Fame in 2014.
Watch a fun Prime Line video featuring the original Rubik's Cube here. For more information on the Rubik's line, go to www.primeline.com/rubiks.
Nominate Now for Counselor Promotional Campaign Awards
We're looking for the best campaigns that used promotional products in the past year. Nominate your company's successful promo campaigns in the following categories: Distributor Self-Promotion, Distributor Client Promotion* and Supplier Self-Promotion. To nominate your campaign, answer the questionnaire below via email and mail product samples from the promotion to:
Counselor Magazine
ATTN: Karen Akers
4800 Street Rd.
Trevose, PA 19053
We're also recognizing successful campaigns that involved social media (Facebook, Twitter, Instagram, Pinterest, etc.). Email links and details to kakers@asicentral.com.
The deadline is Friday, May 5.
Questionnaire for Best Promotional Campaign nominations:
What was the purpose of the campaign?
What was the company and industry that the campaign was created for?
Who was the target audience?
What products were used? How were they imprinted?
How were the products distributed? How many were distributed?
When did the promotion take place? Is it still ongoing?
What were the results of the promotion? Why would you say it was a success?
Can you provide ROI information or other concrete facts that demonstrate its success?
*To be eligible for consideration, any distributor nominating for Best Distributor Client Promotion must have permission for its client's company name to appear online and in print.