| | |
| --- | --- |
| | ADVERTISEMENT |
| | |
| | ADVERTISEMENT |
| | |
Staples Announces Double-Digit Promo Product Increase
Staples Inc., parent company of Top 40 distributor Staples Promotional Products (asi/120601), announced that company revenues in the fiscal second quarter declined 3.7% year-over-year to $4.75 billion. In a conference call with analysts, interim CEO Shira Goodman mentioned that the company's promotional product business was up by a double-digit percentage for the quarter.

Gross profit for the company decreased 5.7% to $1.19 billion, as gross margin fell an estimated 50 basis points to 25.1%. The company's adjusted operating income increased by 1.5% to $128 million, while the adjusted operating margin improved slightly by 2.7%, compared to 2.6% a year ago.

On a GAAP basis, the company reported a loss of $766 million ($1.18 a share), compared to a profit in the fiscal second quarter of 2015 of $36 million, or 6 cents a share. Significantly contributing to the total revenue loss is $986 million in pre-tax charges and restructuring costs associated with the company's operations in Europe and the failed merger with Office Depot, which received a $250 million breakup fee from Staples. A federal judge blocked the proposed union in May, valued at $6.3 billion, agreeing with regulators that it would reduce competition and raise prices in the business-to-business office supply sector.

In the quarter, sales in North American retail locations and online fell to almost $2 million, a decrease of 5.7%. Sales at Staples.com grew just 1% in the second quarter. The company's North American Commercial sector, which includes Staples' Business Advantage contract operations and promotional products business, overall fell 0.2% to $2.04 million. The company said that Commercial's sales were negatively impacted by about 1% by the sale of Staples Print Solutions, which was acquired by Taylor Company in April.

In the conference call, Goodman emphasized the company's commitment to its Staples 2020 strategy, which "includes a dramatic change in our mindset and our operating model. We're doubling down on Staples Business Advantage, our North American contract business where we have solid momentum on both the top and bottom line, as well as a best-in-class offering to build on. At the same time, we're focusing on maximizing profitability and reducing risk in our underperforming retail and European businesses."

Goodman went on to cite the estimated 2 million customers who visit Staples stores and website each day. "I'm confident that our future is bright," she added. "We have what we need to win. …We have a world-class distribution network that provides next-day delivery to business customers of all sizes. Half of our sales now come from categories beyond office supplies, and we have expertise in these adjacent categories that allows us to expand our share of wallet with customers."

The company closed five stores in the second quarter, and 73 stores in fiscal 2015. Since 2011, the company has shuttered over 300 stores in North America, and has plans to close at least 50 in fiscal 2016. At the same time, Staples plans to add more than 1,000 associates to its mid-market sales team, as well as increase its product offerings and expand its services.

The company has proposed a new cost-savings program that would bring in almost $300 million of pre-tax cost savings annually by the end of 2018. Staples also resumed share repurchase in the second quarter and expects to return an estimated $100 million to shareholders in 2016.

Management warned that it expects third-quarter earnings to be lower than those in Q3 of fiscal 2015, projecting that adjusted earnings per share will be in the range of 32 to 35 cents. Staples does plan to generate approximately $600 million in free cash flow for the full year, excluding a $340 million charge associated with the failed Office Depot merger.

After the earnings announcement, made before the markets opened on August 17, Staples shares subsequently fell more than 7% to 8.67.

Staples Promotional Products ranks first on Counselor's list of the top 40 largest distributors, with estimated 2015 revenue of $554.1 million.
4imprint Names New Chairman
4imprint Group plc, parent company of Top 40 distributor 4imprint (asi/197045), has appointed Paul Moody as non-executive chairman, effective December 1. Moody will replace current Chairman John Poulter, who earlier this year announced his intention to retire.

Moody joined 4imprint in February as non-executive director. He last spent 17 years at British soft drink maker Britvic plc (including eight years as chief executive), and currently serves on the boards of Johnson Service Group plc and Pets at Home Group plc.

"I am pleased that Paul is to become non-executive chairman of 4imprint, following his recent tenure as a non-executive director of the Group," said John Warren, senior independent director of 4imprint. "He has extensive commercial and leadership experience and I look forward to working with him in the continuing development of the business."

Said Moody: "I am delighted to be appointed as non-executive chairman and very much look forward to working with my colleagues on the board."

Poulter joined 4imprint, which operates a location in Windsor, ON, in May, 2010, as a non-executive director and four months later became executive chairman. Last September, Poulter relinquished his executive duties and assumed the title of non-executive chairman. "The board would like to thank John Poulter for his valuable contribution to 4imprint … and to wish him well for the future," said Warren.

4imprint is led by Kevin Lyons-Tarr, who became chief executive of 4imprint Group plc in March of 2015 and tops Counselor's current Power 50 list.

At the beginning of August, 4imprint (the second-largest distributor in the North American promotional product industry) announced half-year revenue growth of 17% for 2016.
Charlesbank Completes Polyconcept Acquisition
Charlesbank Capital Partners has completed its acquisition of Polyconcept, parent company of Top 40 supplier Polyconcept North America. Announced in July, this is Charlesbank's first investment in the promotional product industry. Polyconcept's management will remain unchanged, and will put in equity along with Charlesbank and other investors to finance the transaction. Terms of the agreement were not disclosed.

"We are very pleased to have the opportunity to partner with [Polyconcept's] management team to expand the business globally, building on their track record of success and tapping into new opportunities for growth," Charlesbank Managing Director Josh Klevens said last month after the acquisition was agreed upon.

In an exclusive interview with Counselor in July, David Nicholson, president of Polyconcept North America, which operates an office in Canada, said that with the acquisition, "We are excited about the opportunities to accelerate our growth and expansion – both through organic initiatives as well as through acquisitions. We will continue to be diligent and selective when it comes to acquisitions – focusing on those which bring a strategic value to Polyconcept."

Charlesbank acquired Polyconcept from Investcorp and 3i. "We have had a successful chapter with Investcorp and are thankful for its partnership over the years," said Gene Colleran, CEO for Polyconcept.

Polyconcept North America ranks third on Counselor's list of the industry's largest suppliers, with $561.5 million in 2015 revenue.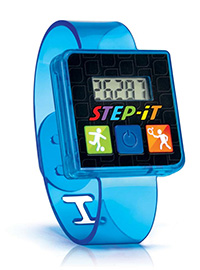 McDonald's Recalls Children's Activity Bands
Fast food giant McDonald's has recalled children's activity wristbands, due to the risk of skin irritation or burns. About 29 million wristbands were made for U.S. and 3.6 million for Canada, according to the U.S. Consumer Product Safety Commission (CPSC) and Health Canada. They were being distributed in Happy Meals and Mighty Kids Meals between Aug. 9 and Aug. 17, but after receiving more than 70 reports of incidents, including seven reports of blisters, McDonald's halted the initiative and issued a recall.

Manufactured in China, the "Step-iT" activity bands come in two styles, an "Activity Counter" and a motion-activated "Light-up Band." The activity counter comes in orange, blue or green and features a digital screen to track a child's steps or other movement. The light-up band comes in red, purple or orange, and blinks either rapidly or slowly, depending on a child's activity level. Both styles have a square face with the words "STEP-iT" printed on them and a button to depress and activate the band. "Made for McDonald's" is etched on the back. The toys, meant to encourage a healthier lifestyle, were launched to coincide with the Olympic Games in Rio de Janeiro.

According to McDonald's, many of the roughly 33 million wristbands manufactured were never given to customers, due to the limited distribution dates and its decision to stop distributing on August 17. "Nothing is more important to us than the safety and well-being of our customers, which is why upon learning about concerns with these bands, we acted swiftly to stop distribution of these products," McDonald's spokeswoman Terri Hickey said in a press statement.

Consumers should immediately take the recalled wristbands from children and return them to any McDonald's for a free replacement toy and either a yogurt tube or bag of apple slices, according to the CPSC. More information on the recall is available by calling McDonald's at (800) 244-6227 or visiting www.mcdonalds.com and clicking on "Safety Recall."
Cintas Acquires G&K Services
Top 40 distributor Cintas (asi/162167) announced that it will acquire uniform rental company G&K Services (asi/199845) for $2.2 billion. Upon completion of the merger, G&K Services will be a wholly owned subsidiary of Cintas, and will initially operate under the G&K brand name.

"Cintas' management team and board of directors have a deep level of respect for G&K Services, its long and impressive heritage and its employees," said Scott D. Farmer, Cintas CEO, in a statement. "Our companies share a dedication to customers, employee-partners and shareholders, which will build a great foundation for a successful combination."

Cintas, which operates a location in Mississauga, ON, reports it will purchase G&K Services' outstanding shares for $97.50 per share in cash.

Minnetonka, MN-based G&K Services is a branded uniform and facility services company serving more than 170,000 customers in the U.S. and Canada. Its annual revenue is approximately $1 billion. For its fiscal fourth quarter, G&K profits increased 20% to $19.8 billion, while revenue increased 9% to $258.5 million.

"This is a compelling transaction that delivers substantial and immediate cash value to our shareholders and expands options for our customers going forward," said Douglas A. Milroy, chairman and CEO of G&K Services, in a statement. "We believe the combination has strong strategic logic and creates the right partnership to meet the evolving needs of our customers. In addition, a larger, more diversified company offers employee opportunities as well."

The companies say the acquisition, expected to be complete in four to six months, will allow them to serve more than 1 million customers. After the announcement on August 16, Cintas shares gained 5% and G&K shares jumped 17%. This continues an upward trend for both companies: Cintas stocks rose 24% in 2016 while G&K increased 53% in the same time period.
While both companies' boards of directors have approved the transaction, it is still subject to approval by the holders of G&K Services common stock and other customary closing conditions.

Cintas reported that the merger will result in annual savings from $130 million to $140 million. As a distributor of promotional products, Cintas ranks ninth on Counselor's list of top 40 distributors, with estimated 2015 sales of $158.5 million.
Report: American Apparel Hires Investment Bank, Explores Sale
Sources say that top 40 supplier American Apparel (asi/35297) has hired investment bank Houlihan Lokey to explore a sale, as reported by Reuters. The news comes six months after the apparel company came out of Chapter 11 bankruptcy, and almost two years after the ouster of controversial founder and CEO Dov Charney, a native of Canada.

"As we have regularly communicated to employees, vendors and customers, we continuously evaluate strategic alternatives," said American Apparel, which is now owned by its former creditors, in a statement. Houlihan Lokey refused to comment.

Charney told Reuters he would examine the company's asking price before making a bid, adding that he is currently developing a new apparel entity. With support from several investors, Charney made an unsuccessful bid to the tune of $300 million for his former company this past January.

Also according to multiple reports, American Apparel is considering moving its manufacturing from downtown Los Angeles to an area of the country with lower wages. Tennessee, North Carolina and South Carolina were all mentioned. Each state has a minimum wage of $7.25, less than half of the $15 minimum wage that California is expected to increase to by 2020. The lease on American Apparel's Los Angeles facility, its largest location, expires in 2019. The Los Angeles Times reported that even with a move, the company would plan to keep its headquarters and design offices in Los Angeles.

In April, CEO Paula Schneider told the Los Angeles Times there was a possibility that some garments could be outsourced to other American manufacturers, though she stopped short of stating that the company would be leaving the city. At the time, American Apparel was laying off approximately 500 workers as part of what Schneider called "a redesign of our production process" in a letter to employees. The company has also recently closed a dying facility in Hawthorne, CA, and a location responsible for knits, located in Los Angeles, will close in October.

American Apparel ranks 16th on Counselor's list of top 40 suppliers, with estimated 2015 revenue of $98.5 million.