Welcome to the latest installment of ASI's e-newsletter for the Canadian ad specialty market, Promogram Canada.

We've received such positive feedback from readers regarding the initial editions that we plan to continue culling together industry news that affects ad specialty suppliers and distributors in the Canadian marketplace.

Please don't hesitate to e-mail me directly with any news pertaining to your company, such as mergers and acquisitions, new hires, awards and accolades received, creative client promotions or new product launches. You can reach me directly at (215) 953-3323 or mbell@asicentral.com.

ADVERTISEMENT
K Promotions Ltd. Partners with Astro Wear Ltd.

Toronto-based distributor K Promotions Ltd. (asi/238367) announced that it has merged with Concord, ON-based Astro Wear Ltd. (asi/126411) to form Astro Marketing Ltd. Reeven Garber, K Promotions' president, and Robert Hirschberg, Astro Wear's president, finalized the deal on April 25, which will result in a combined office at Astro Wear's current Concord location. Financial terms of the deal were not disclosed, but under the terms of the agreement, Garber will be joined by all his employees at the combined location.

"When the opportunity for this merger presented itself I was elated by the possibilities that would open up for both our companies," Garber said. "Rob and I are very excited by this prospect. We've known each other for years and have always had a friendly and collaborative friendship. In today's highly competitive and economically sensitive marketplace, we needed more buying power, the value-added in-house services, and the unparalleled wearable value that Astro Wear brings. By using K Promotions' administrative and back-office operations, including our full support systems and technology tools, as well as providing marketing support, Astro Wear gains the organizational experience and staff that will focus both companies' synergies into a win-win situation."

As part of the merger, Hirschberg will continue on in an advisory role while Garber will act as the company's president/CEO and will manage day-to-day operations. Both companies will function under the new name and brand identity. In the end, Astro Marketing Ltd., with its larger combined operating resources, is looking to the future to grow its client list, maintain long-term growth, and keep intact the hallmarks the individual businesses came to be known by, Hirschberg said, adding: "I'm excited by this great opportunity before us. It's a chance, through mutual respect and the evolution of our brands, to take what is best from both our companies and grow it into something new."
BrandAlliance & Team Sales Ltd. Join Forces in British Columbia

ADVERTISEMENT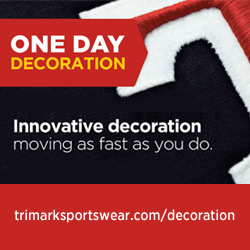 Team Sales Ltd. has become a member of BrandAlliance (asi/145177) and is working together with BrandAlliance BC to collectively strengthen and strategically grow the BC marketplace.

"Partnering with BrandAlliance will provide additional resources to further penetrate existing and new key accounts regionally, nationally and North American wide – we have all three – as well as roll out some of our unique offerings across Canada," said Glen Johnson, president of Team Sales Ltd. "BrandAlliance is a truly unique team of professionals, with a passion for executing long-term strategic customer advantages. Team Sales leaders and staff fit in perfectly, to contribute to and help grow market share in BC and across Canada."

Ian Huntley, president of BrandAlliance BC, agreed. "From the original formation of BrandAlliance BC and merge of Wilson International, our intent has been to continuously attract the best industry sales talent in BC," he said. "Team Sales is a great addition to BrandAlliance and we look forward to working together to lead the BC market in promotional marketing."

Mike Robertson of Team Sales pointed out that as a member of BrandAlliance, the combined BC strength and benefits of the companies have doubled in every way. "But what excites me even more is the unlimited opportunities ahead for decades and generations to come," he said.

Team Sales has been creating corporate impressions for over 33 years and is a leader in the promotional products industry with an experienced sales force and state-of-the-art design department. BrandAlliance was created by the union of leading Canadian distributors that share a common vision, mission, value system and culture and has offices in Vancouver, Salmon Arm, Grande Prairie, Edmonton, Calgary, Waterloo, Toronto, Richmond Hill, Quebec and Montreal.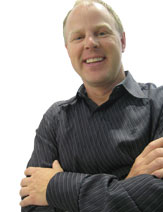 Nick Thompson, president, Calgary – President/CEO, BrandAlliance
BrandAlliance Cracks Counselor Top 40 List
Additionally, BrandAlliance, the newest member of the Counselor Distributor Top 40 list with 2011 North American sales at $44 million, was officially welcomed onto the list at the Counselor banquet during the ASI Show in New York City last week. Nick Thompson, president and chair of the board, talked to us about BrandAlliance's areas of expertise and plans for the future.

Promogram Canada: Please give us some brief background on BrandAlliance.
Nick Thompson: We were officially established in March 2010, when we merged five Canadian companies into one and were legally recognized. The companies were in five major cities, and it took about four years to finalize the merger. We've actually acquired five additional companies since 2010, and we're working on another five at any given time. So it's been a rather aggressive growth strategy that we've undertaken. I'm located in Calgary, Alberta, and our head office is in Mississauga, Ontario. We now have 10 office locations.

Through all of this, we always want to emphasize that our success is based on the involvement of all the people in the company – everyone, from the warehouse to accounting, helped structure the company. We're here because of the efforts of everyone and the collaboration across the entire company. It's not just one person; it's all of us, working together.

PC: What are some of your current offerings and hot sellers?
NT: Technology items are really hot right now, especially iPad and iPhone accessories. The Jam Box is also popular. It's a speaker system that you can use to play music from any MP3 player, and it's wireless, so you don't have to plug it in.

PC: What are your areas of expertise?
NT: We have a competitive advantage with our web store programs for clients. I would say 50% of our business is based on web store programs; that's a rather high percentage among our industry competition. We have a programming department that actually programs stores for our clients from scratch. We can meet the needs of each individual company, based on their goals, how they do business and their finances.

In addition to web stores for large corporations, we offer technology to meet individual client's systems, especially for ordering and tracking. So we deal mostly with customizable systems. We deal with our clients in a consultative manner and ask them questions to delve into their intentions so we can serve them, and so they get the best ROI.

PC: How are sales in 2012 compared to this time last year?
NT: They're up 12%.

PC: What are your plans for the future? Are there any plans to merge or acquire?
NT: We just opened warehouse facilities in Europe, China and Australia for global clients. This growth will continue. We're also working on a partnership for expansion into the U.S. We really want to take it globally and to be able to serve larger global clients.
Gildan Plans Dual-Brand Strategy with Anvil Deal

As previously reported in a Breaking News alert, Gildan Activewear Inc. has signed a definitive agreement to acquire 100% of the holdings of Anvil, parent company of Anvil Knitwear (asi/36350). The deal is for a total purchase price of $88 million. Anthony Corsano, president and CEO of Anvil, will now become a member of Gildan's senior management team and will join Gildan's Branded Apparel division and focus on the continuing development of Anvil's strategy to grow its business of providing high-volume quality products for non-retailer brands.

"We believe that the acquisition of Anvil and the combination of the compatible cultures and strengths of our two companies will position Gildan to further enhance our product offering for our printwear customers and build further on our leadership position in this market," said Glenn Chamandy, president and CEO of Gildan, in a statement. "In addition, the projected economic returns from the acquisition are highly attractive and are expected to create further value for our shareholders."

Garry Bell, Gildan's vice president of global marketing, says that in the next 30-60 days the company will sort out the organizational structure and decide how best to integrate Anvil's workforce and supply chain. "One thing for sure is our intent to approach the marketplace with a dual-brand strategy," Bell told Promogram, "and continue the great work that Anvil has done in building that brand." He noted Anvil's "great brand equity," particularly in categories like women's wear and eco-friendly items, adding that Gildan's manufacturing efficiency and volume infrastructure should help bring even more value to Anvil's offerings.

The acquisition will be financed using Gildan's bank credit facility, and Gildan will not assume any of Anvil's currently outstanding debt. For its fiscal year ended January 28, 2012, Anvil generated EBITDA of approximately $17 million on sales revenues in excess of $200 million. Gildan has annual revenues of nearly $2 billion. The companies expect the deal to close by the end of May.
The Twinlakes polo's flat knit collar, flat knit cuffs and dropped back hem offers easy fit and flexibility for your active weekends. Or if you prefer to stay in, the polo's 95% cotton fabric will keep you relaxed and comfortable indoors.
Trimark Offers In-House Decoration with 1-Day Turnaround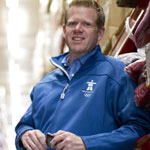 Will Andrew, president of Trimark (asi/92122)
Trimark (asi/92122), acquired last year by Counselor Top 40 supplier Polyconcept North America, now offers in-house decoration with 24-hour turnaround. We spoke with President Will Andrew and Marketing Manager Bill Horst about the changes their team has implemented and where they see the company going in the future.

Promogram Canada: Does Trimark have any plans to enter the U.S. market? If so, when?
Will Andrew: The opportunity is obvious for us with the Polyconcept integration. It's a business opportunity, but also a geography opportunity. We've spent a lot of time and done a lot of work so far toward growth opportunities, but we're not ready to commit to a launch date yet. But we would be foolish not to expand eventually.

Bill Horst: We've been able to take Polyconcept's best practices and incorporate them into what we do. There is a great opportunity for Leed's with category expansion, and clearly a great geographical expansion opportunity for us. We're continuing to explore our synergies and share best practices here in Canada.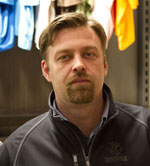 Bill Horst, marketing manager for Trimark
PC: How's the Polyconcept integration going?
WA: It's great. As we went through our due diligence period, we found that the synergy and the culture of the two companies really aligned. It's been fabulous. We've learned a lot from their best practices, as well as the collaboration around communications and our customers. We are learning so much more about the industry; there's so much knowledge around. That's at the higher levels. At the more granular, day-to-day level, we've been learning so much when it comes to the integration of decoration. Chuck Ertzberger, our vice president of operations, has really driven us towards our 1-Day decoration offerings. He helped other Polyconcept entities with the same process, and he's been integral for us.

BH: The senior executive teams are aligned and share a common drive for excellence, allowing us to continue to move the industry forward. We have been able to share best practices, bringing us significant advancements, particularly with decoration. Chuck brings new processes to ensure superb execution on artwork management, customer service and decoration, allowing us to offer industry-changing services such as 1-Day decoration. We're already known as a leader in innovative and fashionable styling at competitive pricing, combined with a best-in-class inventory position. We're now changing the way distributors view decoration by offering decoration in-house as well as 1-Day turnaround, with a simplified pricing model for distributors.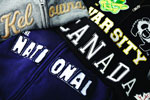 Trimark offers 24-hour turnaround on decoration orders.
PC: What kinds of in-house decoration do you offer?
WA: We are currently focused on laser, deboss/emboss, heat seal and embroidery. We definitely see opportunities to expand the techniques we offer, and we see a lot of growth in alternative and more innovative techniques. Right now we offer 1-Day turnaround in up to 100 pieces, but we want to expand it. We want to give customers the assurance that an apparel supplier, not just hard-goods suppliers, can deliver decorated goods fast. But it's been a real cultural shift here; we were once all apparel design-oriented, and now we're into production and the elements that go into that. But again, Chuck has been great in keeping us motivated through the process.

BH: Customers can have the peace of mind that we will treat our in-house decoration with the same care and passion that we do with our product. We will continue to invest in new and innovative decoration techniques, allowing our customers to raise the bar with their offerings to end-buyers. We're making a huge investment in assuring that our customers receive their finished garments in 24 hours. It's what we're really focused on at the moment. We want to ensure that we can handle large volumes with fast turnaround, and we're hoping to move the industry forward this way.

PC: How does the 1-Day decoration work? How does it benefit your customers?
BH: Trimark's 1-Day decoration is offered on all embroidery orders under 100 pieces and under 10,000 stitches; customers simply need to place orders and approve artwork before 5 p.m. ET and their order will ship decorated the next day. It's that easy and there are no additional charges at all. Our customers were thrilled when we came out with "out the door in 24" shipping for blank goods. Now they'll be receiving decorated goods in the same timeframe.

WA: When a customer puts in an order, it gets scheduled immediately. We don't anticipate that everyone will need it, but it helps our customers focus on sales, not just following up with orders. It's one purchase order, one approval. It alleviates the lengthy process and allows them to concentrate on building their business, without the inherent anxiety in checking on their order statuses. And when they get their order quickly, the end-buyer is impressed with the distributor. And if we can give them a great logo, that reflects back on both the distributor and the end-buyer.

BH: Emergencies and last-minute events are now worry-free, as customers can eliminate rush freight and reduce shipping costs by using 1-Day decoration and shipping ground rather than air freight. Some customers have their own decoration machines in-house but often with limited capacity, which requires new ways to get all their orders to customers faster. Trimark now enables them to use 1-Day decoration, solving this problem. We have been delivering on our 1-Day decoration promise for over four months with embroidery, and that's just the beginning. We'll be adding additional techniques to our 1-Day timeline shortly.

PC: How are you simplifying your pricing structure for decoration?
WA: Our fall launch catalog will be different, and much simpler for the customer. There's a lot of work being done to make it simpler for the distributor to sell to end-buyers. Some of the pricing matrices for certain techniques are really complicated, and then the distributors hesitate to offer them. We want to solve that problem. We want to make it easy to try new techniques and to understand the pricing.

BH: Decoration has to be easy to sell; if pricing is confusing and hard to figure out, it will deter customers from offering new methods to end-buyers. We want to make it simpler to understand, so that end-buyers will have an expanded array of options to choose from.

PC: Can you give us any hints as to the new tools and decoration offers that will soon be available?
WA: The fall catalog will be more streamlined. The decoration options will be incorporated into it without separate sheets. We're trying to make it easier for distributors to do business; they might have their trusted decorators, and that's fine. We're not trying to change that relationship. But we want to provide them with tools that will promote their businesses.

BH: We're continuously making investments to ensure that ordering finished garments requires less time and gives our customers the confidence to look like a hero to their clients. We are already offering nine decoration types, and more of these techniques will be offered in one day in the near future. To ensure decorating our apparel is as easy as possible, we have provided complete decoration by style on product pages on our website. This gives customers a quick reference to the decoration techniques and standard locations by style, right at their fingertips on every product page. We will be adding new tools to ensure that virtual samples are easier to use than ever before. This tool will display virtual samples, with multiple logos and locations, in one easy step. Our customer service team has all the answers to ensure every order, blank or decorated, is handled with the same care and precision. 
Hot List Nominations Are Now Open

Are you doing something unique, hip, fun or trendy in the industry right now? Do you know somebody who is?
Counselor is looking for nominations of people for its annual Hot List, which will be published in August – its Hot Issue. We're on the lookout for anyone in the industry who is taking an interesting approach to business, shaking up the status quo or simply networking like a maniac at all hours of the night. We're in search of those people who are making the industry a unique marketplace that's fun and energetic. We're looking for video nominations. Click here to view our video and respond on YouTube with your own effort. If you have any questions, please send an e-mail to Karen Akers at kakers@asicentral.com.