Welcome to the latest installment of ASI's e-newsletter for the Canadian ad specialty market, Promogram Canada.

We've received such positive feedback from readers regarding the initial editions that we plan to continue culling together industry news that affects ad specialty suppliers and distributors in the Canadian marketplace.

Please don't hesitate to e-mail me directly with any news pertaining to your company, such as mergers and acquisitions, new hires, awards and accolades received, creative client promotions or new product launches. You can reach me directly at (215) 953-3323 or mbell@asicentral.com.

ADVERTISEMENT
Canada May Play Leadership Role in China Pushback at G20 Summit

According to the Ottawa Globe and Mail, Canada may be backing the United States in the latter's efforts to convince China of two primary aspects in its currency policies. First, China needs to allow its currency to appreciate, and secondly, to stimulate domestic-led consumption. However, U.S. Treasury Secretary Timothy Geithner, in his attempts to get at least rhetorical commitment from China to be more flexible with the currency, has followed up with "underwhelming action" to those two main objectives.

The effects of China's inflexibility with regards to the exchange rate are already being felt in the promotional industry. "There is definitely a switch to alternative Countries of Origin," says Derrick Milne, CEO of Trimark Sportswear Group, part of Counselor Top 40 supplier Polyconcept North America. "Promotional apparel will be increasingly sourced from Cambodia, Bangladesh and Vietnam."

In fact, China is already witnessing a shift toward domestic purchases and away from exports as sales to Europe fall. "We definitely see this with our Chinese suppliers in terms of longer lead times due to production scheduling and capacity, as well as higher F.O.B. costs," says Milne. "This is also driving the switch to alternative Countries of Origin." Meanwhile, some government officials have argued that China has no obligation to change its currency policy for anyone else's benefit, and China has little incentive to let its yuan appreciate at the moment; in 2012, it's already down 0.5% against the dollar. But proponents of convincing China to change its policies believe the country must be more prominent in rebalancing a suffering global economy.

Milne says the undervaluation of the yuan can result in less expensive import costs in the short term, which benefits the promotional industry. "However, in the long term, it is negatively impacting North American manufacturing competitiveness and therefore economic demand," he says. "My hope is that the problem will be addressed in an orderly manner to avoid any shock to the current economic system, which involves cheap imports from Asia."

In the face of the United States often allowing China to sidestep the issue, Tiff Macklem, the second-highest-ranking official at the Bank of Canada, continues to insist on China's allowing more "exchange rate flexibility" and has been openly critical of the Chinese government. He has recently suggested that his country will try to make the yuan an issue at the June G20 Summit in Mexico City by talking with reps from countries whose currencies have been significantly affected by China's inflexibility.

Macklem says Brazil, for example, should be working with Canada in promoting "currency adjustments" at the summit because they have been critical of China while trying to compete for market share. But Finance Minister Guido Mantega has disapproved of the U.S. as well, saying the Federal Reserve's bond-buying program, or QE, has caused a currency war because of the resulting weaker dollar.

Milne is unsure about what the current leadership in China will decide to do, but he's optimistic. "Their recent behavior would suggest that change is unlikely," he says. "The hope, however, is that with many of the government leaders due to retire in the coming years, the new group will be more receptive to change."

While Macklem's leadership and appeal to China could be potentially a brilliant move, trying to rebalance a global economy would be difficult to do alone. Leaders in Canada hope to bring more countries, particularly the United States, to their side of the table at the summit for increased clout.

"Generally speaking, as a proponent of free-market economies, I would like to see China allow more flexibility," says Milne. "The immediate effect, however, would be higher import costs, so I am careful about getting what I wish for."
ADVERTISEMENT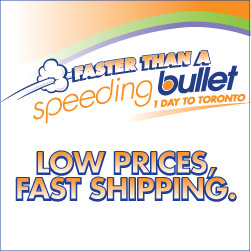 Men Driving Canadian Apparel Sales

Men are spending more an apparel these days, according to recent news reports, from custom blazers to dress shirts to cuff links. Analysts say this is a pattern from the days of the deepest recession, when men wanted to dress well in order to keep their jobs or to find one in an uncertain economy.

Recent statistics out of Canada show that menswear sales have risen 3% from 2011, while women's sales have dropped 4% and children's 2%. While male shoppers were once hesitant, they are now mixing and matching jackets and dress shirts with jeans and casual tops. Merchants are also adding more apparel lines, more color choices and slimmer stylings while launching videos, blogs and columns with style advice.

"The male-driven trend is definitely impacting the promotional market in Canada," says Laura Turner, vice president of marketing for Counselor Top 40 supplier Ash City (asi/37143). "A large percentage of promotional apparel is purchased for men, so their preferences for style and color are very influential." Turner says Ash City's spring line includes modern-fit garments and popular colors. "We're getting a great response to and strong sales from these items," she adds.

The Globe and Mail reports that the largest shift toward increased apparel purchases is among men 35 to 54 years old, who are purchasing fewer comfy sweaters and more sports jackets and dress shirts. The slim, modern-trim silhouette, one on which Ralph Lauren Polo and Ted Baker have been capitalizing, currently makes up 19% of retail sales today, up from almost nothing about five years ago.

Men's accessories merchants are benefiting from higher sales as well. Coach, for example, is expected to see 8%, or $400 million, of total sales this year in men's items alone, and predicts the percentage will reach 15%, or $1 billion, in the next several years.

"I think men are driving the trend now because, more than ever, they're making it a priority to be presentable," says Turner. "As the Globe and Mail states, in a slower job market, it's incumbent on everyone to present their best selves at all times, and it's evident that this is true in both business and personal life."
ADVERTISEMENT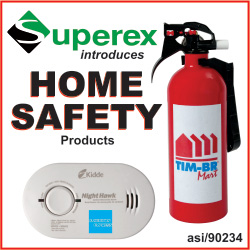 American Apparel Gains in Sales and Credit

Counselor Top 40 supplier American Apparel (asi/35297) increased revenues by 3% to $547.3 million in 2011, buoyed by a 17% jump in online sales and a strong fourth-quarter showing. The company also secured a new $80 million line of credit from Crystal Financial, a firm backed by hedge fund financier George Soros. The new financing replaces a $75 million credit facility from Bank of America that was set to expire in July and gives the California-based clothing manufacturer a significant boost as it looks to offset recent losses and market instability.

"These financial agreements, coupled with improved financial performance, will provide added flexibility in delivering upon our operating plan for 2012 and beyond," said Dov Charney, American Apparel's CEO. "Crystal Financial has significant retail experience, understands our business and has an appreciation of the significance of the recent improvements in our operating performance."

In addition to securing support from Crystal Financial, American Apparel amended and extended the maturity of its credit facility with primary backer Lion Capital to December 31, 2015. Based on these financing deals, the supplier now believes there is "no longer substantial doubt" about its ability to operate going forward. "We have a clear path for the next three years to concentrate on our business and deliver solid operating performance improvements," said John Luttrell, CFO of American Apparel.

In its initial 2012 outlook, American Apparel is projecting net sales between $552 million and $559 million, with a gross profit rate between 54.5% and 55.8%. The company is forecasting capital expenditures to be approximately $16 million, with "a modest number" of new stores opening during the year. Earlier this month, American Apparel reported its sales rose double digits in January and February. "As we enter the spring season, our inventories are in line and we are well-positioned to continue with positive sales momentum," Charney said.
ADVERTISEMENT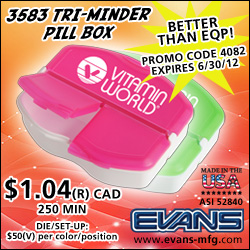 2012 Best Places to Work Nominations Now Open

For the fifth year in a row, Counselor magazine is setting out to identify the industry companies that employees simply love to work for. These are the distributors and suppliers that have a loyal work force and that provide a work environment which employees want to go to every morning.

Counselor will be unveiling its annual Best Places to Work issue in September, and it will undoubtedly include an elite list of industry companies. Do you want your company to be considered? Getting involved is easy - and it's completely free to participate. The only necessary qualification is that a company has at least 10 employees. To nominate your company, or any others in the market that you think deserve to be recognized, simply click here. Also, there's no risk to participating. Only the honorees - those companies with the best scores from the survey - will be published in Counselor. Click here to register your company to be considered for one of the most exclusive lists in the ad specialty market: Counselor's Best Places to Work.
Talbot Celebrates 125 Years
To celebrate its 125th anniversary, Talbot Marketing took 40 of its top performers and internal customer support people on a cruise through the Caribbean.
After a year of 125th anniversary celebrations, Talbot Marketing's culminating event was a Caribbean cruise, with 40 people sailing on the Celebrity Millennium to wrap up this monumental milestone. "The seas were calm, the temperature hot and our group was electric," said Steve Levschuk, president of Talbot Marketing (asi/341500). "Everyone had a fantastic time. The last night on the ship we were all up late - no one wanted it to end."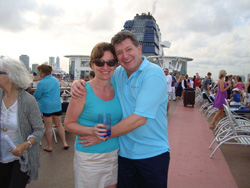 Steve Levschuk, president of Talbot Marketing, shown here with his wife, Theresa.
Levschuk explained how people were awarded trips. "Sales partners were awarded trips for the cruise based on 15 different sales criteria," he said. "Everyone had a chance to win a cruise. Also included in the cruise were internal customer support people who work very hard on a daily basis supporting our sales partners."

Other 125th anniversary celebration activities from Talbot included: a first-quarter trip to Halifax, Nova Scotia; a second-quarter trip to attend the Calgary Stampede in Calgary, Alberta; a third-quarter trip to Vancouver, B.C.; a fourth-quarter trip to attend the Quebec Winter Carnival in Quebec City; supplier-sponsored contests by BIC/Norwood, Spector and ESP; a special 125th anniversary book and surprise awards and gifts throughout the year.

Talbot was established in 1886 by Alfred Talbot, a printer by trade who expanded his offering to include wooden pencils and calendars. Today, Talbot is one of Canada's top promotional product companies with over 106 sales partners. For more information, go to www.talbot-promo.com.
Vote Now for the Best-Designed Products

The results are in: Counselor magazine has selected the finalists for its annual Product Design Awards. Click here to vote for the products you think are the best-designed, considering both aesthetic appeal and functionality. You can select up to three products in each of the 14 featured categories. The winners will appear in the May 2012 issue of Counselor.