Welcome to the latest installment of ASI's e-newsletter for the Canadian ad specialty market, Promogram Canada.

We've received such positive feedback from readers regarding the initial editions that we plan to continue culling together industry news that affects ad specialty suppliers and distributors in the Canadian marketplace.

Please don't hesitate to e-mail me directly with any news pertaining to your company, such as mergers and acquisitions, new hires, awards and accolades received, creative client promotions or new product launches. You can reach me directly at (215) 953-3323 or mbell@asicentral.com.

ADVERTISEMENT
Geographic Analysis

Canada Leads the Way
Nearly two-thirds of Canadian distributors reported better sales in 2011, outpacing their U.S. counterparts. Was it strategy? Economics? We explore the possibilities.
Privately, many ad specialty salespeople and executives will tell you that "eco-friendly" and "sustainable" make good buzzwords, but they don't make them any money. If there was a "green" trend, they say, it's over.
But not in the mind of Canadian entrepreneur Denise Taschereau. From her Vancouver office, she hears the industry chatter and rather enjoys it. After all, it allows for more market share she can steal away. "For us, green products isn't a category; it's what we do," she says. "We're one step ahead."
Over the last three years, in fact, Taschereau's firm, Fairware Promotional Products (asi/191452), has increased sales by 117%, joining the multimillion-dollar revenue club in 2011. The fastest-growing in Canada and the ninth fastest-growing distributor in the entire ad specialty industry (according to Counselor's Fastest-Growing Distributors ranking), Fairware focuses on transparency, ethical sourcing and reusable product campaigns, targeting North America's leaders in corporate responsibility. "We're not trying to bring the horse to water," Taschereau says. "Our clients are deeply engaged, and the products we offer align with their stated values."
Those clients, by the way, include Johnson & Johnson, Aveda, Patagonia and Ben & Jerry's - not exactly obscure start-ups nestled in the mountains of British Columbia. "Distributors all sell the same types of products, but we focus on materials and inks," she says. "We're researching all the time."
It also helps that Taschereau can speak from experience. Before she founded Fairware in 2005 with two other business partners, Taschereau worked as a sustainability manager at a nonprofit. She also holds a master's degree in environmental research management. In other words, she understands the difference between a truly eco-friendly product and one that's just labeled that way. "We know what the FTC guidelines for green marketing are," she says. "We can have meaningful conversations with companies because we fully understand sustainability."
A Numbers Game
While it's true that Fairware's success story may be the best among Canada's distributors in 2012, it's far from the only one. In fact, the 2012 Counselor State of the Industry report shows that last year more than 60% of Canadian distributors increased sales and 56% boosted profits, easily besting the average year-over-year changes of U.S.-based industry firms. And when asked how they'd rate the health of the industry, Canadian distributors returned the highest marks of any geographic region surveyed by ASI over the past three years. So what is it about The Great White North that has so many distributors in the black?
"Canada had a better recession than the U.S.," says economist and McGill University professor Chris Ragan. "We had no bank failures here, while U.S. banks had serious problems. The output paths of the two countries look similar, but employment is much different. We've recovered all the jobs that were lost. The U.S. is nowhere near that."
An even closer look shows there are also differences in the trajectory of ad spending between the neighboring countries. In the post-recession year of 2010, U.S. ad spending rose 6.5%, while ad spending among Canadian companies jumped 14%, according to firms Kantar Media and Group M. Even with a softer global economy in 2012, researchers are still projecting ad spending in Canada will increase by 4.4%, with U.S. ad spending likely to improve by 2.7%.
Another critical data point, researchers say, is the amount of money spent by companies on Internet marketing. "On a local level, Canadian businesses only spent 12.6% of ad budgets last year on Web marketing, versus 20% in the U.S.," says Gordon Borrell, CEO of Borrell Associates. "Canada is a bit behind."
While in the long term Borrell believes Canada's ad spending will tail off, in the short term he argues more non-digital ad dollars have been available for Canadian agencies, like distributors, to tap into. So what's next?
"What you're going to see," Borrell says, "is more money spent on promotions, incentives, rebates and contests."
More to Consider
Before attributing all the 2011 success of Canadian firms to a better economy, listen to Mark Freed, president of Toronto-based Counselor Top 40 distributor Genumark (asi/204588). "We didn't have the carnage in 2008 and 2009 like the U.S., but our economy here is not percolating, it's more plodding along," he says. "It's still a very tough market."
Within that "tough market," to try to win more business, Freed has put an emphasis on two areas: talent acquisition and developing technology to reach customers. "We look for the best people in the industry and that's how we grow our sales," he says. "Over the last 16 months, we've also really increased our efforts with social media."
Genumark's efforts are easy to spot. By one measure, the popular analytics tool TweetReach, Genumark earned a high of 44,000 impressions with just 33 tweets in late May of this year. Even more impactful is the company's continuity across several platforms, meaning a single themed product or campaign can be infinitely shared on Facebook, pinned on Pinterest and linked from Genumark's blog, capturing customer views and heightened authority on search engines.
"We've hired a director of social media and we're continuing to invest," says Freed, whose firm was named by the National Post in February one of the 50 best privately-managed companies in all of Canada. "Overall, our sales are up again this year and so is market share."
Of course, not every company has the resources of a Top 40 distributor like Genumark. Still, Canadian firms that are a little smaller, like Image Group (asi/230059), have learned to play bigger. Under the label Cielo, Image Group recently began offering an in-house apparel brand that allows for made-to-order clothing. "This makes us a bit more unique," says Laura Hansen, president of Image Group. "The clothes are locally made, and we can provide a large variety of colors. Customers can also make late tweaks to orders."
While Hansen doesn't mind customers making tweaks, she has actually strongly encouraged her staff to make a few of their own. Following the recession, Image Group brought in a consultant to help employees further improve their approach to sales and service. "We went back to the basics and we figured out who our ideal client is," she says. "We had been doing too much order taking, but now we know how to prospect better."
And better prospecting has led to 10% growth for Image Group so far in 2012. Not exactly the numbers posted by Fairware, but in this environment, Hansen's not complaining. She does note a reality, though, about the Canadian business environment that all distributors north of the border notice: the impact that the U.S. economy has on Canada overall. Indeed, while Canada's banks and employment markets haven't been hit as hard as those in the U.S., most sectors in Canada often feel the effects of anything that's happening in the U.S. The economies are linked, and it's a reality that distributors know they have to acknowledge and plan for.
"Our economy is so tied to the U.S.," she says. "We think customers are going to be cautious, but we're optimistic."
- by Dave Vagnoni
TPS Acquired By Pareto

Pareto Corporation, a shopper marketing company, has announced that it has acquired distributor firm The Promotional Specialists (TPS, asi/301163). Financial terms of the deal were not revealed, but the companies said that TPS will continue to be managed by founders Aaron Moscoe and Andrew Rotenberg.
"I am very pleased to welcome the TPS team and their promotional product sourcing capability to the Pareto family," said Kerry Shapansky, president and CEO of Pareto. "Pareto has a six-year working relationship with TPS and has experienced firsthand the fantastic work they do. Promotional elements are integral to most shopper marketing programs; having product innovation and sourcing capability in-house will deliver great value to our clients."
TPS, based in Markham, Ontario, Canada, was founded in 1988 and currently has 30 employees. "This is the culmination of a long-term strategic partnership and an incredible opportunity for us to bring greater value to our clients, our employees and our partners globally," said Aaron Moscoe, principal of TPS. "We are thrilled to be a part of the Pareto family and look forward to contributing meaningfully to the company's growth as we expand our service offerings and integrate our services more completely into Pareto's comprehensive offering."
The Toronto-based Pareto helps retailers in Canada enhance the shopper experience and influence shopper behaviors. Pareto is owned by Riverside Company, a private equity firm that also owns Counselor Top 40 distributor AIA Corporation (asi/109480), which it acquired in July of 2005.
Trimark Expands Into United States

Counselor Top 40 supplier Polyconcept North America has announced that its Trimark Sportswear (asi/92122) unit is expanding its operations into the United States. Based in Ontario, Canada, Trimark in the U.S. will be known as Trimark Powered by Leed's. The new U.S. offering, leveraging the service and production capabilities of Leed's (asi/66887), began its initial launch by providing decorated apparel to distributors in the greater Illinois and Maryland areas. Expansion into other markets is planned throughout 2013.
"We are thrilled to see Trimark expand into the U.S. They have designed a collection of apparel styles that is unlike anything available in the market today," said Sharon Willochell, chief operating officer of Leed's and general manager of Trimark Powered by Leed's, in a statement. "We are happy to be in a position where we can leverage Leed's strengths to bring Trimark's products to the market and to change the way people think about promotional apparel."
Two apparel veterans have been hired by the company to represent the Trimark line in the U.S. Michael Snyder joins Trimark as director of U.S. regional sales and national accounts. He will manage the northern Illinois and Wisconsin territory, as well as national accounts. The territory consisting of Maryland, Virginia, Washington D.C., Delaware and southern New Jersey will be managed by Scott Stokes.
New Ownership for Kanata Blanket Company

Kanata Blanket Company (asi/63723) has announced it has been purchased by a group of Vancouver, B.C.-based investors, effective June 1. No changes in management or operating direction are planned. However, Fraser Mckay, one of the new owners, will replace Steve Frishling, owner of Kanata for the last 15 years, as president.
Kanata Blanket Company has been a leader in premium blankets, décor and lifestyle products in the North American promotional products industry for almost 20 years. "Their exceptional reputation within the promotional industry for quality products was one of the major factors in our decision to purchase," explains Mackay.
Mckay has experience in finance, marketing, transportation and supply-chain management. His career has included significant operations and business development experience. Frishling's decision to sell now allows him to spend more time with his family as planned. He knows that the company will continue to grow and operate successfully under its new owners.
Sharon Griffith, vice president of sales and marketing and a minority shareholder, will continue to manage the company's sales team. "The vision of the new owners for Kanata falls directly in line with the vision that has enabled us to grow into one of the major blanket suppliers for the promotional industry in North America," she says. "We have endeavored to provide products that are functional, original and stylish, while maintaining consistent high quality and outstanding customer service. Indeed, when friends and relations of the new owners learned of the acquisition, they were delighted because many had received Kanata blankets before for different occasions. They just raved about the quality and longevity of the product, enforcing the new owners' plan to keep Kanata moving in exactly the same direction as before."
FASTSIGNS Plans Conversion of Two Additional Shops into Franchise Locations

FASTSIGNS International Inc. (asi/395000), the global franchisor of FASTSIGNS visual communications, signage and graphics centers, has finalized new partnerships in Canada with plans to convert two independently owned sign shops into franchise locations. One of the companies is Sign Central, located in Barrie, Ontario. "Converting our store to a FASTSIGNS franchise offers significant benefits to customers, including higher-quality sign service, creativity and efficiency," manager Vesna Cestaric said. "Owner Brandon Cestaric and I want to be part of this organization for its cutting-edge innovation, and its marketing, business and technical resources."
The second independent shop to be converted is located in London, Ontario. "I am looking forward to officially becoming a partner of the FASTSIGNS franchise system," says owner Ted Schouten. "I was attracted to FASTSIGNS' proven business model and the success of its franchise owners. I am confident that the franchise's business development and ongoing sales and marketing support will help me achieve long-term growth goals in Ontario and the surrounding areas." Both locations are scheduled to open as FASTSIGNS franchises in late summer or early fall 2012.
FASTSIGNS already operates 24 franchised centers in Canada, and, over the next two years, plans to open 10 to 14 additional centers in the country. "Our expansion into Canada presents a great opportunity for existing independent sign shop owners to become part of a worldwide brand," said Mark Jameson, senior vice president of franchise support & development. "With 20 independent sign shops already converted into FASTSIGNS centers within the past 24 months, we look forward to continuing our growth throughout Canada with conversion centers as well as new FASTSIGNS centers."
Talbot Relocates to New, Larger Facility

As of June 25, 2012, Talbot Marketing (asi/341500) has relocated to a new office and warehouse facility in London, Ontario. "We have been working and renovating the building for the past seven months," says president Steve Levschuk. "We completely redesigned the entire building to meet the needs of our customers and sales professionals for many years to come. The growth we have been experiencing and have forecasted over the next five years necessitated the move."
Talbot's new address is 383 Sovereign Road, London, Ontario, N6M 1A3. All phone and fax numbers will remain the same. The accounts receivable remittance address will not change.

Talbot is one of the largest promotional products distributors in Canada, with over 108 sales partners from coast to coast. In 2011, Talbot celebrated its 125th anniversary in business.
Whiteridge Comes to Promo Expo showroom

Promo Expo welcomes Whiteridge (asi/97061) to its Greater Toronto Area (GTA) showroom. Whiteridge brings 15 years of experience in the industry as well as a variety of premier athletic and corporate apparel, including jackets, golf shirts, bags and accessories.
Deidre McCloskey, Whiteridge's GTA account manager, will work with the Promo Expo staff to answer customers' questions and service all product needs. "As a known brand and player in the largest promotional category of wearables, Whiteridge will definitely increase traffic and exposure to all brands on display in the showroom," says Neil Mihan, principal for PRG Multi-Line and a founding partner of the Promo Expo showrooms, along with Tom Guitard of Prestige Glass (asi/79403). "They're a great example of working together to create more for ALL members." For more information on Whiteridge's products, go to www.whiteridgeinc.com. Also, visit www.facebook.com/whiteridgeinc to stay up-to-date with company events.
Promo Expo is a group of suppliers that works together to assist clients in achieving their promotional goals. The GTA showroom is the principal Promo Expo facility; an additional location opened in Vancouver in summer 2011, and a Montreal location will open this fall. For more information, go to www.facebook.com/PromoExpo.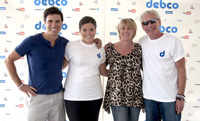 From L to R: Alex Morin, vice president of sales & marketing, Debco; Kate Fassel, lead marketing coordinator, Debco; Terie Craig, marketing consultant, CYA International; Stan Gallen, senior vice president of sales & marketing, Debco
DEBCO Hosts Summer BBQ Event

DEBCO (asi/48885) recently hosted a summer barbecue event at the company's Concord, ON, location. The company welcomed over 250 distributor guests who enjoyed a catered barbecue lunch and dessert from an ice cream truck.
Alex Morin, vice president of sales and marketing, provided the entertainment and was joined by Sergio Munoz, national program manager, for some mariachi and Latin dance music.

For more information on the event, go to www.facebook.com/DebcoSolutions.