Industry Veteran Meets Former U.S. President
Sales Dynamics (asi/316955), which celebrates its 40th anniversary this year, announces that President Lorne I. Ordel was one of 12 Canadian entrepreneurs hand-selected to meet former United States President Bill Clinton at the recent Top Employer Summit, an annual human resources conference in Toronto for leading Canadian corporations.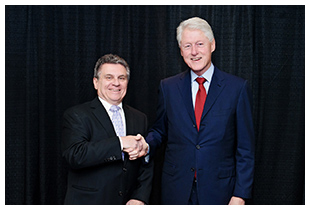 "I've done extensive research on the Clintons over the years," said Ordel. "President Clinton is always quick to relate one happening to another that may be completely different. He started his address by asking the audience how we might relate to the terrorism that had just occurred in Paris. His words of wisdom were, 'We must be what the Paris killers are not.' He told us he has visited Canada 32 times, including five times as president, which is more than any other, and he told us he's been called a 'closet Canadian.' He concluded by saying, 'Canada is the greatest country in the world.'"
Ordel founded Sales Dynamics Inc. in 1975, as a distributor of custom glassware decorated with Olympic logos for the 1976 Summer Games in Montreal. Today, the company is a well-respected Canadian promotional products distributor that focuses on offering in-depth product knowledge, experience and outstanding service. For more information, visit www.salesdynamics.com.
Exclusive Podcast: The Future of American Apparel
The past two years for Top 40 supplier American Apparel (asi/35297) have had more twists and turns than a television drama, from the ousting of founder and Canadian native Dov Charney to the company's recent declaration of bankruptcy. Now a new leadership team seeks to reinvigorate the company and set it on a profitable path. Brad Gebhard, the new president of global wholesale (which oversees promotional products sales) sat down with Counselor for an exclusive podcast about American Apparel's future.
"My first objective is what we're calling operational excellence," Gebhard said during the interview. "We want to improve the overall operations and the way we manage the business. That starts out from the time a customer calls in and wants to speak with one of our customer service reps, where they can work with that customer to make sure they have a positive experience."
In the Q&A, Gebhard speaks about American Apparel's role in the industry moving forward, the culture at the company and the legacy that Charney left behind. Click here to listen to this exclusive podcast.
American Apparel Provides Q3 Earnings Estimates, Releases New T-Shirt Style
American Apparel has reported a 19% decline in third-quarter net sales, according to estimates provided by the company to the SEC. The supplier, which declared bankruptcy in October, stated in its filing that it is unable to issue a full Q3 earnings report due to "the quantity and complexity of the Chapter 11 Cases."

According to its estimates, American Apparel suffered a decline of $29.8 million in year-over-year net sales for a total of $126 million in the quarter. The company attributed the result to a decline in same-store sales, unfavorable foreign exchange rates and store closures. In total the Los Angeles-based supplier suffered a net loss of $18.8 million for the quarter, roughly the same total of its net losses in the third quarter of 2014. The company did not provide data for its wholesale division, which includes promotional product sales.

For the year, American Apparel has accrued net sales of $384.8 million, a decline of 15.5%. The company has suffered net losses of $64.5 million in 2015, more than $40.9 million in losses in the first nine months of 2014. According to the filing, the net losses and decline in comparable sales were caused by "a strategic initiative to reduce inventory levels" by steeply discounting slow-moving retail merchandise in this year's first quarter.

American Apparel filed for Chapter 11 bankruptcy protection in early October after reaching a deal with most of the firm's secured lenders. A company spokesperson told Counselor at the time that it would be "business as usual" with the supplier's wholesale operation, which would continue to operate uninterrupted. In its second-quarter financial statement, American Apparel reported $48 million in its wholesale division, a decrease from $54 million the previous year. The supplier ranks 14th on the most recent Counselor Top 40 supplier list with $105.2 million in North American promotional product revenue, a 6% increase over the previous year.
In addition, the company has released its new principal style, the Fine Jersey Classic Woman's T-Shirt (23215), which is exclusive to the company's wholesale division.
BIC Reports Q3 Sales Growth
BIC Group, parent company of Top 40 supplier BIC Graphic (asi/40480), announced recently that it achieved net sales growth of 4.8% in the third quarter of 2015 and 5.8% during the first nine months of the year. BIC Graphic, the company's promotional products division which operates a location in North York, ON, reported decreased sales of 3.4% for the third quarter and flat revenue growth for the first nine months of 2015.
"Year-to-date results were good, with solid growth in all consumer categories, reinforcing our confidence that we will achieve our 2015 objectives," said Mario Guevara, CEO of BIC. "Net sales growth was well balanced across geographies, with mid-single digit increases in both developed and developing markets, including a good performance in Latin America. In stationery, the back-to-school season sell-out was good in Europe, North America and Mexico while performance in lighters and shavers continued to be strong."
Specifically in its BIC Graphic business, the company said it recorded $84 million in third-quarter revenues and $226.2 million in sales through the first nine months of the year. The company does not specifically break out its North American promotional products revenue on a quarterly basis, but it said that its sales this year "were impacted by a timing impact in Calendars (shipments shifted from September to October). The Hard Goods segment continued to perform well, thanks to the 'good value' proposition, new product launches and BritePix imprinted technology."
The company said that without the effects of the calendar shipment shifts, its sales growth would have met previous forecasts. "Excluding the negative timing impact in calendars, BIC Graphic net sales at the end of September 2015 would have increased low single-digit, in line with our expectations," the company said in its public filing.
On its Top 40 list, Counselor ranks BIC Graphic as the fourth-largest supplier in the industry after the firm reported 2014 North American ad specialty sales of $323 million, a year-over-year increase of 3.2%.
Gildan Announces Third-Quarter Results
Gildan Activewear (asi/56842) has reported increased sales and earnings for the third quarter of 2015. The Montreal-based apparel supplier and manufacturer said net sales reached $674.5 million, up from $666 million during the same quarter the prior year. Quarterly net earnings tallied $123.1 million, or $0.50 per share – an increase over 2014's $122.7 million. Before reflecting restructuring and acquisition-related costs, net earnings were $126.4 million, or $0.52 per share – up 2.9% and 4%, respectively, from the comparable quarter a year earlier.
In the company's Printwear segment, which includes business in the promotional products industry, quarterly net sales amounted to $440.5 million, up $4.7 million (an increase of 1.1%) from the corresponding period in 2014. In its earnings release, the company attributed its Printwear segment increases to unit volume growth in both the U.S. and international markets (including 13% growth for the latter) as well as the company's acquisition of Comfort Colors earlier this year, "which continued to perform strongly," the company noted. U.S. growth was fueled by "the benefit of the pricing actions taken in December 2014 and continued penetration in the high-valued, higher growth fashion basics and performance segments."
The company's operating income in Printwear increased 4.6% to $124.4 million. Margins rose to 28.2%, an uptick from 27.3% in 2014, due to more favorable manufacturing and cotton costs that offset lower pricing and the negative impact of international currencies compared to the dollar.
In this year's third quarter, Gildan also increased sales in its Branded Apparel segment. However, CEO Glenn Chamandy said that sales were about $15 million less than anticipated, primarily because Walmart was not restocking Gildan items fast enough at its U.S. stores, resulting in consumers turning to other brands. "They can't get enough goods from the back [storage] to fill the demand of our product in the [display] space that's available to us today," Chamandy said last week during a call about third-quarter results. "Therefore, if the consumer wants to buy something, he's not buying our product."
Quarterly sales in the segment reached $234 million, a rise of 1.7% from the same quarter in 2014. Going forward, Gildan projects full-year earnings-per-share to be in the $1.46 to $1.48 range on projected sales of about $2.55 billion.
Proforma Announces New Networking Events, Sister Company Plans Hiring Expansion
Proforma (asi/300094) has announced new one-on-one networking events between select members and suppliers. Called "Energize Summits," the events are geared toward Proforma owners selling less than $1 million a year, with the goal of generating ideas and programs with preferred vendors with at least $1 million in sales potential.
"The Energize Summits were created to help Proforma owners and sales reps build meaningful relationships with our supplier partners," said Greg Muzzillo, founder of Proforma. "We believe these Summits, in conjunction with our new Annual Planning Retreat format, will be a great way for our owners and reps to kickstart their new year."
The Energize Summits are invitation-only events that are free for select Proforma members. The format includes scheduled 20-minute meetings with suppliers.
"These meetings can be real game-changers for us and for Proforma owners and sales reps," said Brian P. Padian, senior vice president of sales for Logomark (asi/67866). "The more we get to know about the distributors we are working with, their specific clients, projects and challenges, the easier it is for us to tailor our services to meet their needs. These conversations will give us an insight into their businesses that we may have never had and lead to partnerships that are far more beneficial and profitable."
Energize Summits will be held in conjunction with, but separate from, most of the seven 2016 Annual Planning Retreats (formerly Proforma Regional Meetings) scheduled throughout North America in January and February.
In addition, Global Graphics Network (GGN), a Tampa, FL-based sister company of Proforma, announced in November that it plans to add 50 development executives throughout North America over the next two years. The company, founded by Greg Muzzillo and just launched in October, is designed to help commercial printers grow their businesses.
"Thousands of print shop owners throughout North America need a solid path to grow their sales, increase their profits and have more fun again in the printing business," Muzzillo said. "Our development model is similar to the proven development agent program used by Subway Restaurants to generate their explosive growth."
GGN and its newly hired regional development advisors (RDAs) will focus on three key areas of support for its print company members. The RDAs will help GGN members to position their companies to increase sales, recruit proven sales leaders and acquire area printers. "This is a multi-billion dollar opportunity for us," said Muzzillo. "As the Subway Development Agents helped explode Subway's growth, many of them became multi-millionaires. We look forward to a similar explosion of growth and wealth-building for our Regional Development Advisors and our Global Graphics Network members."
GGN said it is already in talks with more than 15 qualified prospects for its Regional Development Advisors program.
BrandCharger Ends Distribution Agreement with Sweda, Introduces New NANO Speaker
BrandCharger (asi/88751) and Sweda (asi/90305) have announced that their distribution agreement will be terminated. The companies signed the agreement in April 2014, under which Sweda carried BrandCharger's full line of power banks and USB car charger products.
BrandCharger will now sell directly to the North American promo market, a move the Vancouver-based supplier says will result in price drops by up to 60%. BrandCharger will work with various sales rep networks, including Witte Marketing Group, McGovern Marketing Group Inc., and CSM Reps.
"We would like to thank Sweda for its contribution in developing BrandCharger's business gift sales in North America,' said Pierce Fabian, director at BrandCharger. "We wish Sweda all the best and continued success and hope that our distributors appreciate how these changes will benefit them directly."
In addition, BrandCharger has introduced its NANO product, a slim wireless speaker with Ambient Harmonics sound drivers. For purchasing information, visit www.brandcharger.asia.
PPPC Announces Finalists for the 2015 Image Awards
Promotional Product Professionals of Canada (PPPC) has released the list of finalists of the 2015 Image Awards. Among the finalists are Debco (asi/48885), Leed's (asi/66887) and Spector & Co. (asi/88631) for Supplier of the Year, and BrandAlliance (asi/145177), Genumark (asi/204588) and Image Group Inc. (asi/230059), among others, for Distributor of the Year. View the entire list of finalists here.
Chocolate Inn/Taylor & Grant Multi-Line Reps Named PPPC Awards Finalists, Company Named Silver Supplier by Facilisgroup
Chocolate Inn/Taylor & Grant (asi/44900) announces that two of its multi-line agencies in Canada have been named 2015 Image Awards finalists by the Promotional Product Professionals of Canada (PPPC). Promocom Marketing Inc. is a finalist for Multi-Line Sales Agency of the Year for Eastern Canada, and Creative Solutions and Ideas is a finalist for Multi-Line Agency of the Year for Central Canada. Line Chaumont of Promocom Marketing Inc. and Karen Spencer of Creative Solutions and Ideas are both multi-line sales representatives for the food gifts supplier.
"We find the news as no surprise to us," said Alex Jovetic, vice president of sales for Canada. "I personally have had the great pleasure of being on the team with these two great companies and individuals for as long as 15 years, and their attention to detail and sincere concern for the impression left with clients is an example to all of us."
In addition, Chocolate Inn/Taylor & Grant has earned silver supplier status from Facilisgroup for 2016 in both the United States and Canada. Visit www.chocolateinn.com for more information.
4imprint Awards Promotional Products Grants to American and Canadian Nonprofits
4imprint (asi/197045) awarded 263 U.S. and Canadian nonprofit organizations, schools and religious organizations with promotional products grants through its one by one program during the third quarter of 2015. Each recipient received a $500 in-kind promotional products donation. Additionally, 4imprint's one by one program exceeded its goal of giving one promotional product grant every business day.
 "Charitable organizations tell us this is a busy time of year, as they focus on raising funds, thanking donors and volunteers and celebrating the year's achievements with their teams," said Kevin Lyons-Tarr, CEO of 4imprint. "It is a privilege to play a small role in these organizations' efforts to improve lives and communities."
Among the Canadian organizations that received grants from 4imprint are the Alzheimer Society of Sault Ste. Marie and Algoma District in Sault Ste. Marie, ON; the Manitoba Chapter of the Canadian Hemophilia Society in Winnipeg, MB; and Edmonton Meals on Wheels in Edmonton, AB. View the entire list here.
4imprint is currently accepting online applications for its 2016 one by one program at onebyone.4imprint.com. Any 501(c)3 organization, registered Canadian charity, school or religious organization is eligible to apply.
FIEL-Fairdeal Import & Export Offers Embroidery Services
FIEL-Fairdeal Import & Export (asi/53509) announced the addition of embroidery to its available decoration methods. Distributors can now choose from screen printing, heat-transfer printing and embroidery when purchasing decorated products. For more information, visit www.fiel.com/embroidery.
ASI Canada and Debco Celebrate Successful Breakaway! Event
ASI Canada and Debco (asi/48885) hosted the 2nd annual Breakaway! event at the Buckingham Arena in Toronto on Thursday, November 26. This unique event combined a hockey tournament, comprised of four teams and a total of 44 players, with a table top show, hot buffet dinner and live music. In addition, attending suppliers, distributors, band members and guests donated more than 300 unwrapped toys for The Hospital for Sick Children in Toronto. Check out photos at Debco's Facebook page.