ADVERTISEMENT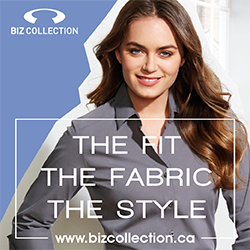 Chocolate Inn/Taylor & Grant Receives Award from PeerNet Group
Chocolate Inn/Taylor & Grant (asi/44900), with locations in Freeport, NY, and Milton, ON, has received the PeerNet Supplier Growth Award, presented to the suppliers with the highest percentage of sales growth within PeerNet Group's distributor network.
"We are very proud to be mentioned as one of the leading suppliers within the PeerNet Group with regards to sales growth," said Jeff DePalma, vice president of sales for Chocolate Inn/Taylor & Grant. "The creativity of the unique projects being generated within this group perfectly matches our capabilities to offer solutions no one else in this industry can offer." For more information, visit www.taylor-grant.com.
FIEL-Fairdeal Import & Export Ltd. Launches Spec Sample Program
FIEL-Fairdeal Import & Export Ltd. (asi/53509) has introduced its spec sample program for distributors. Clients who provide artwork in vector format will receive a virtual proof within two business days of receipt, and production time will be up to five days after client approval.
"It's a great way to see a completed sample before placing an order," says Arif Bandeali, vice president of sales. "No doubt this will be advantageous to our customers who now have something in-hand to show to their clients." Head to www.fiel.com/spec-sample for more information.
KEM Inc. Announces New Address
KEM Inc. (asi/240781) announces that its new address is the following:
Unit A
414 53 Ave. SE
Calgary, AB T2H 0N4
Invoices can be emailed to kem.invoices@keminc.net.
Counselor Ad Awards – We Need Your Vote!
The finalists have been chosen for the Counselor Ad Awards. Now, all we need is your input. Please click here to vote in the Best Ads categories for Counselor, Email Express, ESP, catalogs and Advantages. You can select up to three per category; limit of one ballot per person, please.
The ballot will be available for a limited time only, so vote now. Thanks for your help!
Last Call: 2015 Best Places To Work Nominations Now Open
For the eighth year in a row, Counselor is setting out to identify the industry companies that employees simply love to work for. These are the distributors and suppliers that have a loyal work force and that provide a work environment that employees want to go to every morning.
Counselor will be unveiling its annual Best Places To Work list later this year at the third-annual Best Places to Work Conference in September – it will undoubtedly include an elite list of industry companies. Do you want your company to be considered? Getting involved is easy – and it's completely free to participate. The only necessary qualification is that a company has at least 10 employees.
To nominate your company, or any others in the market that you think deserve to be recognized, simply click here. Also, there's no risk to participate. Only the honorees – those companies with the best scores from the survey – will be published in Counselor.
So, don't delay. Click here to register your company to be considered for one of the most exclusive lists in the ad specialty market: Counselor's Best Places To Work.