| | | |
| --- | --- | --- |
| | PEOPLE ON THE MOVE | |
ADVERTISEMENT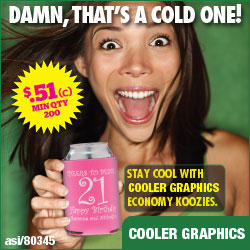 Spector & Co. Hires COO/CFO
Spector & Co. (asi/88631) has hired Hillel Frankel as the company's new Chief Operating Officer and Chief Financial Officer. He will provide the company with enhanced focus on all operational and financial aspects of the business. Frankel has experience as a lawyer at the Stikeman Elliot national law firm and also as a chartered accountant. He was also president of Madacy Entertainment for 10 years. Hillel Frankel can be reached at hillel@spectorandco.com.
Full Line Hires Vice President of Sales
Full Line Specialties (asi/199688) has hired Dan Walker as vice president of sales. Walker has extensive industry experience and will nurture national accounts and assist the company's growing sales team. Contact Dan Walker at dan.walker@fullline.ca.
Superex Appoints New Representation
Superex (asi/90234) has appointed Tim Cameron Agency as the new multi-line representation for the Manitoba/Saskatchewan and the Lakehead region. Tim Cameron has 12 years' sales experience in the Manitoba and Saskatchewan regions and is conveniently located in Winnipeg.
"This region is very important to Superex's continued growth," says Michael Gisser, executive vice president, "and we are thrilled to have Tim in place to provide easy access and the quick answers that our distributors require." Contact Tim Cameron at tjcameron@mts.net.
SanMar Welcomes New Reps for British Columbia, Quebec, Saskatchewan and Manitoba
The Authentic T-Shirt Company/SanMar Canada (asi/84864) has hired Sandi Walker as an outside sales representative for British Columbia, Alain St-Cyr as an outside sales representative for East Quebec, and Ken Penner as the outside sales representative for Saskatchewan and Manitoba. Contact Sandi at sandiw@sanmarcanada.com, Alain at alains@sanmarcanada.com and Ken at kenp@sanmarcanada.com.
Kanata Blanket Announces New Ottawa Rep
Kanata Blanket Company (asi/63723) has announced that Patrice Dulac is the new product line representative in the Ottawa area. Dulac has over eight years' experience in the promotional products industry and has represented Kanata in the Montreal area since 2007.
"We are confident that Patrice's experience, as well as his commitment to relationship building, will benefit both Kanata and our distributors in this area," says Sharon Griffith, vice president of sales & marketing. Contact Patrice Dulac at patricedulac@sympatico.ca.
Hub Pen Appoints Marcel Boudreau
Hub Pen Co. (asi/61968) has appointed Marcel Boudreau of the Kenika Agency as its multi-line representative for the Atlantic Territory of Canada, including New Brunswick, Nova Scotia, Prince Edward Island, Newfoundland and Labrador. Boudreau has over 18 years' experience in the industry. Marcel Boudreau can be contacted at kenika@nbnet.nb.ca.
AmeriCraft Welcomes PRG Multi-Line
Americraft Promotional Products/SEMCO Plastics (asi/86364) has announced that Neil Mihan and the PRG Multi-Line team will represent the company's product line in Canada. Contact Neil Mihan at neil@prg.ca.
Attraction Hires Vitasport Ltd.
Attraction Inc. (asi/37442) has announced that Lil Heming of Vitasport Ltd. will represent the complete company line in the Alberta, Yukon and Northwest Territories. Heming has over 10 years of industry experience. Contact Lil Heming at lilheming@nucleus.com.
Chillingout Sales Welcomes New Representation
Chillingout Sales has appointed Scott and Kelly Meyerhoff from Activid Agencies Ltd. as the new Alberta multi-line sales representatives. Additionally, Chillingout has added Guylaine Chaumont of NG2 Marketing Inc. as the company's new Quebec and Eastern Ontario multi-line sales representative. Contact Scott and Kelly at activid@gmail.com and Guylaine at guylaine.chaumont@videotron.ca.