CRM & Orders – ESP Gets Personal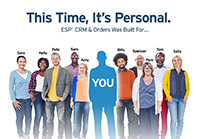 ESP's new CRM & Orders features let you manage your daily business operations from concept to re-order without ever leaving ESP®!



Rating Suppliers Helps Everyone
Have other distributors' positive reviews helped you select a supplier for an important order? Have you had an exceptionally positive experience with a supplier that you'd like to share with other distributors? Posting positive supplier reviews helps everyone win. To leave your rating, hover your mouse over the supplier's ASI number on ESP Web and select Rate This Supplier. Once the Supplier Ratings Submissions window appears, fill out all fields and click Submit.
Check Out Our Made-in-the-USA Favorites!
With July 4th just around the corner, it's prime time to focus some attention on Made-in-the-USA products.



Featured Product
Watch These

Meet Product Support's Venus Antoine!
View >

Watch Joe Haley introduce the newest promotional product trends.
View >