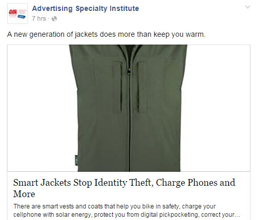 Share Product Ideas on Social Media
Want to share the cool products you find in ESP® with your Facebook™ friends and customers? With ESP, it's easy to share product details on any of your social media pages.



Access Other ASI Resources
Use the Community drop-down menu on your ESP Web home page to access other ASI online resources, including our social media pages, ASI education courses and our main company website.
Focusing On Finance
The financial sector is the third largest market for promotional products behind health care and education. Annually, financial companies represent $2 billion of distributor revenue. Are you capitalizing on this opportunity?



Featured Product
The Derby Mini Umbrella
Peerless Umbrella Co. Inc.
asi/76730