Upcoming Events

Did you miss us in Dallas? Come see us in Long Beach! We'll be there from Tuesday, March 24 through Thursday, March 26 at the Long Beach Convention Center. Don't miss our keynote speaker, extreme motivator and business empire builder, Jillian Michaels. For an overview of this fun and educational event, please visit http://www.asishow.com/15LongBeach/index.html for all the details.
Your membership benefits include education and marketing guidance. Please join us for our FREE Business Coaching webinars in March:
FREE Business Coaching Webinar: How to Grow your Brand on Facebook: ESP Social
Tuesday, March 10, 2015 1 PM–1:30 PM EST
Social media is here to stay. And with more than 1 billion monthly users, Facebook is a force. We'll discuss having a Facebook presence as a key to growing your business and connecting with billions of end-buyers. Click here to register.
ADVERTISEMENT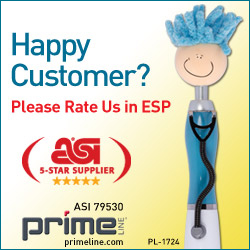 FREE Business Coaching Webinar: ESP Websites
Thursday, March 12, 2015, 12 PM–12:30 PM EST
During this informative, 30-minute session, you will learn how to:
* Turn your website into the optimal browse-and-buy shopping experience for your clients.
* Attract new, highly targeted prospects.
* Get paid in REAL TIME (no more waiting 4-5 weeks!)
* Protect yourself from being price-shopped against your competitors. Click here to register.
FREE Business Coaching Webinar: Company Stores Give You Three New Strategies for Business Growth
Tuesday, March 24, 2015 12 PM–12:30 PM EST
Are you looking for ways to:
* Stimulate demand for products all year long?
* Break into new markets?
* Maximize revenue from existing clients?
* Close sales and get paid faster?
We'll show you how to do all this and more... on a budget! Click here to register.
FREE Business Coaching Webinar: Want exposure where it counts? Leave it to ASI's Traffic Builder Plus
Thursday, March 26, 2015, 1 PM–1:30 PM EST
When your site has visibility on search engines, you are going to get targeted traffic every hour, every day. We'll discuss search marketing to drive qualified leads 24/7 to help you get more sales. Click here to register.
Register today! Space is limited for all webinar Marketing Coaching Sessions.
Getting the Most Out of ESP: ESP's Shipping & Freight Estimator
Ever wish you could estimate shipping fees from a variety of carriers in multiple ways, all at the same time? Well, thanks to ESP's built-in Shipping & Freight Estimator, this wish is now a reality.
Just look for the truck icon on the product detail page: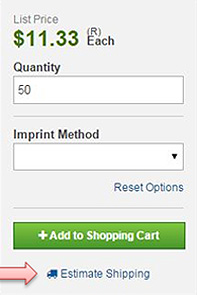 You can estimate shipping by individual product or package weight; measure weight in pounds, ounces, kilos, or grams; and factor in international shipping charges for UPS, FedEx and USPS. ESP even displays various shipping options for each carrier.
Our Shipping & Freight Estimator was created to save you time and protect your profit margins with fast, accurate results right at your fingertips. Check it out today.

ESP Sharing in Action

Thank you to ASI member Carl Cleanthes of Creative Art and Design Studios (asi/374349):
"ASI has saved us countless hours of time quoting with its presentation feature. Instead of directing customers to an endless list of products or trying to custom quote each job, we have set up presentations for all the popular product types and can simply send them a link or a pdf with all the prices and everything they need in one spot. We have seen a great increase in sales because of this."
Top 10 Searches in ESP This Week
Ever wondered what's hot among your peers? Check out ESP's Top 10 most highly searched products for the week.
*Login required to view links