It's a Date
The Pitch: You will never see the Huston fridge or my desk at home or in the office without a calendar on them. In my opinion, calendars are the perfect holiday gift for any business to give their customers. To state the obvious, they remain to be seen for a long time, keeping your clients top of mind. Don't delay on getting your orders in for award-winning Triumph Calendars by Bic Graphic (asi/40480). Their new NUVO unique die-cut frame holds 12 monthly sheets. The die-cut areas create a dimensional look to the various elements, including the imprint. There are two themes to choose from: motivations or scenes. They are printed with a full-color, four-color process and imprint is available at no additional charge. Suggest these to clients in retail, health care, insurance and many more markets. For more information, click here: http://norwood.com/.
The Bottom Line: A cost-effective option.
ADVERTISEMENT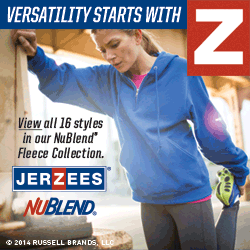 Hey, Sugar
The Pitch: As I mentioned above, it's National Coffee Day. But, really, for most of us isn't every day coffee day? So who wouldn't appreciate the 10-oz. Aztec Spooner Mug with removable, matching spoon attached (to stir in your cream and sugar, Sugar)? It's from Hit Promotional Products (asi/61125). It meets FDA requirements and hand washing is recommended. Get it for as low as $2.99-C. Suggest it for diners and cafes and contact your HR clients about new employee welcome gifts. To see all the pretty colors available, click here: http://www.hitpromo.net/.
The Bottom Line: Jazzy java.
I Challenge You
The Pitch: Starline (asi/89320) suggests that you take the ice challenge by: 1. Delivering a sample of something from their Vacuum Drinkware collections to your clients with ice already in it; 2. Asking them to call you when the ice melts; 3. Waiting up to 48 hours (that's two whole days, folks) to hear from them (because the drinkware is just that good at keeping things hot and cold); and 4. Sharing your success with Starline through one of their social media sites (#StarlineIceChallenge). It really is a great way to engage clients and prospects and of course, everyone uses drinkware so the possibilities are endless. You can hear cute Brian from Starline talk about it here: http://www.youtube.com/watch?v=vqzbTCwG6hM. And you can check out the supplier's collection here: http://us.starline.com/catalog.
The Bottom Line: Drink up, everybody.
Powerful Impact
The Pitch: We at Advantages just ran an article in our "Gift Guide" issue about the best gifts end-users have ever received. Some were quirky and fun (like a pink, blinged-out superhero cape), and others were super practical, like a mobile charger. Prime Line (asi/79530) offers a new Power Stick Mobile Charger for as low as $19.98-C. Pitch it for tech promos, college recruitment efforts and job fairs, legal clients and more. See all the specific features here: http://primeline.com/.
The Bottom Line: All charged up.