Hot Toddy
        The Pitch: Get the edge with the Wedge  from Toddy Gear (asi/91411). It's a smart-phone stand that also cleans  screens, so double bang for your clients' bucks.  It's perfect for tech giveaways and  tradeshows. Pitch it for campus stores and school fundraisers too. Pricing  starts at: 50; $11-P. See it here:http://www.brandyourtoddy.com/.
        The Bottom Line: You can really clean up.
ADVERTISEMENT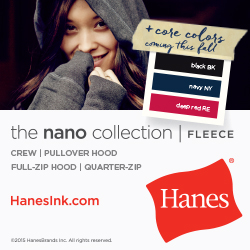 You Wish
        The Pitch: Your wishes may come true with a  Brazilian wish bracelet from Live Wordly (asi/67779). Called Brazilets,  they are a 200-year-old Brazilian tradition. Tie the bracelet with three knots  and make three wishes and when it falls off, the wishes will come true (so they  say). Create a custom hang tag too. The supplier will make a charitable  contribution to boot. Pricing starts at: 250;  $4.75-R. Read more about the company here: http://www.liveworldly.com/.
        The Bottom Line: Fun and folkloric.
Feel the Buzz
        The Pitch: Everyone will be buzzing about your clients'  festivities if they order the Electric  BuzDice from Buztronics Inc. (asi/42963). Pitch these for party favors, for  casinos and bars and more. Tap or roll the dice to activate LEDs with sound.  LEDs will randomly select a number. The dice are sold separately and  non-replaceable batteries are included. Pricing starts at: 100; $3.35-R. Click here: http://www.buzline.com/.
        The Bottom Line: Roll with it.
Good Shot
        The Pitch: You don't even want to know how many people in and around the  editorial department I'd like to sling something at pretty regularly. Alpi International (asi/34415) has  something fun for office workers who feel similarly. The Slingshot ballpoint pen is perfect for humorous employee gifts (add  it to a welcome mug for new hires) and new student welcome packages for  colleges (dorm wars, anyone?). Pricing starts at: 150; 83 cents-R. Click here: http://www.alpi.net/.
        The Bottom Line: Shoot for a sale.