ADVERTISEMENT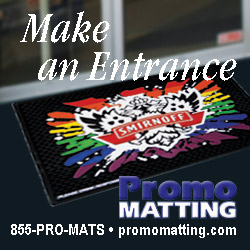 Cause Awareness
The Pitch: Natural Trends (asi/73497) is offering a variety of health and beauty items with a pink-ribbon theme for the month of October. I like item LSCMN2, petroleum-free SPF 15 passion fruit-flavored lip balm in a clear tube. It's perfect for awareness walks, health clinics, mammography centers and more. Get it for as low as 92 cents on an R. Click here: http://www.naturaltrends.com/.
The Bottom Line: Lip service.
It Sticks With You
The Pitch: Another great idea for the month of October is the Finger-Press pink ribbon embroidered appliqué from Inter-All Corporation (asi/62695). A pressure-sensitive stick-on backing enables the appliqué to be worn on clothing and easily removed for other applications. Other colors are also available for year-round awareness campaigns. Stay tuned for your October issue of Advantages magazine for a section spotlighting the interesting history of awareness ribbons. For pricing and other info, click here: http://www.inter-all.com/.
The Bottom Line: Wear and share.
Tricks on Us
The Pitch: According to American Ad Bag (asi/35290), 36 million kids go trick or treating each year (so I'm estimating 72 million parents raid the treat bags). Speaking of the bags, this supplier has a whole load of Halloween-themed treat bags. You can imprint your client's message alongside helpful safety tips. Check out what they have to offer here: http://adbag.com/.
The Bottom Line: Tag the bag.
Bipartisan Effort
The Pitch: Here's an item that's politically correct for sure. Artistic Toy (asi/37122) offers a seven-inch reversible donkey and elephant puppet that's sure to be a hit with Democrats and Republicans alike. This should put the fun in fundraiser. Also think of this for history museums and more. Search for this item (#S1186) and check on pricing options here: http://www.artistictoysmfg.com/.
The Bottom Line: Reverse course.