| | |
| --- | --- |
| Keeping you in the loop on products and deals you may not have heard about. | September 14, 2011 |
SPONSORED BY


Hi all! I'm trying to get this edition finished up before I have to run down to the studio to do the radio show during ASI's Virtual Trade Show today. Yup, we do a lot of running


Sales Tip of the Week

PRODUCT SPOTLIGHT

PRODUCT SPOTLIGHT

around and multitasking here in the editorial department. I know you do too, so here I am again to help you out. Enjoy! khuston@asicentral.com. It may be published in a future issue of Advantages magazine. For free information on products featured in Advantages, click here: www.advantagesinfo.com.
– Kathy Huston, editor



The Joe Show:
Hot, New Items

The Joe Show: Hot, New Items
In this episode of The Joe Show, Managing Editor Joe Haley shows off some of the newest items to hit the ad specialty market. Want to suggest a product for a client's latest eco-friendly campaign? Need ideas perfectly targeted to the education and meetings markets? Check out the video.    

Click hereto watch this episode of The Joe Show.

Want more videos? Subscribe now to our YouTube videos.

Chillin'
The Pitch: Check it out: The Chill Bag (asi/44816) offers cool (literally) tote bags for your wine or beer that keep your beverages chilled. Just add water and ice to these eco-friendly watertight totes and you're off. These are the perfect idea for BYOBs, wineries, liquor stores, B&B's and more. Pricing for the wine tote in particular starts at: 120; $3.86. Click here for the full menu of offerings: http://www.thechillbag.us/.
The Bottom Line: Keep it on ice.

ADVERTISEMENT

Decadent Eats
The Pitch: I remember dropping into Polski's convenience store when I was a kid to pick up the newspaper for our neighbors, the Donahue's, and also to pick up a candy apple for myself. Candy apples not only offer a sense of nostalgia, but can also be a sweet thank you to your loyal clients (and theirs). Think of delivering them around Thanksgiving. Amy's Gourmet Apples (asi/35929) offers a wide variety of these delicious treats. Their pecan turtle version, for one, starts at: one for $18.99. Click here to choose your flavor: http://www.amysgourmetapples.com/.
The Bottom Line: Simply delish.

| | |
| --- | --- |
| ADVERTISEMENT | ADVERTISEMENT |
Poker Face
The Pitch: Here's my musical selection for today (feel free to sing along): http://www.youtube.com/watch?v=v1hBPzPGrUA. And here's a fun idea for casinos and any promotion with a gambling theme. Sunjoy Group Inc. (asi/90154) offers a poker-chip-shaped 256MB USB drive. Pull out one section of the chip to reveal the drive. Pricing starts at: 200; $7.98. See it here: http://www.sunjoy.us/.
The Bottom Line: Well-played.
Handsome Luggage
The Pitch: The handsome Andrew Spellman, V.P. of corporate market sales at TRG Group (asi/90507), has alerted me to the fact that the supplier offers its brand-new Spectra Collection of hard-sided luggage for the fashionable business traveler and vacationers alike. This new travel gear combines lightweight durability with 360-degree weightless movement. It's just right for incentive programs. Here's a little tidbit for you: Andrew is one of Wearables magazine's best dressed in the industry for 2011. You can check him out here (scroll down; he's in the third photo): http://asicentralblog.com/. You can check out the luggage and pricing info here: http://www.trgcorporate.com/.
The Bottom Line: Come with baggage.
PRODUCT SPOTLIGHT
NEW! USB Sticks from AZX Sport ASI/30250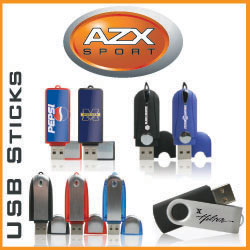 Features: 512MB - 16GB memory size available. Large variety of
colors and shapes. Ability to pre-load files onto USB.

Construction: Full color domed, Laser engraved
and pad printing available.

Lead Time: 1-3 business days on stock USB. 10 business days on
non stock USB. Minimum order 25pcs.

Orders and Art: Info.Advantages@aztex.com

Quote Requests: Info.Advantages@aztex.com

Visit www.azxpromotions.com to see our full line of products.

Or call 1-800-558-4836
CALL FOR QUOTE!
For other new and creative products, visit the Product Central section on ASICentral.com.


Advantages is bringing over 60 top suppliers to a city near you.
Come to the industry's largest and most popular traveling show, the ASI Advantages Roadshow. For a list of cities and dates, visit http://advantagesroadshow.com/. Admission is free for all distributors and salespeople!
SPONSORED BY


Advantages™ Hot Deals is a trademark of the Advertising Specialty Institute. You were sent this newsletter as a benefit of your ASI membership. Copyright 2011, ASI. All Rights Reserved.
If you'd like us to send Advantages Hot Deals FREE to anyone else at your company (or to your off-site sales reps), go to www.asicentral.com/newsletters and complete the online form.
Interested in advertising in Advantages Hot Deals? Send an email to ekoehler@asicentral.com
Click here to subscribe to Advantages™ magazine. If you no longer wish to receive Advantages HotDeals Newsletter, click here
Advertising Specialty Institute®, 4800 Street Road, Trevose, PA 19053