| | |
| --- | --- |
| Keeping you in the loop on products and deals you may not have heard about. | September 12, 2011 |
SPONSORED BY


Hi everybody. Did you know one in three people complain about Mondays? I hate to tell you, but I am one of those one in three. Are you? I hope you don't complain about this edition (well, you can. It's your prerogative). If you want to complain or anything else, simply email me at: khuston@asicentral.com. It may be published in a future issue of Advantages magazine. For free information on products featured in Advantages, click here: www.advantagesinfo.com.
– Kathy Huston, editor






The Joe Show:
Great Gifts

The Joe Show: Great Gifts
In this episode of The Joe Show, Managing Editor Joe Haley shows off some new items that are perfect for gift programs. Want an idea for your client's next sales incentive program? Have clients looking for a jacket to give away at upcoming corporate outings? Check out the video.    

Click here to watch this episode of The Joe Show.

Want more videos? Subscribe now to our YouTube videos.

Set the Date
The Pitch: I was just thinking as I marked some things on my refrigerator calendar the other day, I'm coming to the end of it and will need a new one. Many others will need one too, so get going on your calendar orders with Warwick (asi/95280). I like the American Experience wall calendar (especially in light of the 9/11 anniversary yesterday), and pricing starts at: 100; $3.36. Click here: http://www.warwickpublishing.com/.
The Bottom Line: Keep it hanging around.

Apple of My Eye


The Pitch: According to the weather lady on Fox 29 News this morning, autumn will be in the air on Friday. Perfect for this time of year is a foil packet of instant apple cider from Richard's Gourmet Coffee Co. (asi/82351). Think of any outdoor promotion (pumpkin and apple picking and hayrides), wellness events and coffee-mug stuffers. Pricing starts at:

144; $1.25.

Check it out: http://www.richardsgourmet.com/.
The Bottom Line: Cider sales.
ADVERTISEMENT

ADVERTISEMENT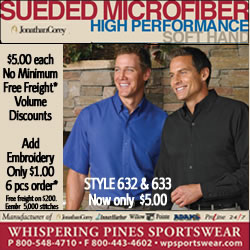 Potty Mouth
The Pitch: We bought a new toilet this weekend! Yes, homeownership is full of excitement and adventure. So here's a unique product to go with toilet purchases and also a fun idea for hotel bathrooms, special events, sports venues and more: the talking toilet paper holder, which plays up to five 8-second pre-recorded messages that change each time the toilet paper is pulled. It's from Flying Tiger Promotions (asi/54880). Pricing starts at: 1,000; $6.63. See it here: http://flyingtigerpromotions.com/.
The Bottom Line: Wipe up.

Detective Work
The Pitch: Consider this your own little Columbo: AdVantage Line (asi/31570) offers an illuminated 8x magnifier with a UV-light counterfeit money detector. This is just right for any retail establishment or financial client. You can get it for as low as $9.20. Click here: http://asi31570.com/.
The Bottom Line: Shed some light.
Tell Me About It!
Have you read your September issue of Advantages yet? You can access it here: www.advantagesmag.com. Please email and let me know what you think about it: khuston@asicentral.com.
Advantages is bringing over 60 top suppliers to a city near you.
Come to the industry's largest and most popular traveling show, the ASI Advantages Roadshow. For a list of cities and dates, visit http://advantagesroadshow.com/. Admission is free for all distributors and salespeople!
SPONSORED BY


Advantages™ Hot Deals is a trademark of the Advertising Specialty Institute. You were sent this newsletter as a benefit of your ASI membership. Copyright 2011, ASI. All Rights Reserved.
If you'd like us to send Advantages Hot Deals FREE to anyone else at your company (or to your off-site sales reps), go to www.asicentral.com/newsletters and complete the online form.
Interested in advertising in Advantages Hot Deals? Send an email to ekoehler@asicentral.com
Click here to subscribe to Advantages™ magazine. If you no longer wish to receive Advantages HotDeals Newsletter, click here
Advertising Specialty Institute®, 4800 Street Road, Trevose, PA 19053