| | |
| --- | --- |
| Keeping you in the loop on products and deals you may not have heard about. Text Version | Read All | September 7, 2011 |
SPONSORED BY


Well, here we are in September! School started out A-OK. Matt's back to senior year in college and Andrew thinks his 12th-grade teachers are "the coolest yet, except for the calculus guy, who's pretty monotone and boring." My response: "What do you expect? You


Sales Tip of the Week

PRODUCT SPOTLIGHT

PRODUCT SPOTLIGHT

can't really jazz up calculus" I hope I jazz up this edition for you to some degree. Enjoy! Send your feedback about this edition directly to: khuston@asicentral.com. It may be published in a future issue of Advantages magazine. For free information on products featured in Advantages, click here: www.advantagesinfo.com.
– Kathy Huston, editor


Hear Ye, Hear Ye!
By which I really mean, read ye, read ye! Yes, please read your September issue of Advantages magazine and let me know what you think by emailing: khuston@asicentral.com. A caveat: Our printer messed up BIG TIME, and so you will find pages 128 on through the next seven pages to be completely out of order. But no worries, you can still get the entire 20-item checklist of things to do for your best fourth quarter; read all about big, huge sales; and cozy up to the bar and restaurant market and even take our very fun Happy Hour quiz online. Click here: http://www.asicentral.com/asp/open/News/Advantages/index.aspx.




The Joe Show:
Eclectic Product Mix

The Joe Show: Eclectic Product Mix
In this episode of The Joe Show, Managing Editor Joe Haley shows off some of the newest items to hit the ad specialty market. Want a unique product idea for beach promotions or golf tournaments? Looking for a product perfectly suited for local pizza places? Check out the video.    

Click here to watch this episode of The Joe Show.

Want more videos? Subscribe now to our YouTube video.

ADVERTISEMENT


Send Me a Lifeline
The Pitch: Since 1988, the Student Lifeline Card has been providing free and unlimited emergency rides in the greater NY and NJ communities, helping students avoid drunk-driving or other dangerous situations. The service is offered by American Student Books (asi/35624). This is the perfect idea for college campuses, insurance companies and more. The supplier can establish emergency taxi service anywhere within the nation upon receiving requests exceeding 5,000 cards. Pricing starts at: 1,000; $1.45. For more information, click here: www.studentlifeline.com.
The Bottom Line: A little help from your friends.

| | |
| --- | --- |
| ADVERTISEMENT | ADVERTISEMENT |
Bring the Bling
The Pitch: Think of these as the Flavor Flav of cookies, because they have tons of flavor and are loaded up with bling: Bling Gourmet Treats from Fresh Beginnings (asi/55439) are fresh-baked and handmade to order and covered in gold or silver glittery goodness. My mouth is watering right now. Pricing starts at: 24; $17.95. These are ideal holiday treats for all your favorite customers and theirs. See them here: http://55439.asisupplier.com/.
The Bottom Line: Take a taste.
Pen Pal
The Pitch: I don't even have my own iPod, never mind an iPad (don't worry; I have taken over Steve's with my potpourri of pop tunes). But if I did, I sure would appreciate item IP-81 from Cosmo Fiber (asi/46755). It's an iPad pen, with which you can both write and tap and type on your touch screen. You can get it for $3.99 for a minimum of 100 pieces until 10/31. Think of this for technology trade shows, conferences, classrooms, offices and more. Click here: http://www.cosmofiber.com/.
The Bottom Line: iSee a sale.
Flood Watch
The Pitch: Seems like we've been under a flood watch around here for at least the last two weeks. This is one reason I love the new Wet Wellies from Neet Feet (asi/73525). Also, they are very adorable. These ladies' rain boots feature Pantone-matched resilient synthetic rubber and are finished with high-gloss graphics. They are made to pull-on and have buckle closures, a textile lining and insole and a non-slip, flexible outsole. These are great for rain and snow alike and I would definitely pitch these to college bookstores and for company stores. Pricing starts at: 150; $39.99. See them here: http://www.neetfeet.com/.
The Bottom Line: Give them the boot.
PRODUCT SPOTLIGHT
NEW! USB Sticks from AZX Sport ASI/30250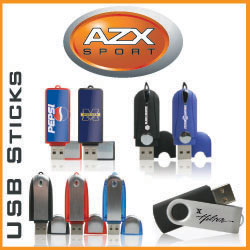 Features: 512MB - 16GB memory size available. Large variety of
colors and shapes. Ability to pre-load files onto USB.

Construction: Full color domed, Laser engraved
and pad printing available.

Lead Time: 1-3 business days on stock USB. 10 business days on
non stock USB. Minimum order 25pcs.

Orders and Art: Info.Advantages@aztex.com

Quote Requests: Info.Advantages@aztex.com

Visit www.azxpromotions.com to see our full line of products.

Or call 1-800-558-4836
CALL FOR QUOTE!
For other new and creative products, visit the Product Central section on ASICentral.com.


Advantages is bringing over 60 top suppliers to a city near you.
Come to the industry's largest and most popular traveling show, the ASI Advantages Roadshow. For a list of cities and dates, visit http://advantagesroadshow.com/. Admission is free for all distributors and salespeople!
SPONSORED BY


Advantages™ Hot Deals is a trademark of the Advertising Specialty Institute. You were sent this newsletter as a benefit of your ASI membership. Copyright 2011, ASI. All Rights Reserved.
If you'd like us to send Advantages Hot Deals FREE to anyone else at your company (or to your off-site sales reps), go to www.asicentral.com/newsletters and complete the online form.
Interested in advertising in Advantages Hot Deals? Send an email to ekoehler@asicentral.com
Click here to subscribe to Advantages™ magazine. If you no longer wish to receive Advantages HotDeals Newsletter, click here
Advertising Specialty Institute®, 4800 Street Road, Trevose, PA 19053