Hello, dearest readers. Can I ask again? Whether you find me annoying or endearing (my husband finds me a little of both), and you'd like to have a word with me, please email my personal address here in this paragraph. If you simply hit "reply," it goes to a generic "Hot Deals" inbox and gets lost in a sea of spam mail encouraging me to get my degree today (that happened in 1985) or to enhance certain body parts (which I don't have).


Sales Tip of the Week
The point: Unless you email me personally, it won't get read. Thanks for your support. Enjoy this edition! Send your feedback directly to:  khuston@asicentral.com. It may be published in a future issue of Advantages magazine. For free information on products featured in Advantages, click here: www.advantagesinfo.com.

PRODUCT SPOTLIGHT


– Kathy Huston, editor 


The Joe Show:
Electronics

The Joe Show: Electronics
In this episode of The Joe Show, Counselor Managing Editor Joe Haley shows off some hot, new electronic products that are perfect for cutting-edge clients. Planning promotional programs geared toward younger audiences? Check out these products.  

Click here to see this electronics-products edition of The Joe Show.

Want more videos? Subscribe now to our YouTube videos.

Send in the Fans
The Pitch: What do the Tampa Bay Rays have to do besides clinch a playoff spot? Turns out the team has to give away 20,000 free tickets to fill the stadium because people aren't turning up to support them. Is that unheard of in Major League Baseball? If you've got a client looking to drum up fan support, Rivers Promo Inc. (asi/82596) offers item #103367, a polyester body flag/poncho for sports fans. Pricing starts at: 5000; $4.87-P. It's a great school fundraiser item too. Check it out, why dontcha? Click here: http://www.riverspromo.com/.
The Bottom Line: Wear your pride.

ADVERTISEMENT

| | |
| --- | --- |
| ADVERTISEMENT | ADVERTISEMENT |
Safe Driving
The Pitch: Is it me, or was everyone driving like maniacs this morning? Even a "Geek Squad" Volkswagon Bug passed me going a bazillion miles an hour. I mean, it's the Geek Squad for crying out loud! I think people can use a little lesson in safe driving. Creative House Promotions (asi/47150) offers a nice lapel pin for all those who are, indeed, safe drivers (think, moving companies, truck fleets, pizza deliverers, limo companies, school bus drivers, and more). Item C880 starts at: 50; $2.50-P. Click here: http://47150.asisupplier.com/
The Bottom Line: Drive sales.
Tailgate Party
The Pitch: We're going to see the Eagles/Redskins game on Sunday. It will be fun seeing Michael Vick vs. Donovan McNabb, right? Big Steve says it calls for some pre-game tailgating. It may be a little chilly on Sunday and Brew City Promotions (asi/41730) has just the ticket. Item 641782 is a "two-fisted beverage hoodie," which has two elasticized pouches in the front to hold your beer. Pricing for blanks starts at: 300; $19.82-T. It's pretty spiffy. Either check it out on ESP or email: customerservice@brewcitypromotions.com.
The Bottom Line: Two at a time.
| | |
| --- | --- |
| ADVERTISEMENT | ADVERTISEMENT |
Cheers to You and You and You and You
The Pitch: In my video sales tip above, I tell you how to explore all your holiday sales possibilities so you leave nothing on the table…except for these adorable holiday wine charms from K & R Precision Corp. (asi/63770). Item L981 is a set of six charms, packaged in a lovely gift box and would make a great gift for clients and employees alike. These would be nice for wine shops to give to patrons too. Pricing starts at: 35; $6.99-R. See them here: http://www.k-and-r.com/.
The Bottom Line: Let's have a toast!
What Do You Think?
Share your feedback! What did you think of our October issue of Advantages magazine and our exclusive Buyers Survey results? Click here for the highlights and weigh in with your opinions and any additional advice you may have. It could be published in our next magazine issue!
http://www.asicentral.com/asp/open/news/advantages/index.aspx.
PRODUCT SPOTLIGHT
NEW! USB Sticks from AZX Sport ASI/30250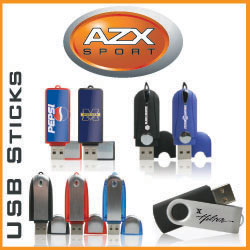 Features: 512MB - 16GB memory size available. Large variety of
colors and shapes. Ability to pre-load files onto USB.

Construction: Full color domed, Laser engraved
and pad printing available.

Lead Time: 1-3 business days on stock USB. 10 business days on
non stock USB. Minimum order 25pcs.

Orders and Art: Info.Advantages@aztex.com

Quote Requests: Info.Advantages@aztex.com

Visit www.azxpromotions.com to see our full line of products.

Or call 1-800-558-4836
CALL FOR QUOTE!
For other new and creative products, visit the Product Central section on ASICentral.com.
Advantages is bringing over 60 top suppliers to a city near you.
Come to the industry's largest and most popular traveling show, the ASI Advantages Roadshow. For a list of cities and dates, visit http://advantagesroadshow.com/. Admission is free for all distributors and salespeople! 
SPONSORED BY


Advantages™ Hot Deals is a trademark of the Advertising Specialty Institute. You were sent this newsletter as a benefit of your ASI membership. Copyright 2010, ASI. All Rights Reserved. 
If you'd like us to send Advantages Hot Deals FREE to anyone else at your company (or to your off-site sales reps), go to www.asicentral.com/newsletters and complete the online form.
Interested in advertising in Advantages Hot Deals? Send an email to ddienna@asicentral.com
Click here to subscribe to Advantages™ magazine. 
Advertising Specialty Institute®, 4800 Street Road, Trevose, PA 19053