Hey, now...when I asked you all on Monday to email me if you were up before 5 a.m., I didn't know you were such an energetic and motivated bunch. Here are some of your responses: Rick goes walking every day around 5 a.m. Gwen was getting ready for an early-morning networking meeting. Lyn was emailing a client at 4:15. Another Lynn (2 n's) was at the gym. Mary was sorting through stuff to donate to charity. Allan was running four miles. And Diane was doing laundry and dishes and making a crock-pot dinner. Sounds


Sales Tip of the Week
like we all need some Ambien. I'm kidding! Here's another issue to wake up your sales (or at least get you thinking). Enjoy! Send your feedback directly to: khuston@asicentral.com. It may be published in a future issue of Advantages magazine. For free information on products featured in Advantages, click here: www.advantagesinfo.com.

PRODUCT SPOTLIGHT


– Kathy Huston, editor 


The Joe Show:
It's In The Bag

The Joe Show: It's In The Bag
In this episode of The Joe Show, Counselor Managing Editor Joe Haley shows off some hot, new bags that are perfect for schools and many other audiences. Looking for items to penetrate the education market with? Check out these products.   

Click here to see this bags-and-totes edition of The Joe Show.

Want more videos? Subscribe now to our YouTube videos.

Pink Ladies
The Pitch: Matt Olivolo over at Mobile Edge (asi/71854) informs me that they've created a Susan G. Komen for the Cure Collection, a group of pink-themed laptop cases and totes that are seriously stylish and functional. They donate 10% of the retail sales price back to the Komen fund and to date have donated nearly $300,000. All can be decorated and customized and make excellent business gifts. Another important fact, in my opinion: When I went to their website it said that some of their products are going to be seen on "Glee" this season! How cool! Why don't you go ahead and check it all out at: http://www.mobileedge.com.
The Bottom Line: The case for a cause.

ADVERTISEMENT

| | |
| --- | --- |
| ADVERTISEMENT | ADVERTISEMENT |
A Jerky Idea
The Pitch: Here's something that's appealing and delicious for any number of markets including sports events, campgrounds, golf tournaments, trade shows and much more: custom-logoed beef jerky in 2-oz  packages from  Minimus (asi/71357). It's sourced from a leading manufacturer under an exclusive arrangement and is a high-protein, low-fat snack. It comes in four flavors: Teriyaki, Hot, Sweet & Spicy and Old Fashion (sounds like a new incarnation of The Spice Girls, doesn't it?). For more details and pricing, go to http://www.minimus.biz.
The Bottom Line: Pack your snack.
| | |
| --- | --- |
| ADVERTISEMENT | ADVERTISEMENT |
ADVERTISEMENT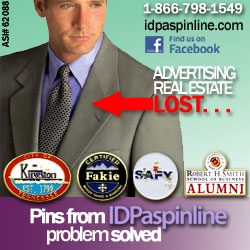 It's Witchcraft
The Pitch: I have never dabbled in witchcraft (although I knew a girl in college named Margo, who said she was a witch). But this product from Clik Clak Company (asi/98289) has put a spell on me because I've never seen or heard of such a thing. Item #2010HB11 is called Sand Witch Powder and it's a tin full of all-natural sand repellent that takes sand off and keeps the sand off your body at the beach. It's a patented blend made almost exclusively from food products and has a fresh coconut fragrance. What a cool idea for travel agents and resorts. Pricing starts at: 250; $4.37-R. Click here: http://clikclak.com/index.php.
The Bottom Line: It doesn't stick.
A Clear Favorite
The Pitch: So my favorite so far on "Dancing with the Stars" is Kyle Massey, the chubby kid nobody knows (except me, because I actually sometimes watch "That's So Raven" on Saturday mornings; I am a 12-year-old girl at heart). Another clear favorite of mine is the new Cater Plate from American Accents (asi/98289). It's just what you need for picnics, parties and other special events. Item CCPWC is a plastic party tray with detachable and re-attachable utensils, dipping compartments and a drink holder. Pricing starts at: 50; $3.77-R. Click here: http://www.americanaccents.com.
The Bottom Line: Cater to everyone.
PRODUCT SPOTLIGHT
NEW! USB Sticks from AZX Sport ASI/30250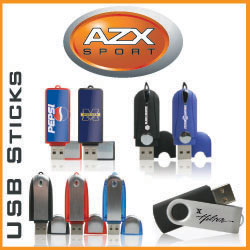 Features: 512MB - 16GB memory size available. Large variety of
colors and shapes. Ability to pre-load files onto USB.

Construction: Full color domed, Laser engraved
and pad printing available.

Lead Time: 1-3 business days on stock USB. 10 business days on
non stock USB. Minimum order 25pcs.

Orders and Art: Info.Advantages@aztex.com

Quote Requests: Info.Advantages@aztex.com

Visit www.azxpromotions.com to see our full line of products.

Or call 1-800-558-4836
CALL FOR QUOTE!
For other new and creative products, visit the Product Central section on ASICentral.com.
Advantages is bringing over 60 top suppliers to a city near you.
Come to the industry's largest and most popular traveling show, the ASI Advantages Roadshow. For a list of cities and dates, visit http://advantagesroadshow.com/. Admission is free for all distributors and salespeople! 
SPONSORED BY


Advantages™ Hot Deals is a trademark of the Advertising Specialty Institute. You were sent this newsletter as a benefit of your ASI membership. Copyright 2010, ASI. All Rights Reserved. 
If you'd like us to send Advantages Hot Deals FREE to anyone else at your company (or to your off-site sales reps), go to www.asicentral.com/newsletters and complete the online form.
Interested in advertising in Advantages Hot Deals? Send an email to ddienna@asicentral.com
Click here to subscribe to Advantages™ magazine. 
Advertising Specialty Institute®, 4800 Street Road, Trevose, PA 19053