Sales Tip of the Week
Mid-September already? Surely you must be joking! Well, my friends, these hot products are no joke! Enjoy this edition. Send your feedback directly to: khuston@asicentral.com. It may be published in a future issue of Advantages magazine. For free information on products featured in Advantages, click here: www.advantagesinfo.com.

PRODUCT SPOTLIGHT


– Kathy Huston, editor 

In Session
The Pitch: So how do you feel now that your kids are back at school? I don't know, I always feel a little melancholy, especially now that they are getting so old (junior in H.S. and junior in college!)…thank goodness, I'm not though (hush up). Anyway, when school bells ring, surely there is one thing every student needs and that's a good hand sanitizer. This is where HumphreyLine's (asi/62050) Super Soft Sanitizer comes in. It's a non-alcohol formula that kills 99.99% of germs without drying your skin. It sanitizes for up to 4 hours and contains a lotion to moisturize. It comes in a 1-oz. white plastic bottle, which fits perfectly into backpacks, lunch totes, or pencil cases (there's an upselling opportunity right there). Plus, this supplier's products are made in the USA and Mel Ellis is such a nice guy. Also, be on the lookout for your October issue of Advantages magazine, where we have a feature story on the education market to give you even more ideas. Pricing on item #320 starts at: 100; $2-R. Check it out: http://www.humphreyline.com/.
The Bottom Line: Germ-free environment.

ADVERTISEMENT

To Your Health
The Pitch: As I sit here eating my Greek yogurt and drinking my V8 Fusion, I am compelled to find you a healthy snack. Trust me, my healthy-eating plan usually falls apart when I arrive home ravenous at the end of the day. At any rate, everyone knows almonds are a very healthy nut (which is what I'm trying to be). Indolce Confections (asi/62589) offers item RB 501 SA, a 3" x 5" cello bag of whole almonds from Brazil, which would be great for handing out at trade-show booths and you know trade-show season will soon be in full swing. Pricing starts at: 500; 0.87-R. Email: sales@indolce.com.
The Bottom Line: I'm nuts about it.
| | |
| --- | --- |
| ADVERTISEMENT | ADVERTISEMENT |
Get Hitched
The Pitch: Sunday morning, I watched the news in amazement as they did a report on Eagles fans already tailgating at The Linc (in fact, they were roasting a whole pig!). Mind you, the game wasn't until 4:15! Fans like these would love item HC221 from Pepco Poms (asi/77280). It's a #1 Finger hitch cover made of durable ABS plastic. It fits most 2" receivers. Pricing starts at: 25; $9.99-R. See it here: http://77280.asisupplier.com/.
The Bottom Line: Gotta give them the finger.
ADVERTISEMENT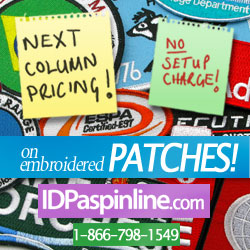 Hats Off
The Pitch: Now I've seen everything. Yes, as the editor of Advantages for lo these many years, I've seen all kinds of products and all kinds of bottle coolers, to be specific. But item K-846 from Calibre International LLC (asi/43442) looks like a fishing vest (with "Gone Fishing" on it), and it comes with a little "Gone Fishing" hat for the top of the bottle. How fun is that? Pricing for a 15-day turnaround starts at: 250; $3.79-R. This is a unique idea for fishing trips (obviously), marinas, bait and tackle shops, tournaments and more. If your client is putting together an incentive trip, this could be great if fishing is involved too. You must check this out: http://www.highcaliberline.com/.
The Bottom Line: Hook, line, and a tiny hat.
Important Industry Announcement at the September 22 ASI Virtual Trade Show 
ASI President and CEO Tim Andrews will be making an important industry announcement at the September 22 ASI Virtual Trade Show. Don't miss it! Click here to register for the Virtual Trade Show.
PRODUCT SPOTLIGHT
NEW! USB Sticks from AZX Sport ASI/30250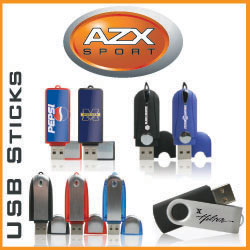 Features: 512MB - 16GB memory size available. Large variety of
colors and shapes. Ability to pre-load files onto USB.

Construction: Full color domed, Laser engraved
and pad printing available.

Lead Time: 1-3 business days on stock USB. 10 business days on
non stock USB. Minimum order 25pcs.

Orders and Art: Info.Advantages@aztex.com

Quote Requests: Info.Advantages@aztex.com

Visit www.azxpromotions.com to see our full line of products.

Or call 1-800-558-4836
CALL FOR QUOTE!
For other new and creative products, visit the Product Central section on ASICentral.com.
Advantages is bringing over 60 top suppliers to a city near you. 
Come to the industry's largest and most popular traveling show, the ASI Advantages Roadshow. For a list of cities and dates, visit http://advantagesroadshow.com/. Admission is free for all distributors and salespeople! 
SPONSORED BY


Advantages™ Hot Deals is a trademark of the Advertising Specialty Institute. You were sent this newsletter as a benefit of your ASI membership. Copyright 2010, ASI. All Rights Reserved. 
If you'd like us to send Advantages Hot Deals FREE to anyone else at your company (or to your off-site sales reps), go to www.asicentral.com/newsletters and complete the online form.
Interested in advertising in Advantages Hot Deals? Send an email to ddienna@asicentral.com
Click here to subscribe to Advantages™ magazine. 
Advertising Specialty Institute®, 4800 Street Road, Trevose, PA 19053