The Joe Show:
Hot Stuff 
Hello and happy Rosh Hashanah to my Jewish buddies. Enjoy your festivities and everyone, please enjoy this edition. Send your feedback directly to: khuston@asicentral.com. It may be published in a future issue of Advantages magazine. For free information on products featured in Advantages, click here: www.advantagesinfo.com.

PRODUCT SPOTLIGHT


– Kathy Huston, editor 




If It's Free, It's for Me
The Pitch: If you haven't yet incorporated USB drives into your corporate, school and technology programs, what are you waiting for? Everyone needs one nowadays and this is a gift that's greatly appreciated. And you'll appreciate this: All-In-One (asi/34256) introduces its new and improved USB Flash Express service, with its best deals ever on USB Flash Drives, including: free Supersonic 24-hour rush on in-stock drives; Jet Set Pricing, featuring many drives at one easy, low price; lowest-price guarantee; 2,500/pc. pricing on orders of 100 or more drives; and free setup, free data upload and free virtual proof. Get the lowdown at: www.AllinOneLine.com/USB.
The Bottom Line: Plug in.

Goodbye Summer
The Pitch: I hate to say it (really I do), but once Labor Day is over, thoughts turn to the holiday season. For example, we just put to bed (as we say in the publishing biz) our mid-September Advantages Gift Guide. And lucky for you, Gold Bond Inc. (asi/57653) presents their new holiday program, Gold Bond with a Bow (cute name!), to give you distributors more than 100 solutions for your holiday programs and upcoming events. The program offers many gifts that are well under $10c retail, but you can always upsell with add-on items for those fortunate clients with bigger bucks to spend. Check it out here: www.goldbondinc.com/gifts.
The Bottom Line: Ring it in.

ADVERTISEMENT

| | |
| --- | --- |
| ADVERTISEMENT | ADVERTISEMENT |
Fixer-Upper
The Pitch: My cat Sneakers hates going to the vet, so yesterday he took the liberty of scratching the heck out of me as I wrangled him into his carrier. If I get Cat Scratch Fever, don't look for Hot Deals in your inbox on Monday. At any rate, Waldor Products (asi/94770) is offering a super sale on item #812SP, which is a great on-the-go product for tending to cuts … and tears! It's a purse-perfect first-aid/sewing kit. You can get it for $1.79 (C) on 100 or more. See it here: http://www.waldorproducts.com.
The Bottom Line: All sewn up.
Organize Everything
The Pitch: I tend to be a bit of a clean freak, according to my kids anyway, who often tell me I'm insane. However, I just read an article on CNN.com that says tidy workers are many times more productive. So there. Meximi (asi/70899) just so happens to have a desk organizer that's also a 4-port USB hub … speaking of your productivity! It holds your pens, has a slot for sticky notes and also comes with flags. Item #9228 starts at: 100; $15.75-R. This is just what every employee needs for their desk. Check it out: http://www.365wholesale.com.
The Bottom Line: Put them in their place.
| | |
| --- | --- |
| ADVERTISEMENT | ADVERTISEMENT |
Nominate the Supplier Global Resource Sales Rep of the Year!
Supplier Global Resource, the industry's only magazine dedicated to ad specialty suppliers, is holding its inaugural Supplier Sales Rep of the Year contest to recognize outstanding performance, exemplary service and top-notch professionalism. Do you work with a supplier sales rep who's gone above and beyond for you this year? Do you have a supplier partner who always puts you and your customers' needs first and has a "do whatever it takes" attitude to make you shine? If you know a perfect contender, e-mail the nominee's name and details regarding what makes him or her award-worthy to Michele Bell, editor of Supplier Global Resource (mbell@asicentral.com), by September 15, 2010. The winner will be profiled in ASI's magazines, receive an array of awesome prizes and get to bask in his or her own fabulousness for the year!
| | |
| --- | --- |
| ADVERTISEMENT | ADVERTISEMENT |
PRODUCT SPOTLIGHT
NEW! USB Sticks from AZX Sport ASI/30250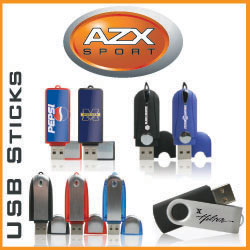 Features: 512MB - 16GB memory size available. Large variety of
colors and shapes. Ability to pre-load files onto USB.

Construction: Full color domed, Laser engraved
and pad printing available.

Lead Time: 1-3 business days on stock USB. 10 business days on
non stock USB. Minimum order 25pcs.

Orders and Art: Info.Advantages@aztex.com

Quote Requests: Info.Advantages@aztex.com

Visit www.azxpromotions.com to see our full line of products.

Or call 1-800-558-4836
CALL FOR QUOTE!
For other new and creative products, visit the Product Central section on ASICentral.com.
Advantages is bringing over 60 top suppliers to a city near you. 
Come to the industry's largest and most popular traveling show, the ASI Advantages Roadshow. For a list of cities and dates, visit http://advantagesroadshow.com/. Admission is free for all distributors and salespeople! 
SPONSORED BY


Advantages™ Hot Deals is a trademark of the Advertising Specialty Institute. You were sent this newsletter as a benefit of your ASI membership. Copyright 2010, ASI. All Rights Reserved. 
If you'd like us to send Advantages Hot Deals FREE to anyone else at your company (or to your off-site sales reps), go to www.asicentral.com/newsletters and complete the online form.
Interested in advertising in Advantages Hot Deals? Send an email to ddienna@asicentral.com
Click here to subscribe to Advantages™ magazine. 
Advertising Specialty Institute®, 4800 Street Road, Trevose, PA 19053