Sales Tip of the Week

Now that you're beer-and-barbecued out (until Saturday) and we're all back from our fun long weekend, let's get down to business. Somebody's gotta pay the bills, right? Click on my Sales Tip first and then enjoy this edition! Send your feedback directly to: khuston@asicentral.com. It may be published in a future issue of Advantages magazine. For free information on products featured in Advantages, click here: www.advantagesinfo.com.


– Kathy Huston, editor 

The Joe Show: Watches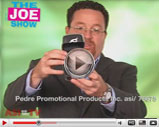 In this episode of The Joe Show, Counselor Managing Editor Joe Haley shows off some of the newest watches available on the market today. What time is it? Joe Haley sure does know. Have a client looking to fill out their corporate gift offerings? This episode is for you.

Click here to see the timepiece edition of The Joe Show.
ADVERTISEMENT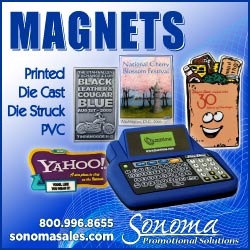 All Sewn Up (sewing kit)
The Pitch: Being the domestic goddess I am, remarkably, I don't sew. However, I am an avid home shopper and while watching HSN yesterday morning before work, I found out that September is National Sewing Month. (I know! Who knew?) Seamstress or not, everyone should have a sewing kit on hand every day of the year for fixing loose buttons and whatnot. It just so happens that Waldor Products (asi/94770), supplier of all kinds of practical items, including sewing kits (see item S-200), is offering a hard-times hot deal: EQP on their entire line (any quantity) through 12/31/09. Use the promo code "EQP" on your purchase order. Click here: www.waldorproducts.com
The Bottom Line: A stitch in time.
ADVERTISEMENT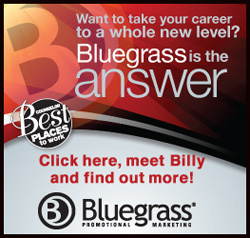 Masterpiece (necktie)
The Pitch: I encourage you to tie one on ... a handmade, hand-painted silk scarf from Tie-riffic (asi/91254), that is. The necktie has a long history of helping fellas look good, starting with China's first emperor, and this supplier's version works for any sharp-dressed man. Think about uniforms programs, product launches, special events, company stores and more. Pricing starts at: 24; $75-R. For further info, email: tieriffic@prodigy.net.
The Bottom Line: Sales are neck and neck.
Pure Genius (motivational book)
The Pitch: I receive all kinds of mail from various "freelance writers" who want to work for Advantages magazine. Last week, there was one from an inmate (my second). But, yesterday I received an email from a freelance writer who mentioned twice that she is a member of Mensa. And she wants to write for me? (Also, I guess just because you're a genius doesn't mean you don't repeat yourself.) Well, The Promotional Bookstore (asi/79369) wants you to experience the power of pure genius, too, with a 4 x 7 linen-cover book called "If Einstein Ran Your Company." This is a smart gift for any business owner or corporate manager. Pricing starts at: 48; $24.95-R. For more information, email: sales@promobookstore.com.
The Bottom Line: Read on.
Somebody Call 9-1-1 (eyeglass repair kit)
The Pitch: Yesterday morning, as luck would have it, my reading glasses broke right as we were about to go live on air for our Tuesday morning Internet radio show (www.asicentral.com/radio). I'm not anywhere near as blind as Joe Haley, but I had to hold my papers at arm's length to report on my assigned topics. I could have used the Emergency Eyeglass Repair Kit (item K75138-911) from Optico/Karlen Mfg. Inc. (asi/75138). Pricing starts at: 100; $1.90-P. It's obviously just right for eyeglass retailers and optometrists, but much like the sewing kit mentioned above, anyone could use one. You can even upsell a pair of reading glasses or sunglasses with this kit. See it here: http://dc.apiline.com/.
The Bottom Line: Read the fine print. 
Low-Tech (planner)
The Pitch: I don't use any high-tech gadgets to keep the household on track. It's just me and my pocket planner that keep all hell from breaking loose in my little world. I bought the one I have now, but what's even better is when my nail salon, hair stylist, Hallmark store or Avon lady gives me one for free around the holidays. As my dad likes to say, "If it's free, it's for me!" Royal Industries (asi/83770) offers a wide variety of pocket planners, such as item 1916EMC, which starts at: 100; $1.62-P. Click here: www.royalindustries.com.
The Bottom Line: That's the plan, Stan.