No Flu for You
The Pitch: It's getting to be cold and flu season and Prime Line (asi/79530) has gel sanitizer in a pump bottle for as low as $3.18-C. Sell this to gyms all year long too so that sweaty, germy people can sanitize after touching sweaty, germy equipment. Same with supermarkets. Pitch these so that each cashier can have them at their registers. Suggest it for auto dealers so that drivers can keep sanitizer in their cup holders for use before restaurants. (See? I'm always thinking.) Click here: http://www.primeline.com/.
The Bottom Line: Get pumped.
ADVERTISEMENT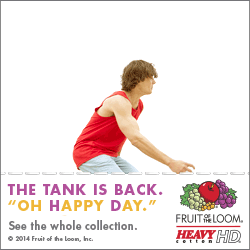 Master of Ceremonies
The Pitch: And the award goes to … you, if you suggest one of the many elegant awards from the Windsor Collection by Glass America (asi/71920). I happen to be a fan of their Omni Fluer Vase, because it serves a practical purpose in addition to looking pretty. Pitch it to your HR clients today. Click here: http://my.glassamerica.com/ .
The Bottom Line: Just add flowers.
Puttin' on the Glitz
The Pitch: BCG Creations (asi/37693) has been creating custom ornaments since 1981, which is the year I graduated from Queen of Peace High School. Glitter was big in the '80s too (I wore it in my hair on my wedding day. Yes, I did). So, I'm suggesting their line of custom glitter ornaments to add sparkle to any business deal. Give them to your best prospects during the holidays. Check them out here: http://www.bcgcreations.com/.
The Bottom Line: Shiny objects.
DISTRIBUTORS AND SUPPLIERS:
Are You the Advantages Salesperson of the Year?
Advantages, the industry's leading magazine dedicated to ad specialty sales professionals, is holding its annual Salesperson of the Year contest to recognize outstanding sales performance. Nominate your top-selling rep so far for 2014 or nominate yourself! The winner and runners-up will be profiled in our January issue. The winner will receive $500 and of course, everyone on the list gets bragging rights for the year. We are looking for distributor reps only.
Please send me your top-selling rep's or your own contact information and REVENUE (which will not be shared; it's STRICTLY for ranking purposes) ASAP. We are looking for DISTRIBUTOR and SUPPLIER reps.
Also, please let me know briefly what qualities you feel contribute to this sales dynamo's achievements.
I look forward to hearing about your successes! Email: khuston@asicentral.com.