Pillow Talk
The Pitch: Is it nap time yet? Kids Luv To Color (asi/64203) now offers fun, 200-thread-count pillow cases that kids can color on. They come with your client's design or a stock design and six markers and the color washes off so they can color them again and again. Suggest them for hospitals, holiday parties, family resorts, real estate agents, kids' camps and more. Add a stuffed animal for additional sales. For more info and to check them out, click here: http://www.kidsluv2color.com/.
The Bottom Line: Sleep on it.
A Big Fan
The Pitch: Last night was exciting for us in Eagles country alright. The team's first shutout in 18 years and against the Giants no less (poor Eli with all those sacks; I actually wanted to give him a hug). Fans of all types would appreciate a car flag from Pepco Promotional Products (asi/77280). They are made of two-ply knit durable polyester. You can also get an optional print on the pole. Get it for as low as $9.49-R. Click here: http://www.pepcopromotional.com/.
The Bottom Line: Show some spirit.
ADVERTISEMENT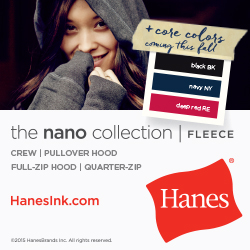 Snack Pack
The Pitch: I just read an article about things successful people do every morning. One is to identify something you're grateful for. I am grateful for snacks. Flip Promo (asi/54665) comes through with its Delicious Delights collection. The cinch bag drawstring mesh backpack filled with Frito Lay chips, chocolate chip cookies, Fruit by the Foot, Goldfish crackers and a Nature Valley Granola Bar would be a perfect giveaway at youth sporting events and fundraisers. Get it for as low as $9.49. Check it out: http://www.flippromo.com/.
The Bottom Line: Sweet and salty.
Sophisticated Traveler
The Pitch: According to a study by Estately.com, the most immature men live in Rhode Island (sorry guys). This is based on a number of factors, including fantasy football enthusiasm (which means the men of our editorial department could be on the list). You can view the full story here: http://blog.estately.com/. Add an air of sophistication to any fella with The Dapper Zippered Business Tablet Tote from Leed's (asi/66887). Part of the In Print Trend Collection, The Dapper Collection is inspired by sleek menswear like pinstripe suits and smart neckties, according to the supplier. It has a zippered main compartment and an open front pocket with Velcro closure is sized to fit most iPads, tablets, and eReaders in their cases. It has tonal pinstripe print on the main body with preppy stripe accents. Suggest it for male-focused promotions. Check it out and get pricing info here: http://www.leedsworld.com/.
The Bottom Line: All grown up.
Calling for Nominations for Advantages Sales Rep of the Year
Are You the Advantages Salesperson of the Year?
Advantages, the industry's leading magazine dedicated to ad specialty sales professionals, is holding its annual Salesperson of the Year contest to recognize outstanding sales performance. Nominate your top-selling rep so far for 2014 or nominate yourself! The winner and runners-up will be profiled in our January issue. The winner will receive $500 and of course, everyone on the list gets bragging rights for the year.
Please send me your top-selling rep's or your own contact information and REVENUE (which will not be shared; it's STRICTLY for ranking purposes) ASAP.
Also, please let me know briefly what qualities you feel contribute to this sales dynamo's achievements.
I look forward to hearing about your successes! EMAIL: khuston@asicentral.com.