ADVERTISEMENT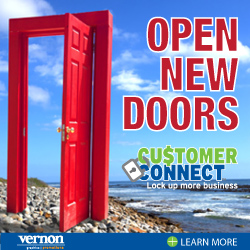 Home Sweet Home
The Pitch: In good economic news today, Bloomberg reports that housing starts surged to a four-year high in September. 4ideagoods.com (asi/55217) offers a great prospecting tool (in fact more than one tool) for Realtors, mortgage companies, home builders, insurers and more. Item SD02 is a house-shaped tool set with two Phillip heads and two flat head bits. Pricing starts at: 250; $2.94-R. Click here: http://www.4ideagoods.com/.
The Bottom Line: Mr. Fix-it.
(Don't) Feel the Burn
The pitch: I burned my hand cooking the other day (a Neosporin-worthy burn). I'm a kitchen menace. But here's a product that comes in handy for kitchen experts (and others, like me). Prime Line (asi/79530) offers the Built Milo neoprene pot holder. The textured interior grips are heat-resistant up to 500 degrees Fahrenheit. This is a great idea for cooking schools, gifts with purchase of let's say a set of pots, as an upsell item with a cookbook or cooking utensils and more. Pricing starts at: 24; $15.50-R. Click here: http://www.primeline.com/.
The Bottom Line: Helping hand.
Think Pink
The Pitch: As Michelle Obama's and Ann Romney's outfits showed last night, pink is totally hot, not only in October, but beyond. Teens and college-aged girls would love the Slappy Drive 1GB bracelet USB drive from Tempo Industries Inc. (asi/90859), which is available in a whole host of colors, including bright pink. It's a fun way for them to transport their data with a stylish flair. Pricing starts at: 50; $8.54-S. Check it out: http://www.tempoline.com/.
The Bottom Line: Drive sales.
Snow Job
The Pitch: I know we don't want to think about this, but AccuWeather.com forecasts a snowy winter in the Northeast this year. Hope you didn't let your snow shoveling muscles go dormant last year when snow was a virtual no-show. The Magnet Group (asi/68507) just so happens to offer their brand new lighted ice scraper, which is perfect for auto dealers, don't you agree? Hotels could also keep these on hand for travelers stuck in a storm. Pricing starts at: 50; $3.90-R. For more info on item MFL31, email: contactus@themagnetgroup.com.
The Bottom Line: All lit up.